We have a real soft spot for Singapore and often get asked "why visit Singapore?" well there's so much to explore and things to do even on a tight budget.
So I've put together my top reasons why YOU will love Singapore too.
These are just a few to get you started, plenty more to read once you're done! So let's get started…
Amazing parks
Singapore really is a garden city with hundreds of parks dotted all over the city. From the moment you land you'll notice how green it is here. Every highway has flowers and hedges all neatly manicured and you'll see plenty of golf courses and lush vegetation all around. Its very easy to enjoy the outdoors here with some great and fairly easy walks through some of Singapore's larger parks.
The Botanical gardens are a must and easy to get to on the subway. Mount Faber Park and the Southern Ridges near Sentosa are my favourites with picturesque walks and some great views of the city as well as the islands along the coast. The most impressive park at the moment has to be "Gardens By The Bay" a huge area of land reclaimed from the sea with man-made tree structures and bio-domes to explore too. Its an incredible place and even better to visit at night when light shows illuminate the giant tree structures, one of which includes a restaurant for some fantastic views of the entire park.
This video is well worth watching to see Gardens By The Bay
World class Casino
Right next to Gardens By The Bay is the iconic casino complex called Marina Bay Sands. Opened in 2010 this beautiful building has quickly become the new symbol of Singapore with its impressive towers and boat shaped bridge connecting all three buildings. The hotel has over 1600 rooms and probably the best shopping mall in Singapore too. T
Check out this video to see just what its like to stay at Marina Bay Sands and enjoy the roof top infinity pool!
here's also a huge convention centre and a world class casino featuring both European and Asia games. This casino is definitely worth visiting although I recommend brushing up on your casino knowledge and skills before entering.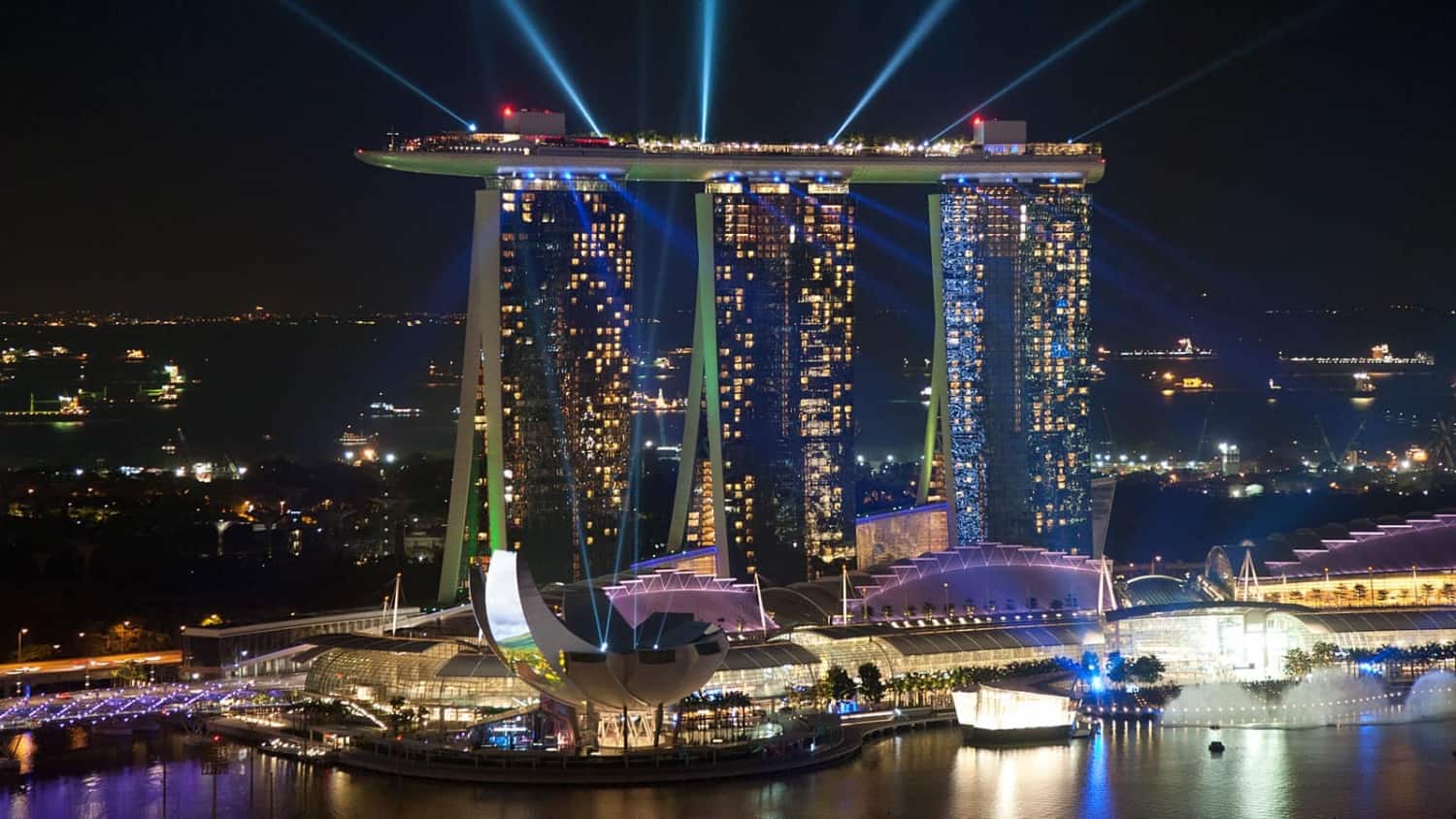 Marina Bay Sands is one of only 2 casinos in the city where until recently gambling was illegal. This $4.6 billion casino complex certainly put Singapore on the map and the hotel boasts the world's highest infinity pool, definitely something you have to experience for epic views of the city centre. There's also an observation deck for those not staying at the hotel, take your camera and be sure to take in the view while you're up there.
Check out this truly stunning video of the Marina Bay area of Singapore, thanks to Barry Leung.
Very easy to get around (and cheap!)
With over 5 million people living and working in this tiny country, transport is key to keeping everything moving. Singapore has arguably the best transit system in the world with ultra modern subway stations and an ever increasing number of stops opening up every year. The driver-less trains are open and roomy with protective glass walls at every station protecting passengers from fast moving trains. Its very easy and quick to get right across the city with the MRT and there's also plenty of shops and toilets at every station too. Its also ridiculously cheap with the average trip in to town costing less than 1 dollar. Grab yourself a E-Z-Link card at any station, top up with around $10 or $15 and you'll be set for your entire trip.
This video guide will show you how to buy a ticket, find the right train and give you a glimpse at their efficiency!
There's also a great bus and taxi service here. Unlike much of Asia, Singaporean cabs are required by law to use their meters so you'll always know you're paying the correct fare. Uber has just arrived in Singapore to so there's even more ways to get around now.
Want to read more? How about the top 5 restaurants we recommend in Singapore or the 5 best things to do in Singapore right now.