Singapore is a country built on cultural diversity. Over the last 300 years or so, Malays, Indians, Chinese, British and other expats have made their homes here. This ethnic mix has created a culture rich in history and strong in racial harmony.
Living here in the 21st century is an opportunity to be in Asia, whilst also achieving many of the comforts of Western life.  My first year in Singapore has been an exercise in discovery.  I finally feel as if my peek under the covers is yielding interesting and under rated aspects of life here. These are a few of my favourite things:
The quest for good food
Food is pretty much a national obsession in Singapore.  From Hawker Centres to high end fine dining establishments, Singapore has it all. My challenge over the last year though has been to find the places that offer great food, where you can have a glass of wine (or more!) and that doesn't cost the earth. I am definitely getting there. My most recent discovery was Saveur on Purvis Street, a real step in the right direction for Singapore. Saveur is a very rare and pleasant surprise providing excellent French food at exceptionally reasonable prices.
The F1 Grand Prix
The only night race on the F1 calendar and a weekend full of fast cars, entertainment, good food and loads of fun.  The recent F1 weekend in Singapore was a real turning point for me.  I realised how much I was coming to love Singapore.  The atmosphere around the track on the first Friday night was alive with excitement and entertainment.  It was akin to the first night at a festival like Glastonbury in the UK (ok, maybe not quite that much fun, but there was definitely a similar vibe).
I'll be honest, it wasn't about the racing for me, although hearing those engines roar around the track was quite exciting.  The weekend is good for several reasons, aside from the racing there are great live music acts to see, great food and general fun to be had.  Ticket prices vary but a zone 4 walkabout pass starts from as little as $58.
Cycling
Given the hot climate the east coast of Singapore offers a cool and breezy path, away from the road, mostly with tree cover and offering many eating options along the busy strip of coast.  Bikes can be hired from one of the shops along the coast.  Then you can cruise and admire the scenery, before stopping for some chilli crab at one of Singapore's most renowned chilli crab venues – Long Beach.
Walking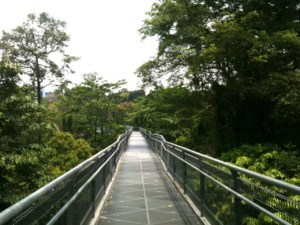 From 'city walks' around interesting areas such as Tanjong Pagar, Chinatown and Geylang to walks in the jungle, Singapore offers those with the stamina much to keep their legs moving.  One of my favourite walks is the Southern Ridges walk out on the west coast. You can start at Kent Ridge or Mt Faber and walk a range of paths from 2km in length up to about 9km. It's fairly easy to take an exit along the route and get a bus or taxi from several points.
To really enjoy Singapore, you need to step outside of the main tourist attractions, let your feet take you to new discoveries and appreciate the eclectic mix of Asian and Western influences. Enjoy!