Singapore is truly where east meets west, both culturally and culinary. Dining experiences are in my opinion second to none. There's tough competition here for your hard earned money creating ever more impressive dining options and fusions of cuisines from all over the world. Having so many great restaurants to choose from makes it hard to pick my Top 5 restaurants in Singapore but thanks to a recent trip to the Lion city I got to try some of what can easily be considered the best dining experiences available right now.
So check out all of these dining options in Singapore…
Esquina
Tucked away on Jiak Chuan Road in Outram Park, It's easy to find this place on any evening, just look out for the heaving crowds that flock to this Tapas restaurant to sample some of the city's best Spanish tapas. The dishes here are sublime with authentic approaches to some of Spain's best loved tapas and others with a wonderful twist to bring something different to the menu. Sitting at the bar is a must for the full experience, watching master craftsmen and women producing exquisite looking (and tasting) dishes you'll want to Instagram immediately! This little bar is adorned with a familiar industrial feel that many of the Unlisted Collection restaurants and bars do so well in Singapore.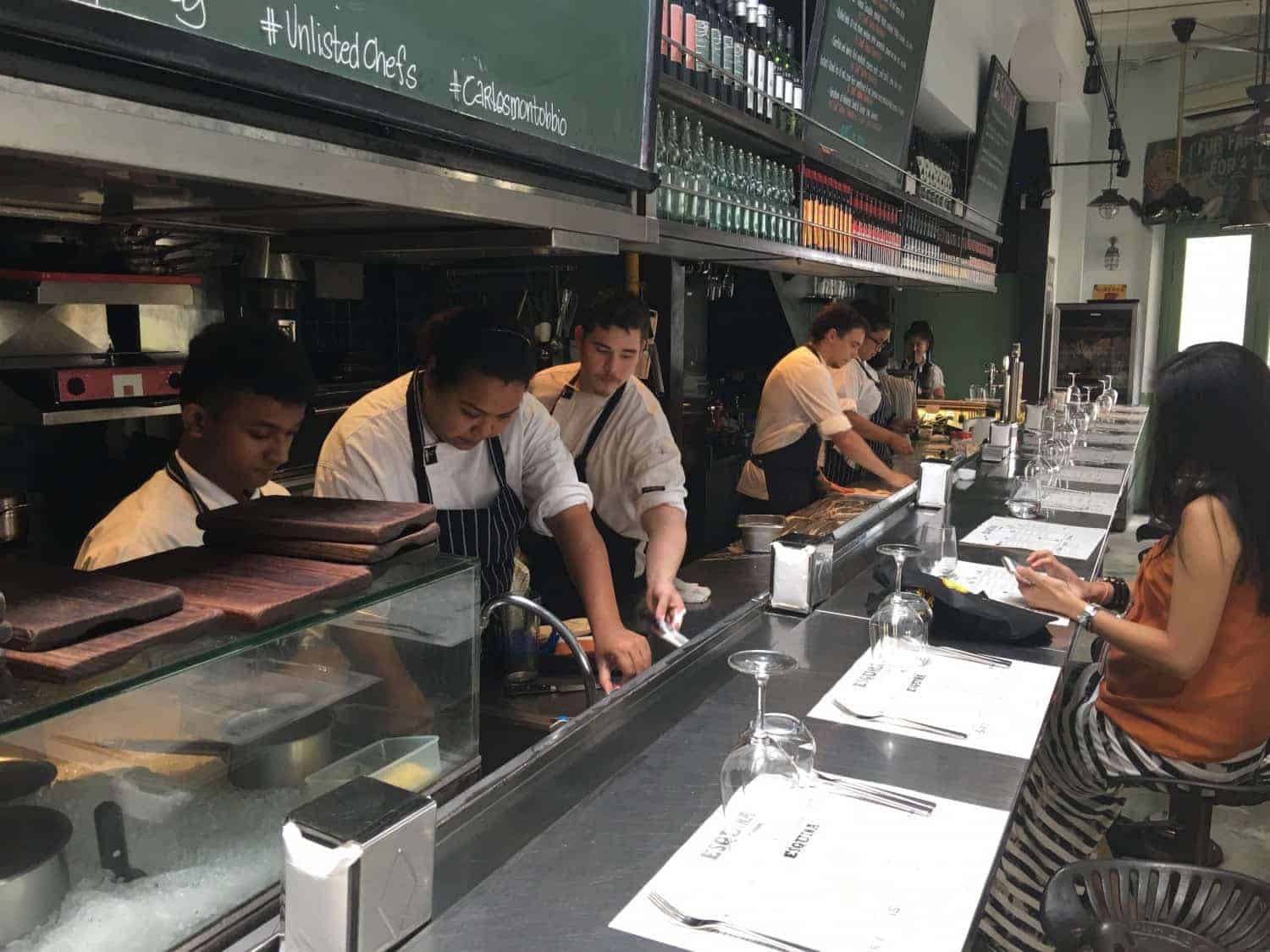 To avoid fighting the fanatical crowds in the evening head to Esquina at lunchtime where the vibe is distinctly different. I can highly recommend the Pigeon as well as the Spanish Nigiri, a wonderful Spanish take on sushi. The biggest surprise for me was the Octopus, not something I'd usually order but would gladly have again at Esquina. Check out their menu here and if you're happy to eat away from the bar its worth making a booking for dinner upstairs or take your chances and hopefully get an evening seat at the bar for the best show in town!
Bincho
Singapore has a growing trend for fantastic restaurants and bars that are hard to find. Hidden down passageways, unsigned entrances and unsuspecting doorways make it all the more fun when you arrive and are rewarded with some of the best dining experiences in Singapore. Bincho is one such restaurant that, by day is a traditional kopitiam (coffee shop) facing Moh Guan Terrace in Tiong Bahru. Serving simple Mee Pok during the day, its at night that Bincho is awoken and the venue is transformed. Its front doors shut and its cosy little Japanese Yakitori restaurant opened with only a small dimly lit back door the only entrance. Inside you'll find a cute little bar and a truly amazing Japanese dining experience.
Like Esquina a seat at the bar watching the head chef Asai Masash is an absolute must. The attention to detail on every dish is impressive and trying some of the more unusual menu items will reward you with surprising favours and textures you've not had anywhere else. The Yakitori "Shio" Platter is one such collection of chicken anatomy I've never had before and now remember very fondly. There's three types of menu here with items changing often to suit the freshest ingredients at the time. You'll leave feeling well fed, entertained, surprised and with a true appreciation of Asian fine dining. Check out their wonderful website here for more details.
Labyrinth
A much easier restaurant to find but no less rewarding. Unlike Europe, Asia has no qualms in locating award winning restaurants inside bustling shopping malls. Labyrinth is one such eatery offering what head chef and owner LG Han likes to call an "holistic dining experience". In truth its part dining experience, part history lesson, part cultural education with exquisite flavours from traditional asian dishes fused with modern takes and unusual approaches in both texture and presentation. Its true to say you've never had a meal quite like this. I sampled the Discovery Menu, one of two fantastic set menus on offer.
The menus are really a narrative arc and the set menu approach is the perfect way to experience the flavours flowing from one dish to the next. Each item features two titles, its traditional asian background and its new ingredients that are wildly different from the original dish. Truly a sensory dining experience where tastes, textures and memories of traditional cuisine all collide. Quinoa, Chicken Mousselline and Clay Potatoes representing Hainanese Curry Rice. The soft-shell crab with chilli ice cream is also a surprising and delicious must! Of all the meals I've had in this culinary rich city this was the most surprising and ingenious. Definitely top of your list when you're in Singapore! You'll find Labyrinth in the Esplanade Mall just behind the theatre so its perfect for a night out in the heart of the city. Check out their website for more details.
Dessert at Labyrinth is not what it appears to be.
The Market Grill
Located just a short walk from Telok Ayer MRT station, right in the heart of Singapore's wonderful Chinatown district. There's no shortage of dining options in this area but The Market Grill really stands out from the crowd with its eclectic menu and its attention on the freshest of seafood. Perfect for lunch, its a small eatery with more tables at the kitchen bar than anywhere else. Seating around 30 or so at peak times, this place is often packed full of happy diners with a fantastic atmosphere you can't help but get swept up in. There's so many good menu options here, a real highlight for me was the "Lobster Roll" with hearty chunks of the freshest Lobster sitting atop a tasty brioche roll.
There's also some great signature burgers here cooked to perfection. Head chef's signature Portobello Burger was fantastic especially if you like your beef rare and juicy. I was wonderfully surprised by the Cod fish burger too which worked so well and is a lighter option if you have a busy afternoon schedule! Just be sure to leave room for the awesome Rum Banana Pocket dessert, the perfect ending to a wonderfully western meal in Singapore! Check out their full menu here.
Red House
There is of course one dish that no trip to Singapore would be complete without. The famous Singapore Chilli Crab has to be experienced in all its spicy glory but there are yet more great seafood options in the Lion city. Red House is undoubtably the place to go for the best authentic Singaporean seafood in town.
The Chilli Crab is a no brainer but there's plenty more on the menu to shout about. The Creamy Custard Sauce Lobster was divine with generously chunky and supremely fresh seafood. Check out their mouth watering menu here and be sure to book a table for dinner. Its very popular with locals and its new location at 68 Prinsep Street puts it right near Orchard road and plenty of other popular central destinations. There's also another Red House situated at The Quayside, 60 Robertson Quay, just a short walk on from Clarke Quay which is bound to be on your itinerary at some point.
These dining options barely touch the surface of the exquisite and eclectic dining options in Singapore. In fact food is sure to play a very high role in your Singaporean travels.
A big thank you to the Singapore Tourist Board and Singapore Airlines for their support during the #SingaporeLive event. For more information on Singapore check out yoursingapore.com and to book flights head straight to singaporeair.com