Singapore is country I love to visit, having been here many times of the past 11 year  either on business or to catch up with good friends. Its an island nation most people only think to pass through or stop for a day or two on their way to other continents. Of the many experiences I've had here I've seen first hand the incredible amount of things to see, do, taste and experience in Singapore and the number of great tourist attractions, cultural hotspots and wonderful views only increases each year. Thanks to a recent trip to Singapore working with the Singapore Tourist Board and Singapore Airlines on the #SingaporeLive campaign I got to some new fantastic tourist attractions that should definitely be on your list. I highly recommend extending your stay in Singapore and making the most of one of the world's most impressive and culturally rich city.
Future World – Art Science Museum
Located at Marina Bay Sands right in the heart of Singapore, the museum is an iconic architectural masterpiece in itself. Built in the shape of a lotus flower, its houses many temporary exhibitions and now and permanent one that's perfect for adults and children.
Stepping in to this exhibition is like being transported to another world of futuristic technological approaches to sensory experiences. A room filled with projectors puts you in the middle of a virtual yet utterly natural wildlife wonderland, while other rooms are filled with interactive toys where the tangible meets the virtual. My favourite room was the last one where you walk through a room filled with vertical strips of colour changing LEDs. Animations in 3D fly through the room in all directions. A visually stunning experience like nothing I've seen before. Head to their website for the last exhibition news.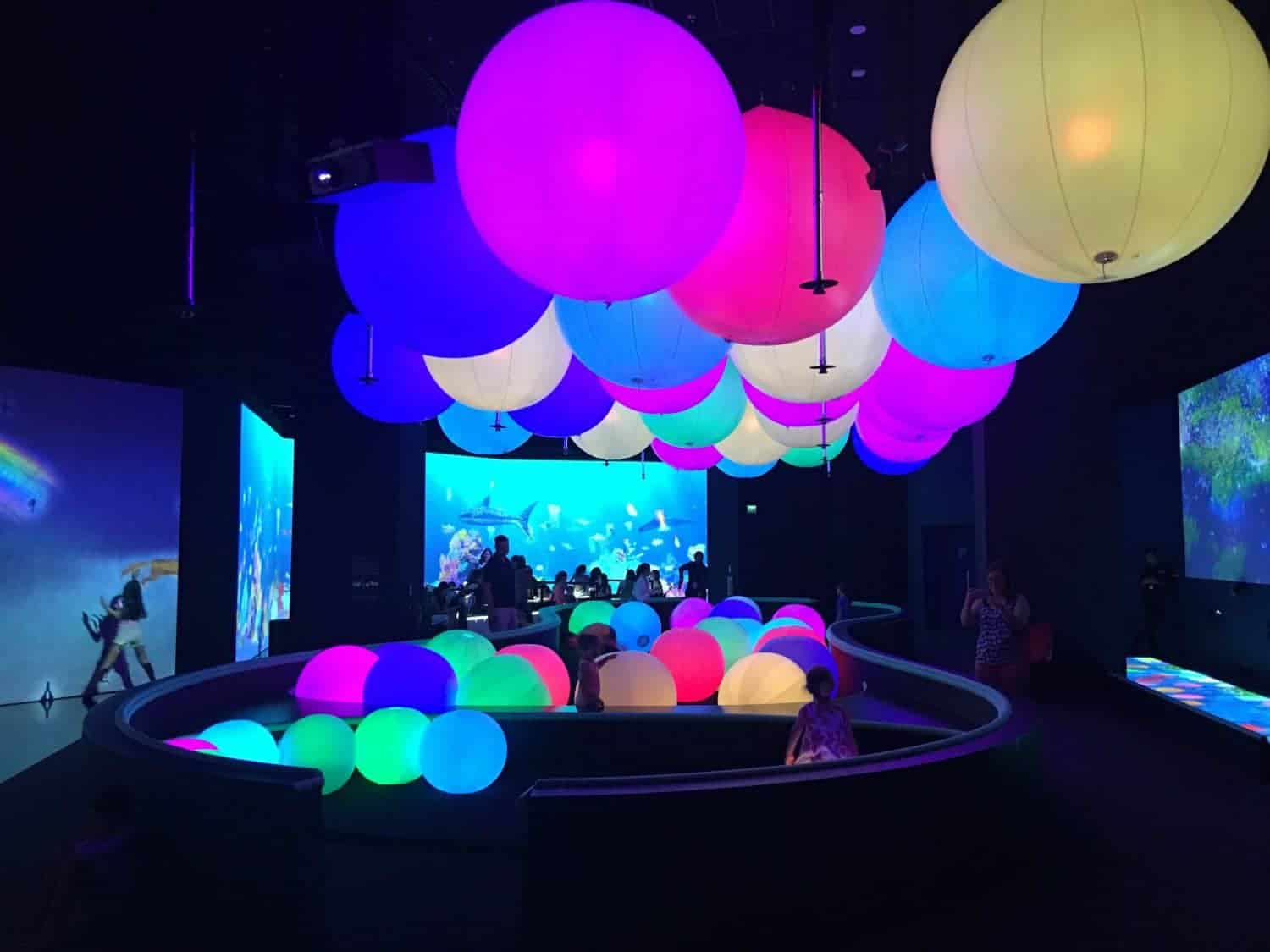 S.E.A Aquarium
Touted as Asia's biggest aquarium you'll find it located on Sentosa Island, a tourist's playground and very popular with Singaporeans too. Its right by the Universal Studios entrance and offers more than just fish tanks. There's some interesting history on Singapore and nearby Malaysia before you enter what truly is an amazing collection of all marine life. The tanks are huge and only increase in spectacle was you venture further in to this aquatic wonderland.
The shark tank you walk through was one of my favourites, with a diver inside cleaning the glass, giving me a wave as he did so. But the last tank has to be the most impressive here. Walking in to a theatre style room with steps and even a restaurant in one corner, this massive panoramic tank before you seems to defy physics buy holding back millions of gallons of water and giving you an unprecedented view of stingrays, hammer head sharks and all manner of other fish swimming around before your eyes. Easily the best aquarium I've ever been to, check out their website here.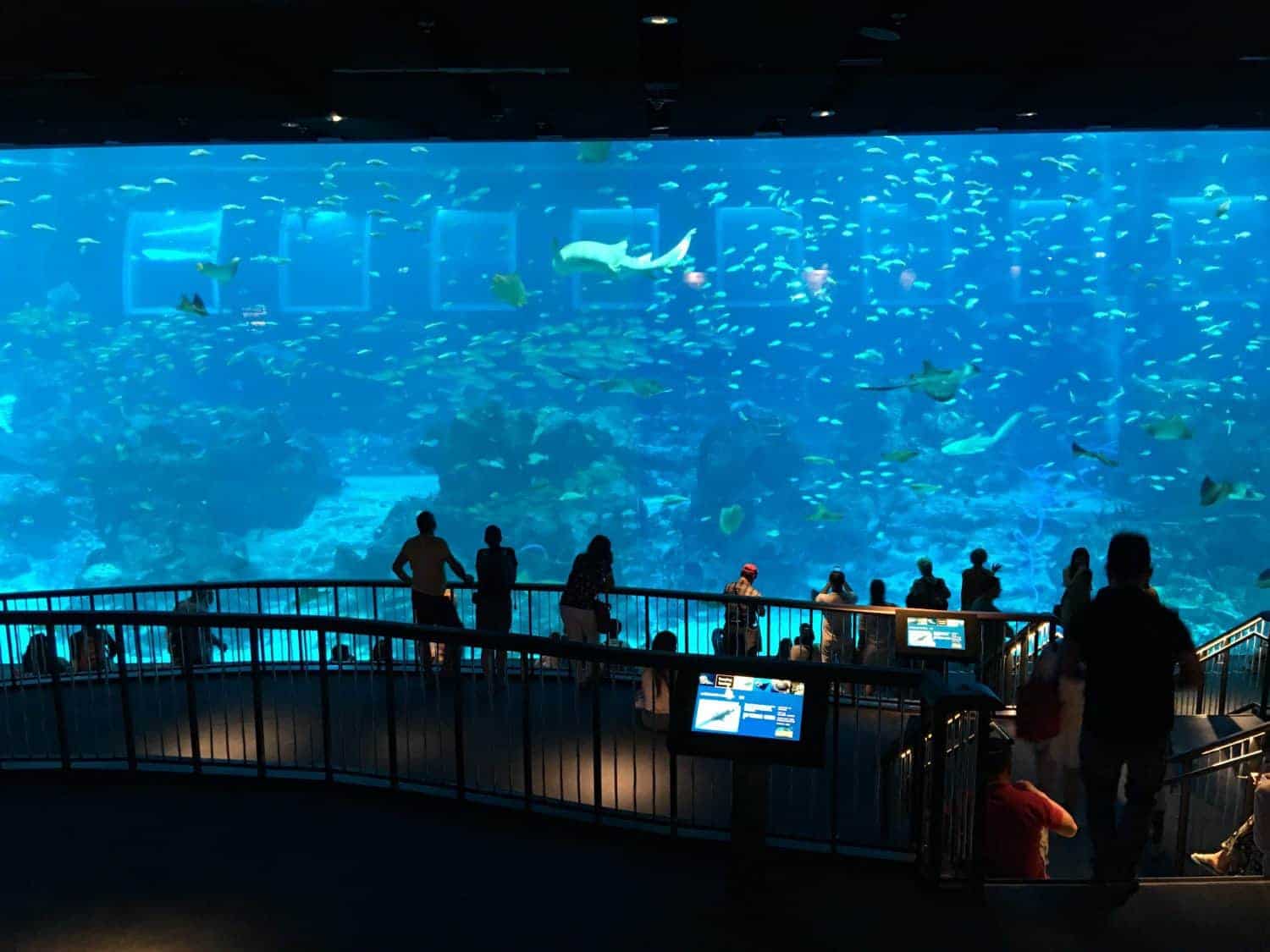 Pulau Ubin
Aside from the ultra modern and mega-sized tourist attractions in Singapore there are some local attractions that take you away from the Urban sprawl and show you a more natural side to Singapore. A short drive out to Changi Point (near the airport) you'll find a very traditional little ferry terminal where you can get a little wooden boat ride over to Pulau Ubin. The ride costs just $3 SGD and takes about 10 minutes to cross the narrow water, passing some big ships in the process.
Stepping off the boat at Pulau Ubin is like stepping back in time, where Malay style shacks and rural houses from decades past are mostly hidden amongst the trees and vegetation of this quiet island. Renting a bike here is a must and there's plenty waiting for you right after the jetty. The roads and paths are easy to cycle with only a few uphill moments to make you do some proper exercise. There's a fantastic coastal walkway here that takes you out amongst the wetlands and around the bay where you'll see fish darting around in the water and possibly the odd swimming lizard too! The island is home to wild boar who appear from the woodlands, cross a road and disappear back in to the jungle before you've even had a chance to get your camera out of your pocket. I saw 2 while I was there but sadly didn't have my camera ready either time!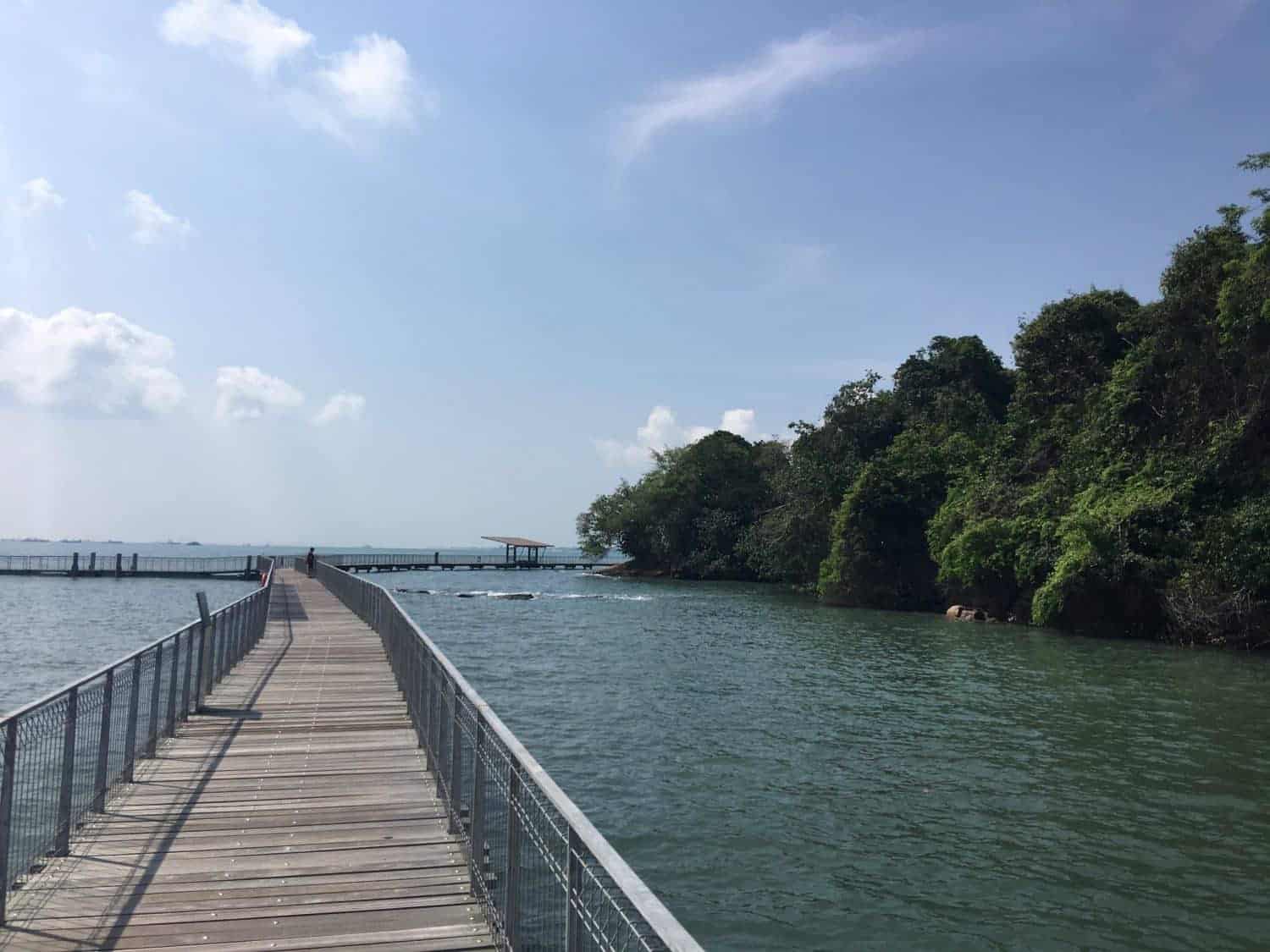 Pulau Ubin is a great place to get away from it all and get back to nature, popular at weekends with Singaporeans, its distinctly different during the week so for that relaxing and naturally quiet experience avoid the weekends if possible. For more information go here. One recommendation is to keep an eye on your return ferry. The little boats only leave when they have enough paying passengers so if no one else is there you could be waiting up to an hour or more. You can of course pay for empty spaces and at $3 each it might be worth it if you're short on time.
Gardens By the Bay
This tourist attraction has quickly become one of Singapore's biggest icons. Built upon reclaimed land behind Marina Bay Sands this park cost around $1 billion to build and is free for all to enjoy. While there's plenty of natural vegetation all around, there's also the iconic man made trees here with plants growing up their walls and extending out above you. A great place for some of the best photos you'll get of Singapore's CBD, one of the super-trees is also a restaurant offering great views and great food too. There's also a "skywalk" linking two of the trees together with a walkway offering a great feeling of floating amongst these futuristic trees.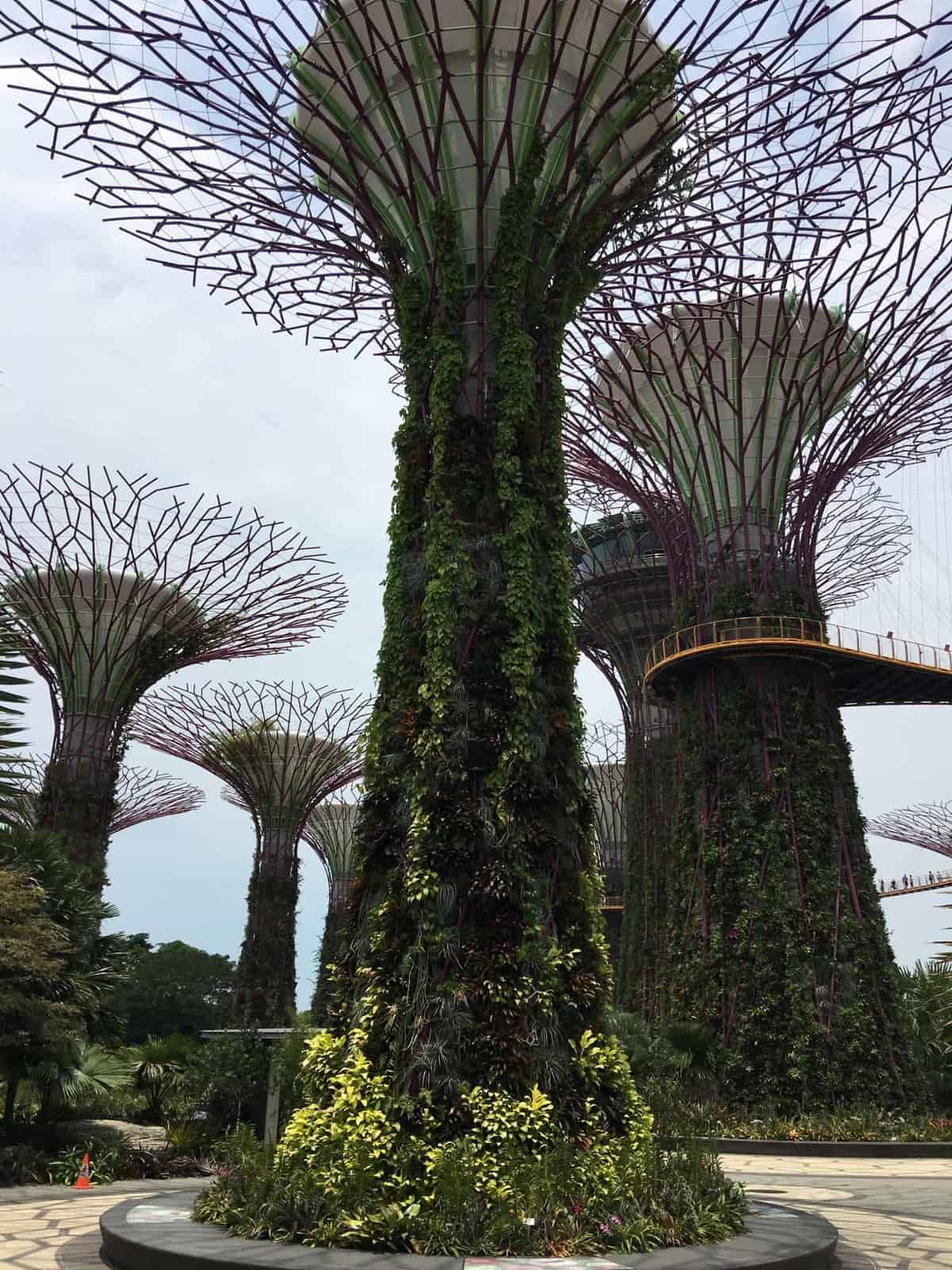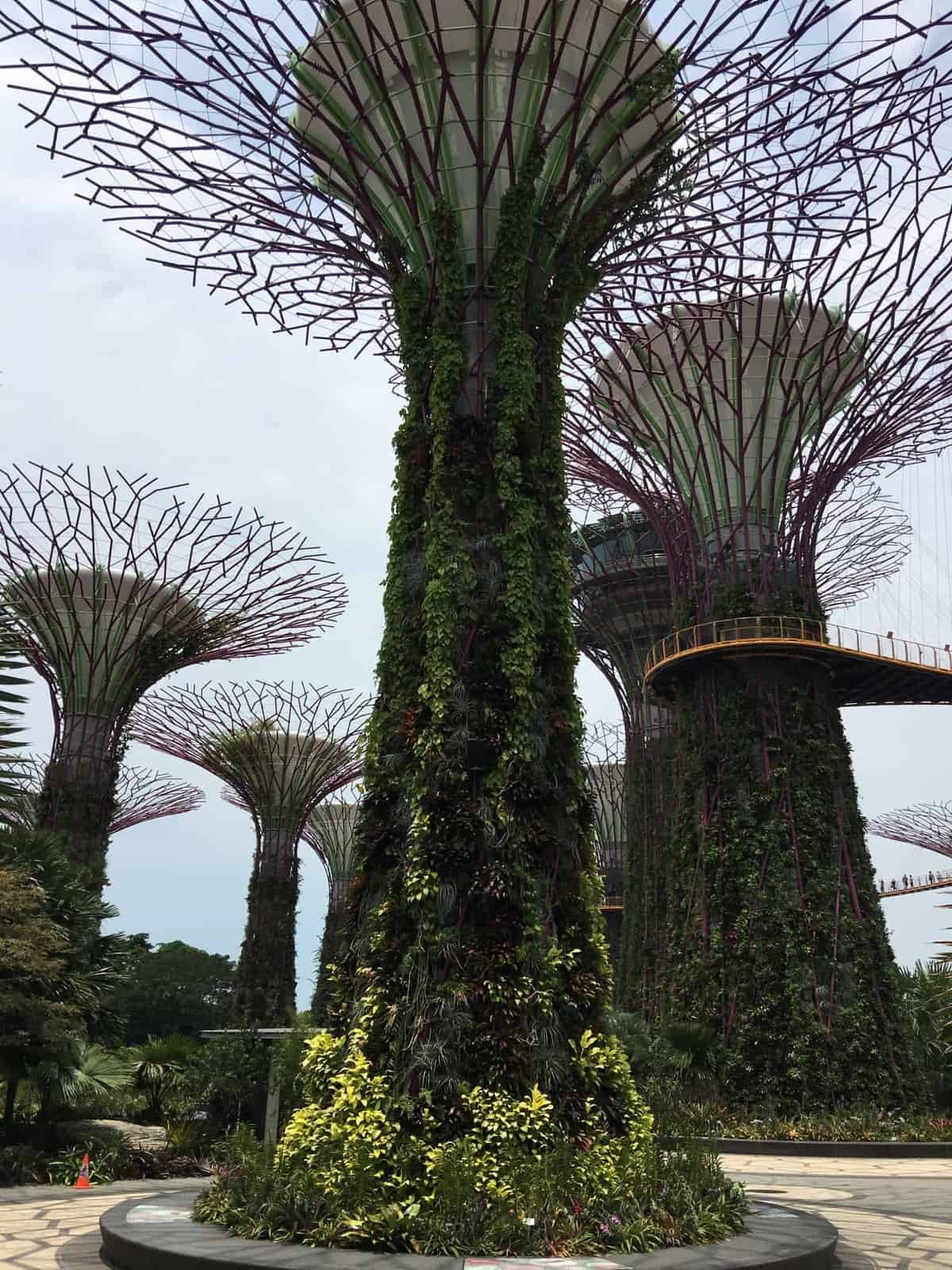 There's also two bio-domes here with reasonably priced tickets (included in Singapore Airlines Explorer pass) showcasing two very different climates. The mediterranean biome currently has a very impressive tulip exhibit with thousands of colourful flowerbeds that you're sure to take plenty of photos of. There's also trees and cacti from Australia, America and Europe. The building itself is just as impressive as its contents.


The other biome has a spectacular man made waterfall right in front of you as you enter and you can ascend its mountainous internals to access walkways that pump out clouds of moisture every 2 hours. The climate in here is a cool highlands feel with dense vegetation clinging to almost everything and some great paths to explorer around the waterfall. For all the latest information on Gardens By The Bay head to their website.

Singapore Art Museum
Known locally as "SAM" this beautiful historic building was once a school and now houses some interesting and artistic contemporary art installations. All the shiny new corporate skyscrapers in Singapore could easily have you fooled that this modern city lacks cultural importance, especially in the contemporary world. Head to SAM and you'll see art is very much alive and kicking here. Currently the gallery is hosting "5 Stars: Art Reflects on Peace, Justice, Equality, Democracy and Progress".

There's some technologically impressive pieces here, my favourite being the amazing pipes where tiny actuators tap out a musical percussion that bounces around the room. A guided tour enhances your experience the whole exhibit can be completed in around 40 minutes. Check out their website for all the information.
With thanks
I recently visited all of these attractions during the #SingaporeLive campaign. A big thank you to the Singapore Tourist Board for making this possible and Singapore Airlines for their support. Also thanks to Unlisted Collections for their hospitality at both the New Majestic Hotel and at numerous fantastic restaurants. You can read my review of these restaurants here.