Summer is finally here, and after a year of (mostly) working hard, you deserve to blow off some steam. Your end-of-year break is the perfect time to enjoy a bit of travel, and where better to enjoy some summer fun than Thailand?
A visit to Thailand wouldn't be complete without a visit to the capital, Bangkok. Bangkok was the most-visited city in the world in 2017, a title it's likely to retain this year. So what makes Bangkok such a popular destination? Take a look at this useful travel guide featuring some of the best reasons to visit Bangkok.
Why visit Bangkok?
It's not difficult to stumble upon hundreds of reasons to visit Bangkok, and the tourism figures speak for themselves. As a travel destination, Bangkok has it all, with plenty of culture, colour, and food to enjoy that will make a visit to Bangkok one you won't forget. It's also an easy city to get to, with flights becoming cheaper all the time – making it a great destination for students. Some of the best reasons to visit Bangkok include:
The food
Bangkok is known for having one of the best street food scenes in the world, featuring plenty of authentic Thai cuisine that is tasty and amazing value for money. Most tourists head to Sukhumvit Soi 38 to sample the many street food offerings, but you'll find other great places located all over the city too. Make a list of Thai dishes to try during your Bangkok visit and enjoy some delicious delights.
The floating markets
An important part of daily life in Bangkok, the floating markets are a must during your visit. Selling all sorts of wonderful things, you can get a true flavour of Thai living and soak up the atmosphere. A top tip is to visit in the morning to avoid being stuck in the crowds.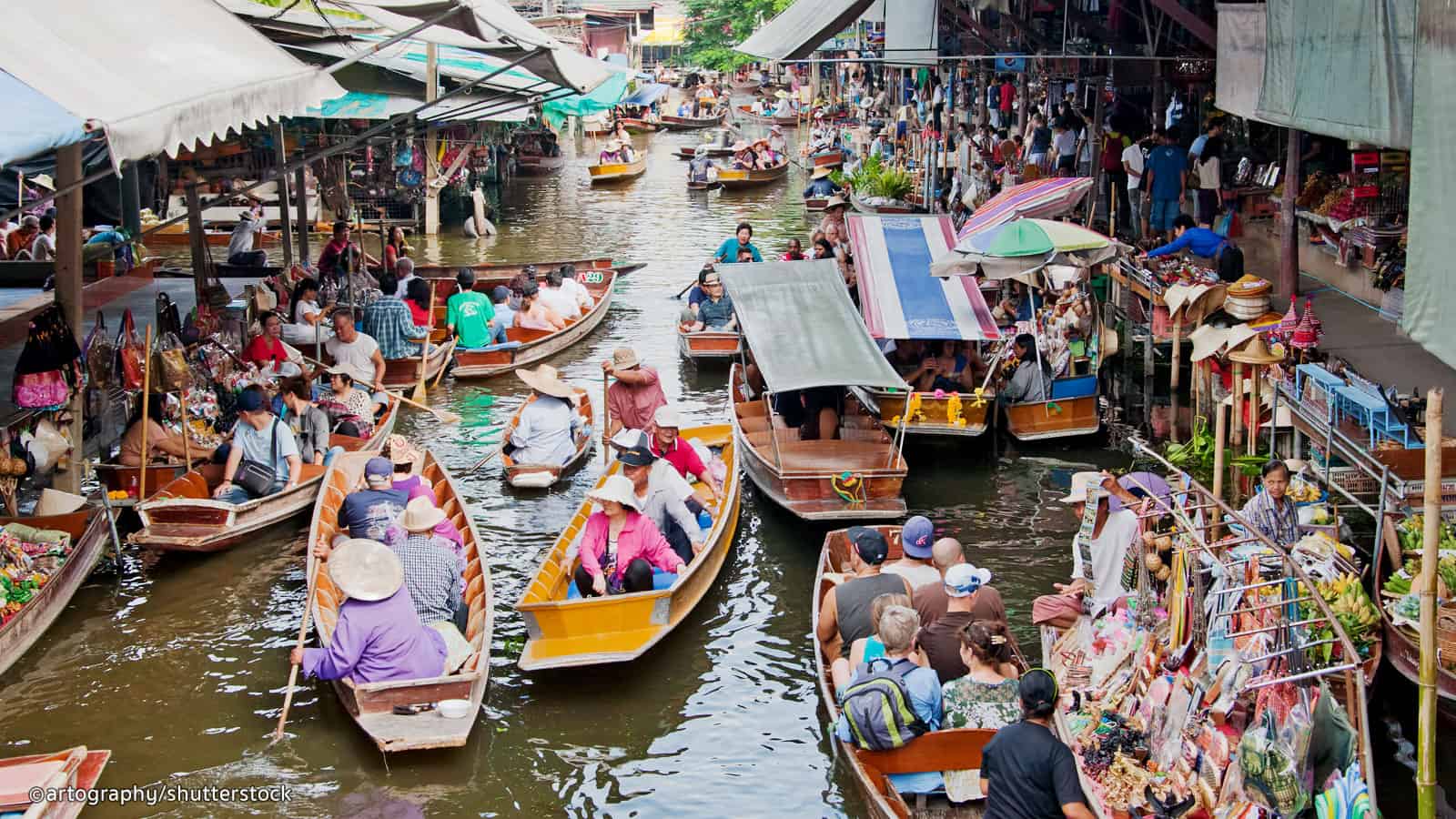 The People
One thing that will certainly impress during a visit to Thailand is the people, and you can be sure of a warm welcome from the residents of Bangkok. It's worth reading up on some traditional Thai customs to ensure that you behave in a respectful way to those you meet and so that you don't inadvertently cause offence.
The Temples
Bangkok is blessed with some incredible temples, which are a must-see during your visit to take in some local culture. Some of Bangkok's most popular temples include Wat Phra Kaew, Wat Pho, and Wat Arun. Whether you witness them at day or night, be prepared to be dazzled by their beauty. If you can, book a guided visit so that you can get more in-depth insight into the history of the temples.
The affordability
Bangkok is a great place to travel for students on a budget. Once you've paid for your initial flights, the costs become very low, making your money stretch a long way in Bangkok. While you can find a number of hotels to stay in, it's worth checking out Bangkok condos for rent and sale to see if you can benefit from any short-term opportunities. This is perfect if you're staying in a group and will help your money stretch even further.
The nearby attractions
To make the most of your trip to Thailand, it's worth venturing out to see the other incredible locations the country has to offer. In just a few hours' time, you can be out of the city and enjoying some incredible beaches. Plan your visit to take in some of the nearby cities to experience an unforgettable travel experience.
The nightlife
Lastly, but certainly not least, a trip to Bangkok wouldn't be complete without soaking up the nightlife. The nightlife in Bangkok is incredible, with plenty of clubs, bars and restaurants to suit your tastes and budget. Bangkok after dark is an incredible experience, and you should definitely pay a visit to a rooftop bar or two to take in the incredible views.
Your Bangkok experience will be one to remember, with so much to see and do. Ideal for both short and longer visits, you'll be enthralled and entertained from the second you step off the plane. The key to enjoying the perfect Bangkok trip is in the planning. Do some research before you travel to plan what you want to see and do, from the popular to the more unusual attractions of Bangkok.
As the perfect way to spend your summer vacation, a Bangkok adventure has it all. Book your trip today and have the trip of a lifetime in Thailand's capital