Our travel plans to Chiang Mai did not go quite to plan. After forgetting to get money from an ATM we arrived at the border with no money to buy our overnight train from Bangkok to Chiang Mai.
We foolishly thought we could buy a ticket that evening but after a 5 hour bus journey and a hectic taxi ride to Bangkok Station we soon found out every train that day was sold out. Indeed every train the next day was sold out so we had to get the overnight train in seated class rather than sleeper.
This meant an impromptu stay in a hotel along the famous Ko Sahn road. A few quiet drinks were soon
followed by a chat with some Australian girls, from there on things get a little hazy! Some surreal running about from bar to club to hotel room to bar again.
We wasted the next day recovering from the mother of all hangovers then set off on our train journey which was surprisingly OK for 12 hours in a bouncing train seat.
We arrived in Chiang Mai in the morning and grabbed a tuk tuk to the Spicy Thai Backpackers. A much recommended and homely hostel with a spacious double room for us and comfortable surroundings.
For the first time since leaving home we had a normal breakfast of cereal and toast! A luxury in South East Asia it seems.
We wandered the streets of Chiang Mai for a couple of days, taking in the sights and sounds as the city prepared itself for the water festival known as Lao Krathong.
One evening the hostel organised making our own Krathong which is a floating gift to the water god to apologise for any abuse of water over the years. Wasting too much, peeing in the sea, etc. Or so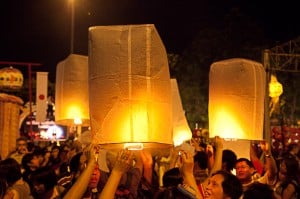 our guide told us.
It was fun to make and was followed by a slightly disorganised trip to the riverside where thousands of people were setting off fireworks in all directions as well as attempting to set off their Krathongs floating along the river. It was fun for a while but scary for the most part as we witnessed fireworks shooting into the crowds, Chinese balloon lanterns getting stuck in trees and catching alight.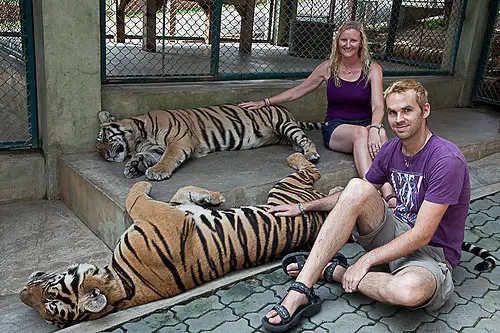 A visit to Tiger Kingdom is a must when visiting Chiang Mai. We had heard good reports on how the tigers were looked after there compared to similar Tiger sanctuaries in Thailand.
We were wary at first that they may have been drugged but a chat with an English volunteer soon assured us they are treated very well.
We got to sit in an enclosure with 4 month old tigers who spend most of the day sleeping and getting used to human contact. We also go to sit in with 3 huge 18 month old Tigers who were snoozing in the midday sun.
It was an amazing experience and they were very alert whenever the wardens played games with them. Making them chase a huge bamboo toy as if it were a playful kitten. You can even have lunch there overlooking the enclosure and watch them splash about in the pool to cool off.
We booked ourselves on a 3 day trek to the north of Chiang Mai. A fantastic fun packed 3 days of riding elephants, meeting the long neck women in their village, treking through beautiful Thai jungle with massive rubber trees and spiders the size of your hand. We also swam in waterfalls which is a first for me.
Something i've always wanted to do and although it was freezing it was an exhilarating and fun experience with others from our trekking group.
We slept in bamboo lodges, the first night on the side of the mountain overlooking villages on other mountains
with towns and cities far off in the distance.
Our second night was in the heart of the jungle which was fun sitting around a fire while our quirky guide who called himself "Happy Hippy" recited the only 4 songs he knew on his badly tuned guitar.
Our last day was another first, white water rafting. It was great fun and I'd definitely look into doing more in the future. We also got to do "bamboo rafting" which our white water rafting captain liked to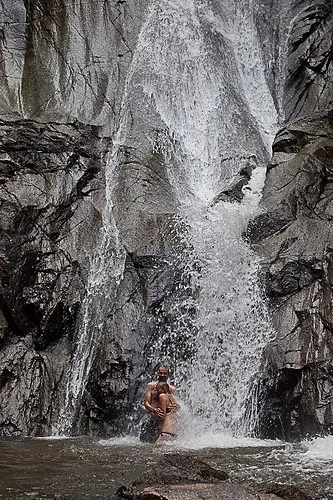 call "bamboo sinking". He wasn't wrong. once 8 of us boarded a raft of bamboo the whole thing submerged by about 12 inches.
Trekking outside Chiang Mai is easily accessible and great fun. Considering it was a trekking tour we managed to fit a lot in besides just walking which is always great. The scenery is always stunning and our group were friendly. The occasional Chang Beer in the evening always helps too!
Our last night in Chiang Mai saw us eating at the Buffet BBQ similar to the one we did in Battambang. It was great fun and it's amazing to see thousands of people all eating under one roof with dodgy cabaret on a stage and awful Thai soap operas on TV projectors.
We capped the night off with some hilarious rounds
of bowling with hostel friends which saw us trying all sorts of techniques to get strikes, followed by a visit to the Warm Up Cafe which needed no warming up at all.
3 rooms of loud music with around 900 or so people cramming every available space. Hot but great fun.
Chiang Mai was a culture shock to us. Coming from Cambodia where our last days were spent with clear itineraries and busy days, our time in Chiang Mai was confusing at first.
Attempting to slow down
a bit mixed with feeling guilty for not doing enough. Our hostel was great except for one gripe which was a TV in the lounge.
People watched pirated DVDs all day and in the evening which meant no one could sit in the lounge and chat. Meeting people wasn't easy at first and I don't see why people would come all this way just to watch a movie or two. Never the less we had fun in Chiang Mai. Now it's time to head back to Bangkok.
Check out our short video of a tiger playing at the Tiger Kingdom.