There's no denying that the UK is a small country, but it's also a surprisingly diverse one. There are huge differences between different regions – if you've ever visited Cornwall and then gone to Northumberland straight after you'll know that they are worlds apart, both in terms of landscape and in culture. There are bustling cities, quiet villages, historic towns and rural idylls all over the nation, and each spot has its own advantages and disadvantages. Everyone, no matter where they live, believes that their home town is the best. But which region of the UK really is the happiest place to live?
A Recent Survey Holds The Answers
The leading independent job board in the UK recently posed a question to the population – "are you happy on an everyday basis?" Interestingly, despite the many problems that the world is facing 24.7, almost 60% of Brits replied in the affirmative. However, the percentages were especially high in five regions of the UK. Those spots have now been designated as Britain's happiest places to live. So, which areas deserve this accolade?
Brighton – The Happiest Place In The UK
Almost 87% of people who work in Brighton answered that the felt happy every day. This was the highest figure of any region in the UK. This has led to Brighton being designated as the happiest place in England to work and live. Of course, if you've ever been to Brighton you won't be surprised. There's a lot to enjoy in this gorgeous resort. A fashionable seaside destination since the 18th century, Brighton has a sunny spot on England's south coastline. Over the years, it has grown into a top tourist location, renowned for a diverse community, its quirky shopping opportunities and its cultural scene. It's also the UK's unofficial gay capital thanks to its large LGBTQ+ population.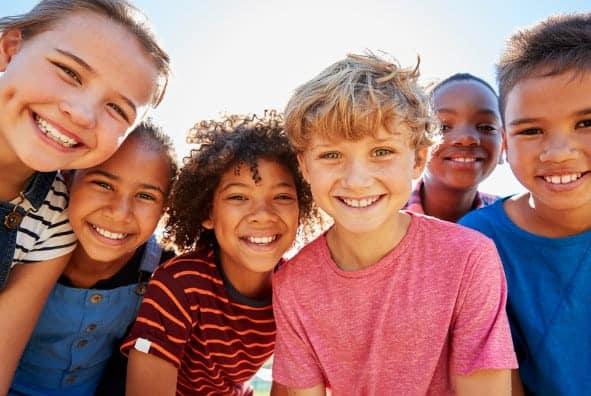 The Second Happiest Place – Leamington Spa
Rightmove, a leading estate agent in the UK, voted Leamington Spa as one of the happiest places to live in the UK thanks to its gorgeous open spaces and country gardens. The town has the beautiful River Leam running through it, and this is said to be a major factor in making its residents even happier.
The Wirral – Britain's Third Happiest Spot
Let's head further north and west now to the Wirral, the third happiest place according to Rightmove estate agents. In 2017, The Wirral was also voted as the North West's happiest place, so it's clear that those who live and work here are big fans of the location. It could be its coastal location that makes it such a popular place to spend time. Just over the river from the centre of Liverpool, it enjoys a fantastic location within easy reach of the city but without the stress, hustle and bustle of city living. This area also has many beautiful open spaces and parks, 25 of which were recently award the Green Flag award.
Harrogate – A Lovely Yorkshire Destination
North Yorkshire offers plenty of glorious scenery and lots of lovely towns, but of all of them Harrogate is arguably the finest. It may be a town, but it has the feel of a quaint village, with a strong community spirit. In fact, it's been voted as one of the UK's top ten safe places to live, so you can wander around here knowing that you won't be at risk. Harrogate is a famous spa town which first became popular as a tourist spot during the 19th century when people came here to take the waters. Even today, it has plenty of water to enjoy including Turkish Baths, the Valley Gardens and the mineral springs, and the town's wonderfully refreshing properties are mentioned regularly by residents as one of the main attractions of living here.
A Regal Joy – Royal Tunbridge Wells
The fifth spot on this list has been awarded to Royal Tunbridge Wells, a beautiful town in the heart of rural Kent. Queen Victoria herself was an enormous fan of this town and would come here whenever she felt the need to relax and destress. It's no wonder, either. There is gorgeous countryside surrounding the town, while in its heart, its spa waters and artisan high streets attract celebrities to come and live in its splendour. It's no surprise that this place has made it into the top five list.
The UK – A Wonderful Place To Be
Of course, there are plenty of other contenders for spots in this top five list. Most people in the UK think their home town deserves to be showcased in this way, and if you think your home town should be in the top five, you aren't alone. There's nothing quite like the British community spirit, and with so many differences across the nation, who needs to go anywhere else?