Having visited over 50 countries and travelled many many thousands of miles in the process, we can say from experience that travel doesn't always go smoothly. The brochures, websites and even travel blogs may paint an idillic picture of amazing travel around the world, but occasionally things go wrong. Sometimes this stories are funny, other times they're scary and on more than one occasion you'll probably wonder how things didn't get any worse! Welcome to the weird and wonderful world of travel! So with this in mind we've collected together some travel mishaps and the ways in which life (and their travels) returned to normal.
Road trip troubles
Ah there's nothing quite like the freedom of the open road. Hiring a car or taking your own out in to the big wide world. Of course when its just you and your friends miles from home, thats when the fun can really start. We've heard all sorts of stories of road trips going wrong and there's definitely some good advice for minimising your troubles. Knowing how to change a punctured tyre is always a wise idea but what about when 3 get punctured on broken glass! We heard one anecdote about the road trip that never really got going. Plagued from the word go, they bought a second hand car in Sydney and barely made it beyond the Blue Mountains when first a puncture happened. Shortly followed by collapsed suspension! Increasing grinding noises soon made the trio of would-be bush explorers decide to turn around and head back home, but not before their car completely gave up the ghost and the engine overheated! Sometimes the travel gods are against you.
Of course things could (and have) been a lot worse. At a recent travel blogging conference I shared stories of rather more dangerous road based mishaps. Crashes can happen especially when you're less familiar with the roads. We've seen more than our fair share of hire cars in ditches, even had the misfortune to forget which side of the road we're supposed to be driving on, thankfully in a rural area. But urban driving is where it gets interesting. Low speed crashes at junctions while oggling tourist landmarks seems to be a common theme. In one case the intrepid travel enthusiasts had to call a halt to the rest of their travels, claiming for whiplash injuries and returning home to recover. The whiplash compensation may have covered their time off work after their travels but a ending their travels early was definitely the more painful result of their experience. Remember when you're driving on unfamiliar roads, in quite possibly an unfamiliar car, you need to be extra vigilant.
Flights of fancy
There's something about flying that seems to make some people lose their heads. It may be down to the huge complexities of flying and getting thousands of travellers bags to the right plane at the right time. We know pilots and travellers who have some interesting stories to tell. Sometimes mishaps can be something simple like turning up at the airport the day before a flight. We've heard that one more than once! What's worse is turning up a day later!
For the regular travel junkies amongst us, running through an airport to catch a flight is inevitable, especially connecting flights. Then there's the connecting flight journey from hell. A simple 2 or 3 flight journey across the world that should take just a day, becomes a nightmare when the first flight is delayed by 3 hours, landing just in time to watch your connecting flight take off. The new route to this far flung corner of the world? Well that'll take you on a new and exotic journey to previously unheard of airports, with flights 8 hours apart. On more than one occasion we've heard 20 hour journeys taking 2 days! Our advice, spend a little extra to avoid connecting flights if possible!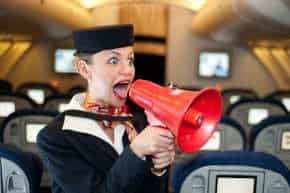 Pilots love nothing more than a plane full of docile human cargo. Quietly enjoying their journey with the minimum of hassle to staff. Of course this doesn't always happen and we've heard some great stories of disgruntled and slightly nutty passengers. From the woman who thought the no smoking sign didn't apply to her, to the people hell bent on joining the "mile high club" they managed to break a toilet door open. Did you know a few airlines have vertical coffins in their planes in case a passenger should unexpectedly pop it? While this may seem a little ghoulish spare a thought for those first class passengers who paid a small fortune for their seats, only to have it commandeered by a passenger who unfortunately died. I'm sure it was comforting for the those in economy seats to know that they'll get bumped to a first class seat should you decide to kick the bucket mid flight.
Spare a thought next time you moan about your flight being delayed by 30 minutes or your bags arriving a day late. Things could be a lot worse.
We'd love to know your travel mishap stories and how you survived them. Post them on our Facebook page or tweet us @travelwithamate