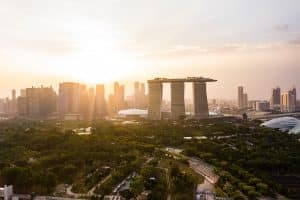 Expat life usually isn't for everyone, but if you love to travel or have a soft spot for Singapore, it could be the right direction to take your life. Living outside of your native country can be challenging and often stressful, but Singapore tends to be one of the more expat-friendly countries that many people simply adore.
So what makes Singapore so different and is it the right location for you? Let's find out.
It's fairly easy to communicate with everyone
One of the great things about Singapore is that English is actually one of the primary languages. In fact, it's the predominant language of instruction in schools and has been since the 1970s. That means that almost everyone you speak to will have a fluent understanding of English, so visitors will usually have no trouble getting around. In fact, the majority of signs and menus in Singapore are printed in English, making it extremely easy to navigate.
This is one of the more surprising things about Singapore that some people don't realize until they've either been to the country or have friends and family members who have visited. This makes it even easier to get a job, to understand legal literature, and to carry out general daily activities. It's also great for socialising which is another huge benefit that we'll be covering below.
However, you might have a little trouble if you start exploring Old Singapore and similar areas that have a lot of history to them. These neighbourhoods might have older people living in them, meaning there's less chance that they are fluent in English. However, this isn't going to be a massive problem as even the older generation do have a fairly good grasp of English. It's not going to be a huge problem, but you might encounter a few situations where translations are a little challenging.
There are loads of great property developments
Singapore is currently going through a property boom which is fantastic for expats. This gives you a lot of options for buying a home and even rental options are very open and accessible to foreigners.
One of the great things about being an expat in Singapore is the amount of support that you receive for being a foreigner. When combined with the fact that most of Singapore speaks English, it makes the country one of the easiest places to comfortably move to as long as you have a good grasp of English.
With developments such as Beauty World Plaza in Singapore being started and finished every year, you'll get access to plenty of amazing properties in both luxurious and affordable areas. There are so many choices and you'll certainly be able to find a property that suits your budget.
However, even though the country is extremely simple to navigate for English speakers, you might still need to work with a realtor that specialises in foreign interactions. This isn't due to a language barrier, but more because you'll typically need to have a visa or apply in' a certain way that makes it easier for a foreigner to rent or buy a property. You'll also need to consider any legal documents that you need to sign or read, and it's usually much easier to fulfil these responsibilities when you have an expert helping you.
Career and job opportunities for expats
You'll be glad to hear that if you're highly educated or have a strong resume, you'll find it easy to look for jobs in Singapore. However, as the younger generation grows up, you're going to be facing more and more competition from native Singaporeans. This is generally because Singapore's education system is one of the strongest in the world, producing many highly-educated and intelligent individuals that eventually stay in the country to join the workforce.
In addition to their skills and experience, they also have the advantage of knowing at least two languages. Although English is the most common language in the country, Mandarin is actually the official language and is used for most government interactions. This means that it's taught alongside English in schools, so most of the younger generation will leave college or university with fluency in two languages. This is incredibly important as it gives them opportunities to work in larger companies that engage with international businesses and customers.
However, there are usually many opportunities to find work before you decide to move to Singapore. This is thanks to the many large companies and startups in Singapore and they're usually on the lookout for talented overseas recruits to join the country. This is especially true for industries such as electronics, technology, and software development.
The cost of living in Singapore
Singapore is well-known for its high standard of living. It boasts a very high quality of life and it's known for its strong economic, social, physical, political, and well-being factors. Singapore may be one of the smaller countries in Southeast Asia, but there's no doubt that it's become one of the best places to live in Asia for both expats and natives.
However, this standard of living doesn't come without its costs. In 2012, Singapore was ranked as one of the top ten most expensive cities in the world to live in. Expats that want a high standard of living will need to understand that living in Singapore is not cheap. If you want to rent or buy a home, you'll need to pay very high prices despite there being a lot of availability. You can often find great deals, especially with new developments, but this doesn't mean they're going to be a cheap purchase.
So with all these considerations in mind, would you want to move to Singapore as an expat? This is something that you'll personally need to decide based on your own circumstances. However, we hope that this article has been helpful in explaining some of the more important things that you should keep in mind when moving to Singapore.