Our epic #GoByCamper road trip continued ever northwards from Sydney to Cairns, with plenty of coastal stops along the way. But for a real change of scenery we thought we'd head slightly in-land after spending so much time by the beach. Our next stop took us to the unusual city of Rockhampton. I say unusual because this isn't quite your average Australian city.
Beef country
If there's one thing Rockhampton has become famous for its beef. The cattle trade here is quite unlike anywhere else and while it might not be the biggest producer it puts itself on the cuisine map by being one of the more flamboyant cities renowned for beef. Its not unusual to see men in stetson hats out doing the weekly shopping at Woolworths, or adverts for bars that have rodeo shows and bucking broncos. While in town we couldn't resist cooking up a steak and getting in to the carnivorous way of life but there's one slight problem here. All of the local beef produced is sold on to national suppliers who take meat from plenty of other cities and states of Australia too. This means its almost impossible to find a genuinely local cut of beef. We asked a few of the butchers we could find and they confirmed most of the meat sold to consumers is probably from Victoria and this would be the same suppliers for restaurants in Rockhampton too. I'm sure with enough searching you could track down an authentic Rockhampton steak but we simply didn't have time. Still the steak we cooked up in our Britz Campervan was mighty tasty!
Tropic of Capricorn
While it may be a rather odd novelty its still something we couldn't resist ticking off our list of must-dos while in Rockhampton. For its here in the city you'll find the Tropic of Capricorn. A line that spans the planet signifying the furthest point south that the sun can be directly overhead. Any further south and the sun will never make it quite that high. Essentially this is the point at which the earth wobbles to its most extreme, causing seasons around the world.
There's a spire said to be on the exact point that splits the country in to its temperate and tropical zones but this is actually a rather moving target (swaying more than 15 metres) so its more for photos than anything else. There's a very useful tourist information office here and a sundial that told the time very accurately I have to say! It was fun taking our photo here and while it wont keep you occupied for more than 10 minutes or so its a must if you're in Rockhampton. When else will you get to stand with your feet either side of the Tropic of Capricorn!?
Botanical Gardens and Zoo
Rockhampton may be quite an industrial town with plenty of commerce happening on every street, but there are a few great tourist attractions here, one of them being a very impressive Botanical garden and zoo, both of which are entirely free! We'd heard great things about it so went to check it out for ourselves. There's plenty of parking here even for big Campervans like ours. We headed straight for the free zoo filled with amazing animals both local and international as well as plenty of friendly zoo-keepers who were wiling to answer various questions we had.
The avery here is a massive dome you enter on a raised platform, the avery is filled with all manner of birds swooping overhead and landing on branches and perches. While in here we could hear the screams of gorillas in the distance and curiosity got the better of us. A large enclosure with multiple caged areas and plenty of trees and apparatus inside to keep them occupied. The screams came from both the male and female gorillas vying for dominance over the group and asserting their intensions to mate. It was quite a sight although sadly I wasn't able to get it on film! There were plenty of other animals to see here including a wonderful "Kangaroo Country" enclosure where you can get very close to Kangaroos, Emus and a house of other small animals. All very tame and used to us humans standing around looking at them. What could be more Australian than having your photo taken with Kangaroos?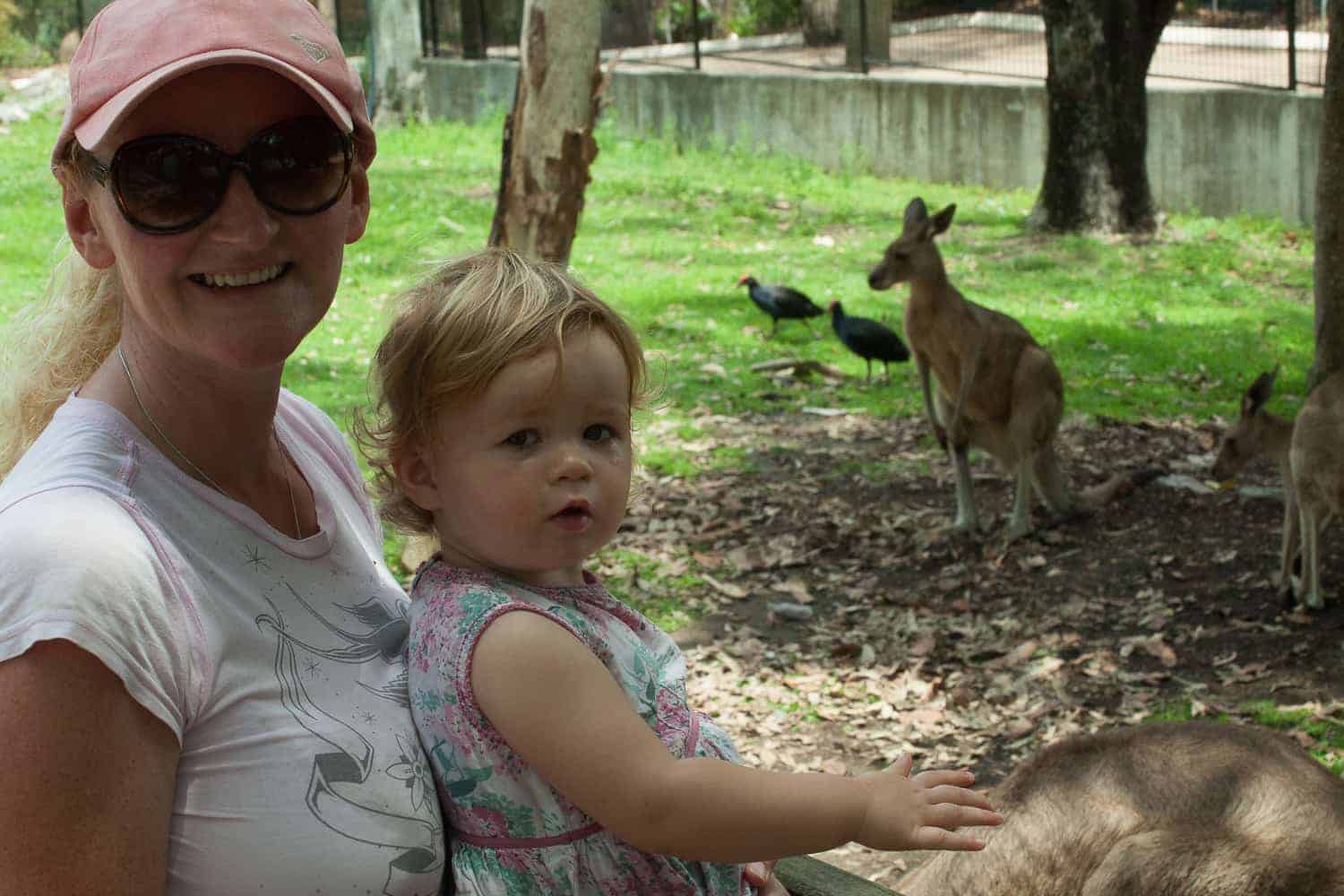 The Botanical gardens are also lovely to walk around with plenty of natural shade. Our favourite was the Japanese Garden with a beautiful waterfall and typically Japanese bushes and trees around a pretty pond. The highlight of the day was lunchtime at the local cafe here. While the food was fairly standard the wildlife was the real appeal. Maybe not the Ibis that stalked customers waiting to pounce on anything left too exposed, but the rainbow feathered Lorikeets were so stunning, 5 or 6 landing on our table and trying their best to hop towards our discarded plates. I can't remember the last time our 1 year old daughter had dinner without some wildlife show happening around her. Dinners back home after this road trip will seem dull and boring to her! This was definitely one of the most spectacular and she really enjoyed these pretty little birds coming by to say hello.
While our time in Rockhampton was brief it was enjoyable and above all, cheap! There's plenty of hidden attractions here which may not be blatantly obvious to passers-by but are well worth investigating. The Zoo is a must and who could resist a photo straddling two climate zones. Next on our road trip itinerary was Airlie Beach and the Great Barrier Reef!
Watch our Rockhampton video here
Where to stay
Our Big4 Holiday Park was situated right near the action in town so getting around was easy. The Discovery Holiday Parks, Rockhampton had plenty of space for us and attracted a fair number of birds, mostly parrots, to its surrounding trees around sunset. Quite an event we were lucky enough to witness. There's also 2 swimming pools here our daughter enjoyed splashing around in and you can get free towels from reception too which is a nice touch. Its location meant exploring the town in our van was nice and easy, definitely a blessing after a long day's sightseeing.
Check out all our Australia #GoByCamper posts here
Introduction to the #GoByCamper road trip in Australia
Video message from Sydney
Port Stephens and Port Macquarie
Coffs Harbor and Byron Bay
#GoByCamper photoblog – Part 1
Progress report from Byron Bay
Taking a break in Brisbane
Fraser Island tour
Family reunion in Townsville
#GoByCamper photoblog – Part 2
Reaching Cairns
Thank you
A huge thank you to Britz Campervans and Big4 Holiday Parks for their support on this amazing Australian road trip. You can follow our adventures with the hashtags #GoByCamper and #BritzCampervans.