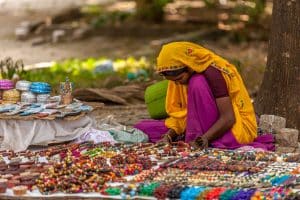 Cochin or Kochi is the fundamental flavor of Kerala, hence no vacation to Kerala is complete without a stop there. Kochi, also known as the 'Queen of the Arabian Sea,' is a place that will blow your mind. It was a significant spice center of trade in 14th century India.  With so many interesting attractions in one city, you'll have plenty of places to see on your journey there.
This list will assist you in prioritizing and choosing from among the top tourist attractions in Kochi for a one-day visit and air India booking will help you reach your destination. Scroll down and make your list of the things you wouldn't want to miss.
Santa Cruz Basilica, Kochi
The Santa Cruz Basilica, one of India's eight basilicas, was built by the Portuguese in 1505 and is one of the oldest and most popular tourist attractions in Kochi.   The church's Gothic architecture, which dates back over 500 years, exudes magnificence thanks to its pastel-colored interior and historical artwork. Antonio Moscheni, an Italian painter, and his pupil De Gama of Bangalore were the driving forces behind this. Moscheni's copy of Da Vinci's 'The Last Supper' is a must-see.
Willingdon Island
Willingdon Island, India's largest man-made island, is one of the top Kochi tourist attractions for a relaxing vacation. The island, named for Lord Willingdon, serves as a crucial link between Fort Kochi and the city's other airports. In this calm city of Kerala, you may stay in some of the top beach resorts and hotels in India.
Areekkal Waterfalls
Areekkal Waterfalls is one of the best sites to visit in Kochi, with its natural beauty of flowing waterfalls and verdant surroundings. The beauty of this waterfall, which is located in between the lush trees, is enhanced by the clean and captivating scenery surrounding it. The waterfall, which is adjacent to the major road, is easily accessible from any part of Kochi. This off-the-beaten-path location is great for those looking to get away from the city and spend a bit of time in nature.
Indo- Portuguese Museums
One of the city's most well-known attractions is the Indo-Portuguese museums, which house a large collection of antiquities from several churches. The Indo-Portuguese Museum, which exhibits every stunning attraction and fact linked to Kerala's artwork and history, is the ideal destination to see during your Kochi sightseeing. This museum preserves the Catholic community's past in India, including garments, altarpieces, and other valuables.
Kodanad Elephant Training Centre
Elephants have long been a part of Kerala's culture and heritage. History stands as a testament to the good fortune of these animals since every event is highlighted by the appearance of these colossal creatures, which are organized according to proper rituals. There are numerous temples dedicated to the worship of elephants. One of the places to visit in Cochin is the elephant training center, where these elephants are trained and cared for.
Hill Palace
This is the ideal spot to go if you want to learn more about the lives of the kings and queens. The palace, which was once the residence of the Maharaja of Kochi but has since been turned into a museum, is stretched over 49 opulent buildings. Within this palace, there are artworks, weapons, manuscripts, paintings, and other objects used by royal families on exhibit (footwear is not allowed inside the main building of the palace). The gold-plated Crown is one of the palace's most notable features. The name comes from the fact that it is situated on a hill.
Kochi, with its historic buildings, historical churches, beaches, and other tourist attractions, is unquestionably the ideal spot to spend your vacation. This place is truly diverse and you will have the chance to learn about the city's history, heritage, and see the beautiful scenery by visiting these sightseeing spots. I believe that Kochi flights are now available from nearly every major country. It has never been easier for visitors to travel to this fascinating southern metropolis.