The best beaches in Vancouver
Posted in: Canada
Everywhere you turn in Vancouver, there's a beach. The locals are obsessed with this fact, and it's clearly one of the reasons why Vancouver is considered one of the best cities in the world. But picking which beach you spend your time at can be tricky; there are so many to choose from, each with its own personality, style, and stereotype. If you're visiting the city in the summer and have the time to spend on a beach, this handy little guide will hopefully help you get the view from the right one.
Kits Beach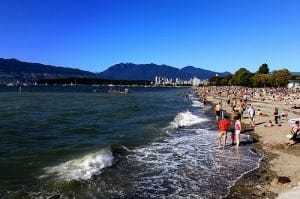 The Deal: Kits Beach, or Kitsilano Beach, is where you go to see and be seen. It's located in the heart of the yuppie-ish Kitsilano, a neighbourhood full of university students and twenty / thirty-somethings.
Who You'll See: Teenagers and twenty-somethings looking to strut their stuff. Thirty-somethings who live nearby.
Why It's Popular: Cornwall, the street that runs past the beach, is stocked with a few Starbucks, some sushi places, a handful of good ice cream and gelato bars, and some great patios, making après-beach an event in itself. Also, the recently built concession complex on the beach makes getting snacks and hitting the loo a lot more convenient than it used to be.
Summer Highlight Event: Pro and semi-pro beach volleyball tournaments galore. These athletes are unbelievably fit and thoroughly entertaining to watch.
Jericho Beach & Spanish Banks
The Deal: Further west than Kits Beach, Jericho and Spanish Banks are just outside of Kits, in the neighbourhood of Point Grey. Jericho is where to go if you want to sail, and Spanish Banks is the hotspot for skimboarding and kayaking.
Who You'll See: University students, twenty-somethings, and families having BBQs.
Why It's Popular: Spanish Banks is a less showy version of Kits Beach, with recreational volleyball courts and a more secluded feeling. It's also calmer than Kits, so the waters are super welcoming for swimming, skimming, and kayaking. Jericho is small and home to avid sailors.
Summer Highlight Event: The fact that it's summer. And the BBQs…it's just a chill, local watering hole.
English Bay Beach
The Deal: The "downtown" beach, English Bay Beach is in the West End neighbourhood of Vancouver, just outside Stanley Park. It's the most convenient for those staying downtown.
Who You'll See: Everyone, especially tourists in the summer.
Why It's Popular: It's right downtown in a trendy area at the end of Denman Street, which is full of sushi places, fro-yo joints, and every kind of other food you could possibly want, including slushies from 7-11. You can also rent a stand-up paddle board from Ecomarine for an hour or two.
Summer Highlight Event: Celebration of Light, an epic annual fireworks event showcasing three different nations on three different nights. Set up camp early if you want a good view.
Third Beach
The Deal: Third Beach is on the west side of Stanley Park, and offers a gorgeous view of sunsets, as well as a nice area to relax with a picnic.
Who You'll See: Families and tourists.
Why It's Popular: It's got a great view, is close to a snack stand and playground, and is easily accessible from the city. It's also a lovely spot to stop and relax after circumnavigating Stanley Park, whether on foot, bike, or rollerblade.
Summer Highlight Event: Celebration of Light can be seen from here too, although the accompanying music can't be heard.
Wreck Beach
The Deal: Vancouver's only clothing-optional beach, Wreck Beach is technically on the property of the University of British Columbia. It sits on the furthest west point of the peninsula, down a steep set of over 200 makeshift wooden steps. Prepare for a workout on your way back up.
Who You'll See: Hippies, free spirits, laid-back families, university students, and pot-heads.
Why It's Popular: It's a clothing-optional beach. Enough said? It's also a very relaxed environment, and you can easily procure some special brownies and cookies as afternoon snacks.
Summer Highlight Event: The Bare Buns Run. Do I need to say more?