Seville is a place I've always wanted to visit and thanks to a recent press trip from British Airways and Tourism Spain I got my wish granted. It's an interesting mix of cultures and architecture from both Muslim and Christian origins and was built on the river Guadalquivir as a port to ship olive oil.  It's also the place that Christopher Columbus set off for America from and he stored his goods here before exporting them all over Europe. Over the centuries it's become a haven for artists that made Seville their home and created some beautiful buildings, paintings and even Operas. With so much to take in I was really looking forward to this trip!
Getting there in style
I had the pleasure of being on the inaugural British Airways flight from London Gatwick in England direct to Seville. It takes just 2 hours 45 minutes and there's now flights 5 days a week too. I was treated to some very tasty food on board, afternoon tea served on the way there and a choice of Thai beef curry or pasta salad and Salmon on the way home.  Being an inaugural flight were lucky enough to get a water cannon salute on arrival which was quite the entrance! It definitely made me want to be on more inaugural flights! Quite a sight! Thank you to jaalmarza for his photo.
Where to stay in Seville
I had 3 nights at the FonteCruz Sevilla Hotel.  The hotel was right in the city, on the edge of the Jewish quarter, about a 5 minute walk from the Cathedral.  The hotel is very stylishly decorated with an outdoor swimming pool which is open 6 months of the year.  The whole of Seville is walkable from here making this an ideal location for sightseeing! The restaurant does a wonderful array of food with dogfish being my favourite discovery on this trip. Something I'll definitely be trying again on my return to Spain.
I also had the pleasure of visiting the Hacienda De Orán which is only half an hours drive from Seville in the plains near to the town of Utrera.  Definitely something a little different away from the busy city life. There are 19 rooms all decorated individually with antique Spanish pieces.  It's a very quiet location with a lovely pool and beautiful views. Worth considering if you prefer the smaller towns on your travels.
What to see
The Royal Alcazar
The Royal Alcazar and the Cathedral were declared UNESCO World Heritage Sites in 1987 and its the oldest royal palace in Europe. The official residence of the Spanish royal family when in Seville too which makes this a must during any visit.  The palace is a complex of historical buildings with each of them built at different points in time. The first part for instance was built over a thousand years ago during the reign of the Moorish King.
The most beautiful room for me was definitely the the Ambassadors room.  In this room the King would have received his guests and no doubt impress them greatly.
The bottom half of the walls are ceramic with plaster on top with moulds used to form Arabic writing.  You may even recognise this room as it featured in the TV series Game of Thrones in April 2015.
I found the gardens wonderful and could have spent most of the morning sitting and watching the tourists enjoy the views.  The oranges that grow in the garden here are sent to Buckingham Palace and made into Marmalade. A wonderful tradition that has continued for centuries.
The Cathedral of Seville
The Cathedral was originally built as a mosque in the 12th Century but all that remains now is the Orange Tree Courtyard and minaret.  Entrance for the Cathedral including access to the tower, or La Giralda, is 9 Euros and you'll need at least an hour to get the most out of your visit.  Going up the La Giralda was easy as there are 35 ramps rather than hundreds of steps to get you to the top.  The views over the city are fabulous, day and night. Definitely a highlight of my time in Seville.
Plaza Del España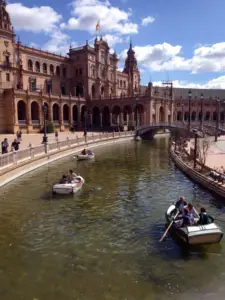 Built for the Iberian exhibition of 1929 the Plaza Del España is an awesome sight.  With a manmade river running through it on which you can row and 4 bridges over the river towards the impressive fountain in the centre.
Around the edge of the Plaza are tiled depictions of each province of Spain with plenty of Spanish tourists searching for their province.  There is a map of each one and a picture which is a wonderful depiction of Spanish history.
It's such a beautiful Plaza with photo opportunities from so many angles. Definitely worth a visit on your trip to Seville!
Opera Tour
One of the tours we embarked on was centred around Sevillian Operas and locations of special importance.  The 3 Operas we paid particular attention to were Carmen, The Barber of Seville and Don Juan/Giovanni. Don Juan was a trickster so the opera is often performed at Halloween and is the longest uninterrupted performance of an opera too. Its been played every year since 1787. The tour took in some interesting sights with fantastic background information and truly stunning performances from the singer. It really brought them to life. Our guide from www.sevillaofficialtours.com was excellent and was an entirely unique way to take a walking tour of a city.
Eating out
Mercado Lonja del Barranco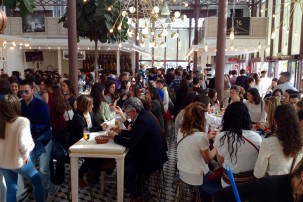 This was definitely my favourite lunchtime spot.  A posh food court where each "stall" specialises in a different food, from cheese, damon and prawns to oysters and champagne.  You go up and buy a plate or 2, take it back to your table and share it with friends! Simple.  If each person in your group gets a different item it works really well.  We sat outside and the whole area was buzzing even when I left at 4pm. Locals love to take their time when it comes to food and drink. The atmosphere is as important as the food.
El Rinconcillo Bar
Established in 1670 this is one of the oldest Tapas bars in Seville.  A great place to either hang out at the bar for a snack or enjoy a more formal occasion sat within the restaurant.  The food here was very typical of Seville with beef cheeks and honey fried aubergine.  Open from 1pm to 1.30am eating on Spanish time is a must.
Besana Tapas
Noted by many as one of the best tapas restaurants in Spain you'll find the Besana Tapas about 30km outside of Seville in the town of Utrera, situated in the Jewish Quarter.  The tapas arrives well presented and the popular restaurant has a modern atmosphere with white walls and dark wood tables and chairs.  There's a bar that wraps round the front of the restaurant, which also includes high bar tables and stools on the side. The prices are reasonable making it easy for you to sample a lot of the menu even if there is just the 2 of you.  Definitely try their mini burger and the cannelloni.  A very popular dish with regular clientele is the Oxtail meatloaf.
Evening out
Museum of Flamenco Dancing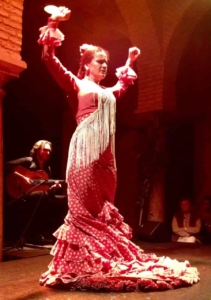 This is a great introduction to everything Flamenco with the museum showing the progression over the centuries with lots of interesting video presentations. The Flamenco teacher Cristina Hoyos takes part in the shows and also has a school for those that are keen to learn and participate.
The highlight for me was the 1 hour show which was filled with passion and intensity.  I was enthralled by the performance of the dancers as well as the singer and guitarist.  Each person has a solo section showing off their particular skills and its definitely a very captivating experience. Museum admittance including the show is €24 and there's a bar too for a drink after the show.
Casa de la Guitarra
A tiny little venue owned by a man who is definitely passionate about guitars! With a collection of about 100 guitars there's plenty to see here with the oldest dating back as far as 1840.  Its a small and intimate place and in the evenings they have their own Flamenco shows with the owner José Luis Postigo on guitar, of course.  No microphones are used as the acoustics are perfect without them. A quirky little place that will definitely give you some fond memories from your trip to Seville. Tickets to the show are €17 with 2 sessions every night of the week, at 7 and 9pm.
Thank you Seville!
I think its true to say that Seville is a quintessentially "Spanish" city losing none of its local charm to modern European living. Getting around is very easy and there's so much to do here I'd recommend a full week to take it all in. If like me you only have a weekend then its entirely possible to have a very memorable experience in Seville. With the new British Airways flights from Gatwick, getting there is easy!
A huge thank you to British Airways and the Spanish Tourist Office for making this trip possible. For more information on Spain visit www.spain.info and for the latest deals on flights to Seville from Gatwick Airport check out www.britishairways.com