In the North of Spain the beautiful province of Asturias is situated between Cantabria, Castile and León, and Galicia.  With around 200 miles of gorgeous coastline its also home to the first national park of Spain.  With warm comfortable summers and mild winters Asturias is very popular with Spanish tourists. I recently visited in early July and the weather was a pleasant 25c and dry.  Asturias is best known for it's love of cheese and cider, about 95% of what they produce they then consume. So I was keen to sample the 5% they were willing to share with us tourists! Its the perfect destination for a long weekend with plenty to see and do. Here's my experience of Asturias and why you should consider it for your next European trip.
How to get there
You can now fly direct from Stansted to Aviles (Asturias airport) with easyJet who fly 5 times a week.  You can  also fly to Bilbao in the neighbouring province and easily drive along the beautiful coast to Asturias. Due to its northern coastal position you can even take your car there on a ferry from either Plymouth or Portsmouth to Santander (a 2 hour drive from Aviles).  It takes about 24 hours and costs around £850 return for a family of 4 in the height of summer. So lots of ways to access Asturias whatever your plans.
Where to Stay
Hotel Palacio de Avilés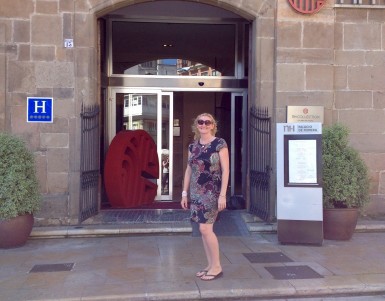 The
Hotel Palacio de Avilés
 is right in the heart of Aviles on the Plaza De España about 18km from the airport. Its a very opulent Palace converted in the 17th century with high ceilings downstairs in the lounges and reception areas.  There is Cava, water and sweets in receptions at all times for the guests, a nice touch I thought.  Each of the 78 rooms has its own coffee maker and great views of the surrounding gardens to enjoy while you sip your morning java. In fact it was so serene here I almost forgot I was in the middle of the city!
While in Aviles I recommend you take a city tour that includes the Oscar Niemeyer International Cultural Centre and also visit the museum which tells you the history of the City and it's surrounding area. I found it very insightful and a explained much of the old city's charm and enduring legacy of some of its residents.
Mirador in Playa De La Franca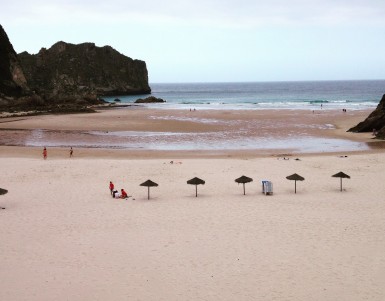 Situated in Ribadedeva and right on the beach the Mirador in Playa De La Franca is all about the location, my room had a stunning view of the beach which was busy even at 7pm. Originally built as a spa in the 19 century by "Indianos", rich land owners who came back from America, the decor is a little dated but this makes it all the more quaint.  The staff were friendly and welcoming and made me feel right at home. Its a great hotel for families and its instant access to the beach makes it perfect for sun-worshipers.
The
Hostería de Torazo
is situated within a beautiful forest, in the heart of the Sidra region in Asturias. Its part of the town of Torazo and I found the hotel to be very peaceful with just 30 rooms. This quiet seclusion makes you feel like you are the only guests at times and well pampered by the staff.  We arrived at the hotel late but still had time for an hour and a half in the hydro-pool which you can go to as a group taking each water jet in turn. I also adored relaxing in the sauna and steam rooms and of course taking in the gorgeous scenery through the floor to ceiling windows on 2 sides of the pool room.  Our time here went all too quickly but our next stop was the wonderful restaurant where we had dinner (more on that later) followed by cocktails on the balcony, perfect!
What to see
Picos Del Europa
The Picos Del Europa National Park was the first national park to be created in Spain back in 1918.  The best way to see the area is to either take a cab or hire a car and go up to the 2 lakes for amazing views of the picos.
The Lakes of Covadonga are made up of 2 glacial lakes, Lake Enol and Lake Ercina and were original the centre point of the National Park.  There are some great hiking trails up here and cycling the route is very popular, with a cafe and toilets making a good rest stop.  Local cows were bathing in the lake when we were there and we got great views of the surrounding mountains.
Cabrales Cheese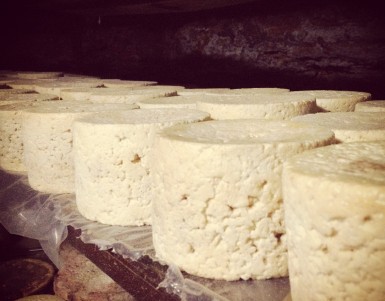 Asturias is teaming with small cheese makers and arranging a visit to one of them can be done through the tourist board. I highly recommend it if you're a cheese-lover like me!
Cabrales cheese was the type made at La Llosa, the small cheese maker in Carre?a we were lucky enough to visit.  It is very strictly controlled by PDO (Protected Designation of Origin) and all milk used to make this cheese has to come from the local herds. It also can't be sold for 2 months to allow the cheese to mature correctly.  We had a tour of the small factory and the caves where the cheese matures and is stored until it is sold.
Cider tasting
We tried 6 different types of cider in a restaurant called 
Tierra Astur in Avilés
, just across from our hotel. All of them were naturally brewed from apples and have about 4-5% alcohol content so easily quaffable.  There were 3 normal flat ciders, one wine cider, a sparkling cider and an ice cider inspired by the the ice wine of Canada.
The way the cider is poured is known as el escanciado and is a very special tradition here. Its poured from high up above the waiters head with the pourer looking towards the floor.  The cider hits the inside of a very thin glass which aerates it.  Only about an inch or so of cider is poured into the glass which you then gulp down leaving a small amount in the bottom, this dates back to when one glass was reused by all in your party and to prevent the spreading of any diseases. You then throw either into a purpose made gully or onto the floor, if the establishment allows.  As this way of drinking cider is messy only about 15% of restaurants serve it like this so be sure to find one that does if you can for that real authentic experience.
The perfect temperature for the cider to be served at is 12c so they don't refrigerate it as this would change the taste.  Instead Tierra Astur have a small river through the restaurant in which the cider is kept. Cider makers decide on the exact taste they're looking for and then mix their ciders varieties to perfection.  They still mix the cider by eye and not measurement too which I found fascinating.  My favourite cider was the sparkling one but then thats what i'm used to back home so it's no surprise!
Where to Eat
Restaurante Los Arcos
 is actually a Japanese style restaurant offering lunch accompanied by some local ciders in a village of Cangas de Onís. Its not typically Asturian but well worth a visit. If you sit up at the bar (seating for 7) you can watch your food being cooked on the hot plate in front of you.
The food was delicious, prepared with care and using mainly local ingredients. We had 8 courses with amazing dishes from things like Octopus with tomato, pineapple and balsamic vinegar to beef rib in caramelised sauce with potatoes and asparagus and pineapple puree. The food here is divine and the fusion of Japanese food with traditional Spanish ciders works so well together.
Tierra Astur in Avilés
Right in the heart of Avilés you'll find a traditional Asturian restaurant with saw dust on the floor to catch the cider that has been purposefully thrown onto it by its customers. If you are in a group of 4 or more you can sit at a table in a massive barrel which was different and great fun.  Its definitely not just a restaurant, it's an experience! Keeping traditional dishes alive and with a huge menu of around 175 dishes.
You can also buy every type of cheese made in Asturias here and last year they sold a whopping 96,000kg of it from their 4 restaurants. I highly recommend you grab some here to enjoy when you get home.
Find out more
With thanks…
I'd like to thank the Spanish Tourist Office for making this amazing trip possible. For more information on Spain visit spain.info. You can also follow them on twitter at @Spain_inUK.