Updated for 2018
We've always made it our mission to explore every type of accommodation available when travelling and there's certainly no shortage of options.
There is one, however
, which has plenty of reputation and is often overlooked as a viable option. Timeshares have long been a bit of a mystery to many but we actually have experience with them via family members and have definitely seen the positive sides to part owning a holiday destination property.
Timeshares have been in my family for a couple of decades now and have proved a wise investment, depending on the type of holiday-maker you are of course. These days you can also rent other people's timeshare properties and the internet is the perfect place to go hunting for some great deals.
We recently reviewed a website designed to help you find fantastic deals on timeshare rentals and for those that own them to sell their properties too.  SellMyTimeshareNow.com, a company based in the USA, was founded in 2003.
The website features more than 60,000 timeshare properties (for sale and for rent), so plenty of options to choose from on your next visit to the States and beyond. As ever, we like to test just how good a website is for finding exactly what you need. Does it have the variety to be a truly useful timeshare search engine? Are the deals the best on the market and how easy is it to book? We put SellMyTimeshareNow.com to the test. Here's how we got on.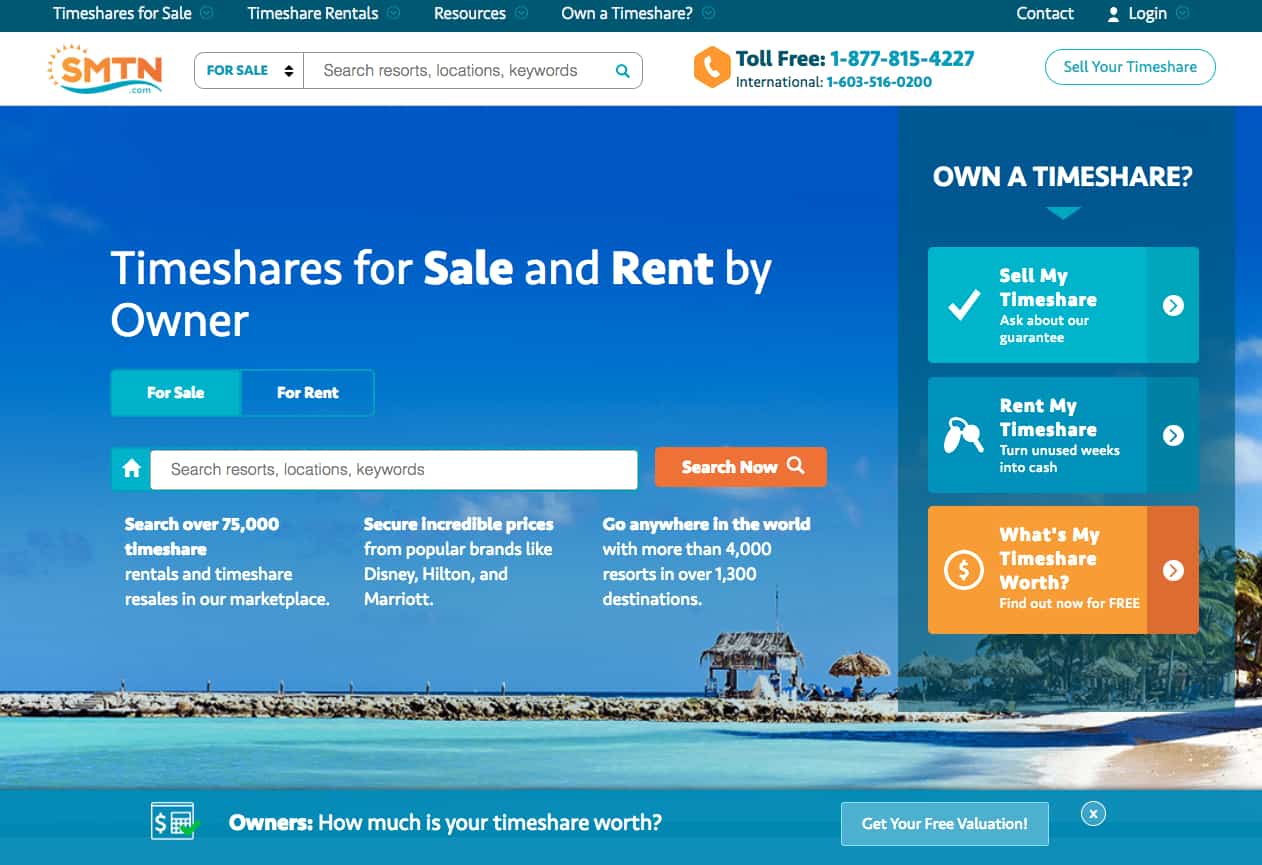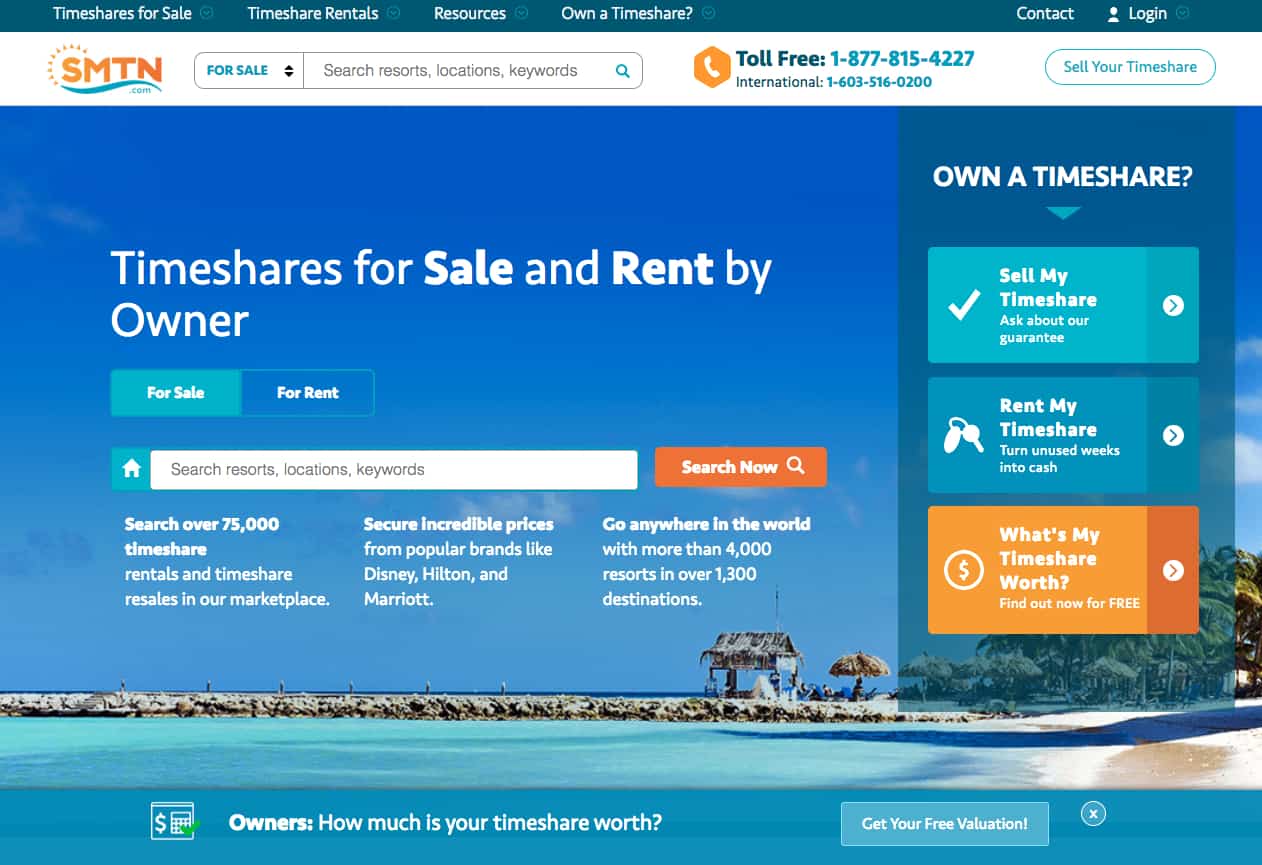 FIRST IMPRESSIONS
We love a homepage with some detail rather than just photos, so there's certainly some here to help both sellers and renters get started. Lots of useful info about how to offer and some quick views of recently added properties too. The styling is clean enough, maybe not ultra-modern, but certainly user friendly. The site is now "responsive" after a recent revamp so easy to use on your mobile or tablet too. Homepages can easily become overwhelming so it's good to see exactly what this site can do for me and where I might want to go next. I'm looking to rent a timeshare, so let's dive right in.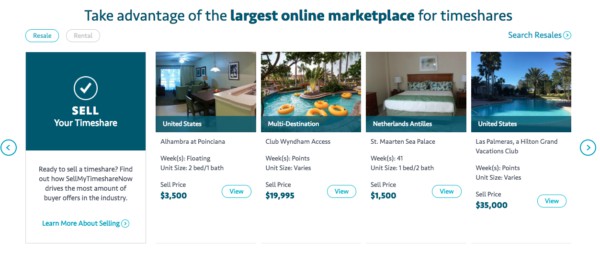 RENTING A TIMESHARE IN ORLANDO, FLORIDA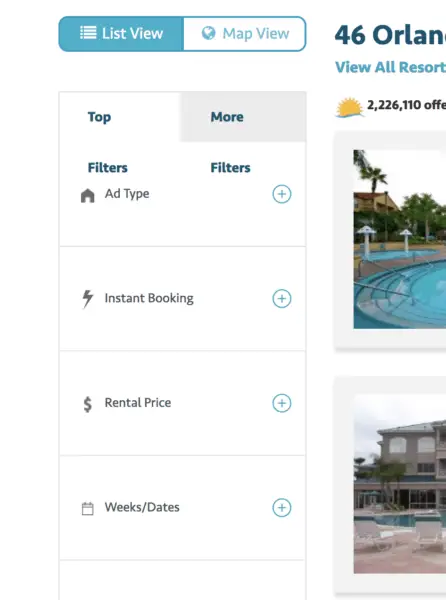 I'm thinking of taking my young daughter to Disneyland so timeshares for rent in Orlando is a great place to start. From the homepage there's a big search box which, when submitted, takes you to a results page with various controls to help filter. By default it'll show you all timeshares for sale, so you'll need to change it to "For rent".
There's plenty of filters here for price, week, property size and if you click on "More" a whole variety of more detailed options appear. I recommend using "More" as you'll get the most out of your searching. The "Week" filter is a little confusing to most and we've come across this before where timeshare companies like to list availability by the week of the year rather than dates. We have no idea what week of the year "Week 28 is" and I'm guessing you won't either. So it's best to enter a check-in date. Entering my preferred check-in date of "1st September 2017" gave me results for weeks 34, and beyond. Alternatively, you can check out their handy "Timeshare Calendar" which will provide you with the exact week number for your specified vacation dates.
THE RESULTS
My search and filtering returned plenty of results for my wife and I to look through. A great range of properties all clearly marked as "For Rental By Owner" and giving a short snippet of the description along with the address and unit size, plus the all-important price! I sorted by prices low to high but be careful you pick the right sorting method when doing this. While I was filtering for just rental properties I was able to sort them by their sale price rather than rental price which is rather confusing at first. Once I'd filtered correctly we had fun sorting through the properties we were most interested in. I recommend opening a new tab for each one you want to view as it makes getting back to the list much easier. We soon had 10 or so tabs open!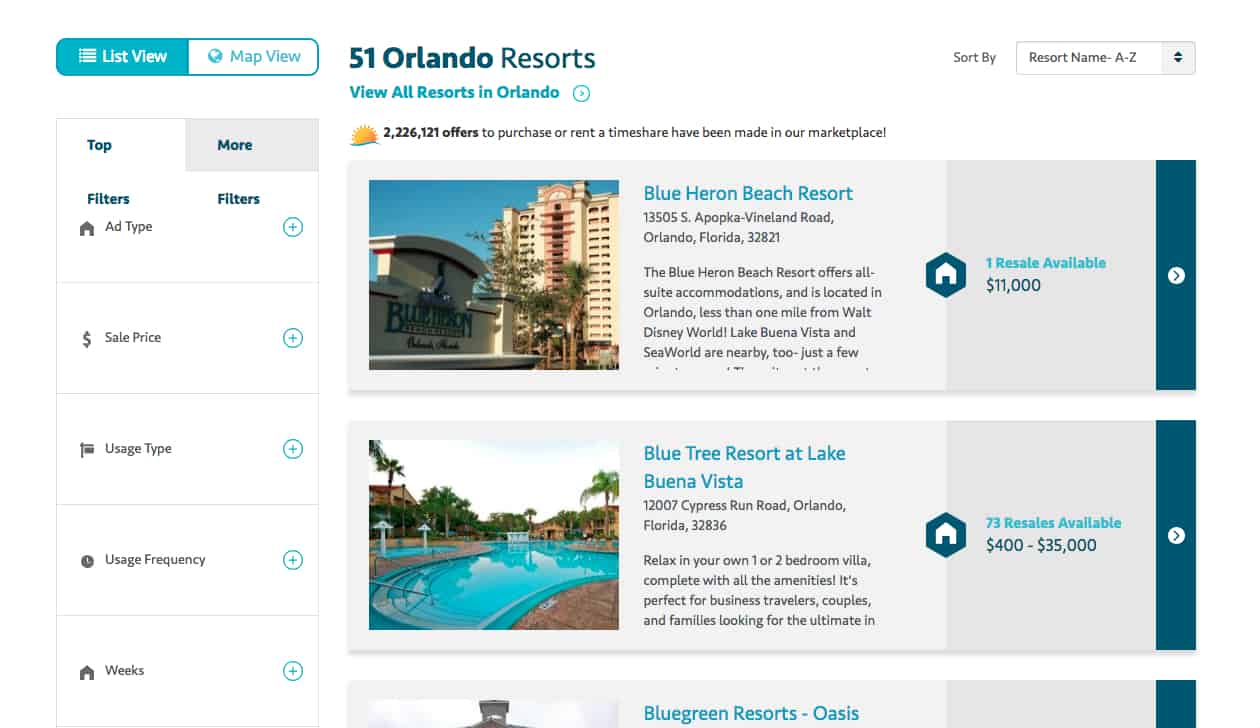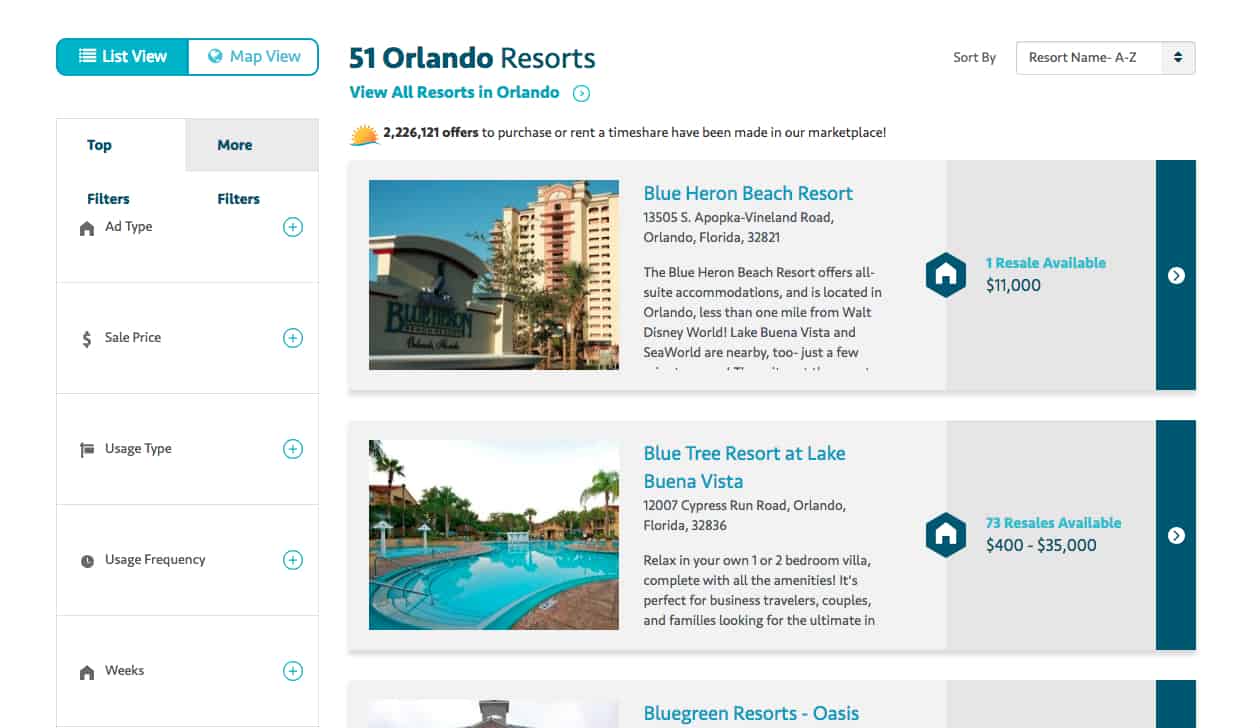 COMPARING PROPERTIES
So let's compare the first 3 results, opened in new browser tabs for easy access. The prices are very competitive which is to be expected as Americans do love their timeshares. Competition is fierce keeping prices very reasonable. The details page could maybe do with bigger images and more of them. These properties had just 4 images each but at least they were varied in content. Exterior shots, interior, and views.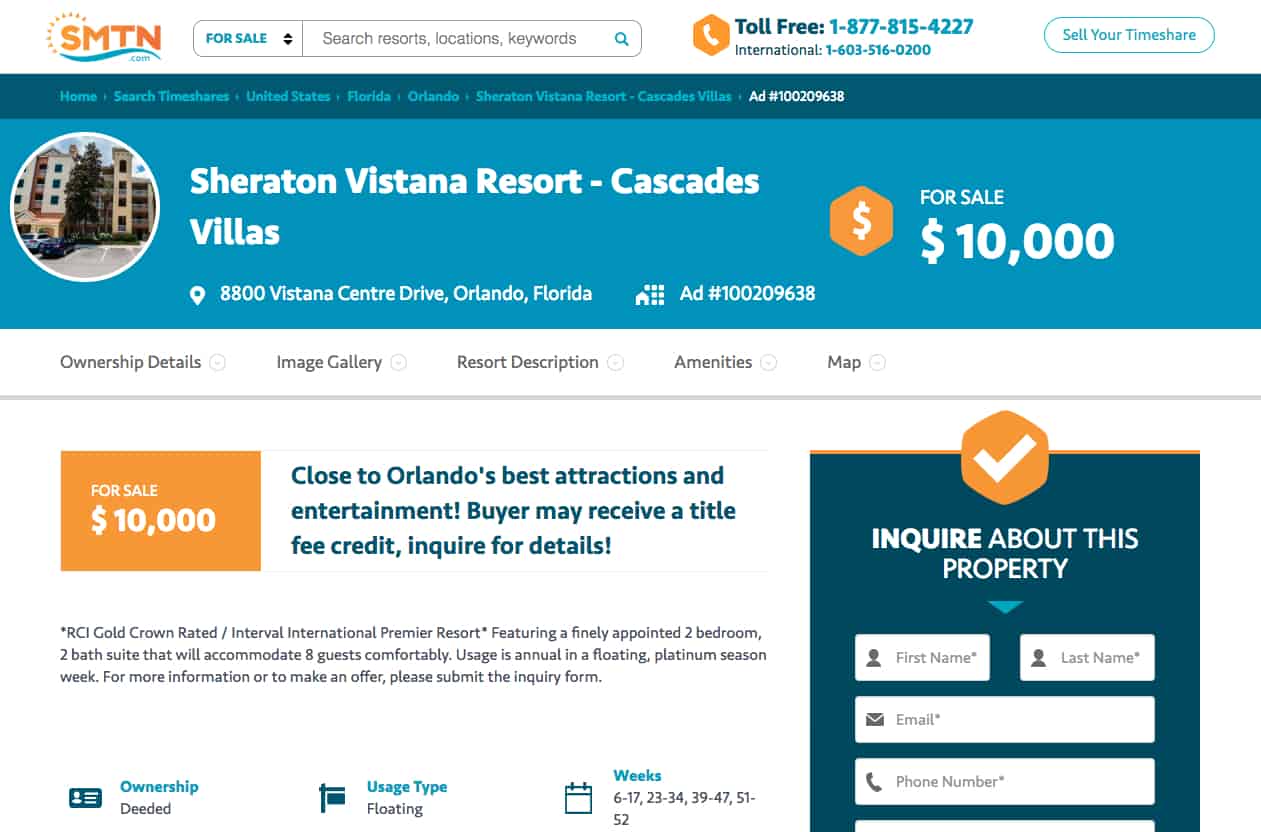 In order to gauge the size of the property, if it's not apparent from the photos, it's worth comparing how many bedrooms there are to how many they claim it can sleep. A listing for Sheraton Vistana Resort (Spas Villas) says that it is a 2 bedrooms but sleeps 8 which would suggest there's ample room in the lounge for 4 to sleep comfortably while 4 sleep in the 2 bedrooms. There's a handy Google Map on this page which sits in quite a small box on the right. You can't expand this map but you can at least zoom in to see where the property is located. There's also the usual details hidden in collapsible tabs for Unit Amenities, On-Site Amenities and Nearby Amenities.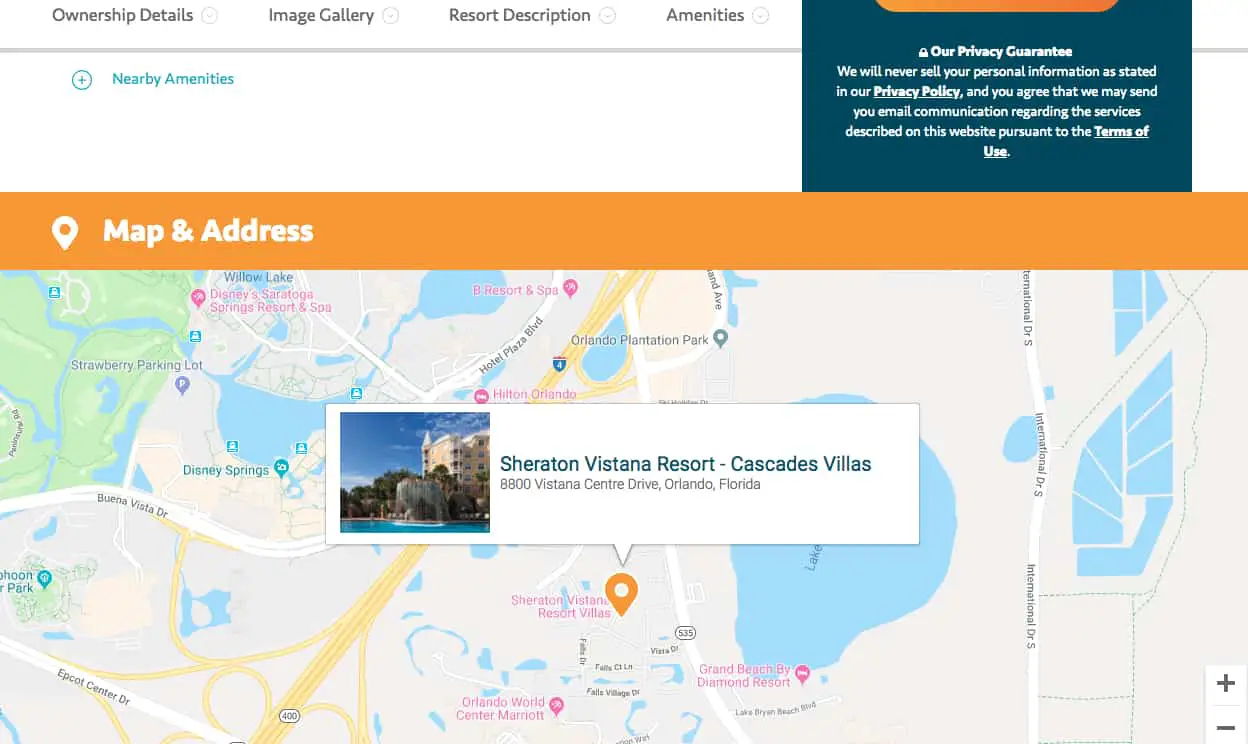 I recommend contacting a number of possible properties for your trip. The Inquiry form is clear on every property details page and you can even put in an offer on rental price rather than just accepting the displayed rental price. You can also use the form to ask questions, get more information on the property, and more. Submitting the form will take you to a page with plenty of information on your correspondence as well as what to expect from the timeshare owner. It's a very easy system for making contact with numerous property owners and opening a tab for each one means you can simply close the tab when you're done and move on to the next property.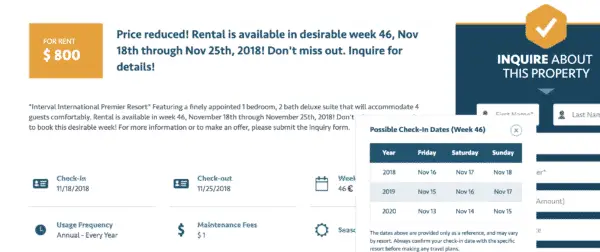 We were able to contact numerous properties very quickly and what the site lacked in information we were soon able to get from helpful owners. I love the fact that you can make an offer too and I definitely recommend negotiating rather than just accepting a price. You could save yourself a decent amount and have more to spend on other parts of your trip, so definitely worth pushing to see what you could save.
It's worth noting that not all properties have online booking facilities, so if you're looking for a super easy experience you might want to filter by "Online Booking" as well. It definitely adds a little peace of mind and keeps everything within the website's ecosystem. But if you're looking to haggle for the best deal, you're better off dealing directly with the timeshare owner via the inquiry form. It's great to have the option of both here.
LAST MINUTE DEALS
Another area we found very useful was the "last minute timeshare rentals" which are promoted throughout the site. If you're looking for something in the next few weeks and don't mind where you go, then this section is for you. The list is filtered by your search results so we had a list of amazing last minute deals in Orlando. A lot of the deals here are for spare days that owners have in their diary, so in addition to the traditional week-long timeshare rental you might also find options for long weekends and 2 night breaks. The online booking details page for these properties offers more information on a Google Map, although curiously less information than standard property details pages. Still, if you're looking for a mega cheap deal for this coming weekend it's definitely worth checking out. You will find some very impressive prices here.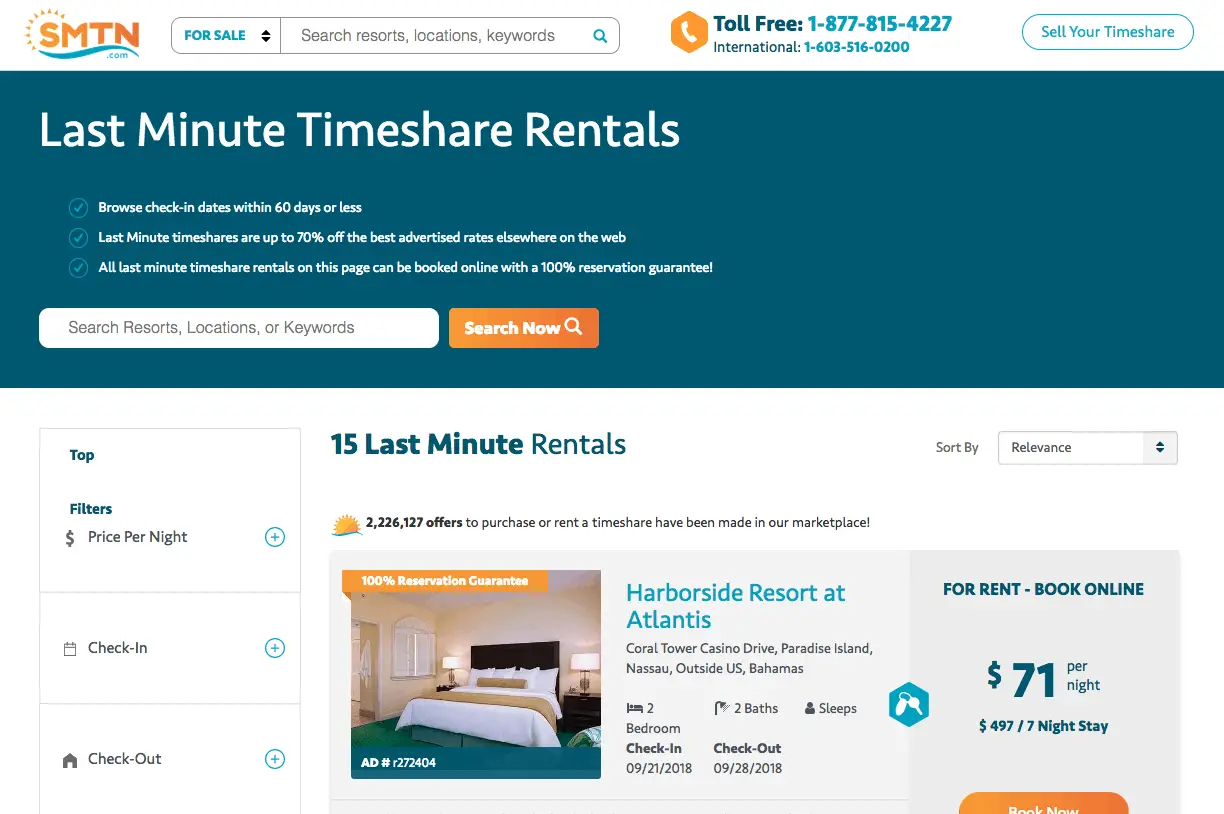 OTHER COUNTRIES
While SellMyTimeshareNow.com obviously has numerous timeshares for sale and for rent in the USA (over 40,000), it does also feature properties in many other countries around the world. The number of results returned are much lower outside of the USA even for places like England but this is also partly because there are fewer timeshare holiday properties there than in the USA. In other timeshare-heavy destinations like Mexico and the Caribbean, it's still a good source of options with some great deals.
CONCLUSION
We found the website very easy to use and we found quite a few properties that were within our price range. I love the fact that you can offer your own price for the week you'd like to stay. The timeshare industry does tend to have its own vocabulary and methods of sharing information, which to many may seem a little baffling but you soon get used to the terminology. The site has a very large amount of properties both for sale and rent and those fabulous last-minute deals too.
As I get older I definitely find myself looking more at short-term rental apartments and homes rather than hotels. You get a lot more for your money and feel more at home in the country you travel to. So it's great to know there are so many options available when it comes to timeshare rentals. I'll definitely be making use of this website on our next trip to the states and will keep a keen eye out for properties in other countries too. The site is easy to navigate and fast to browse around, its the perfect place to find (and negotiate) a great deal on accommodation.
Check out www.sellmytimesharenow.com and have a browse around. You can also follow them on Twitter and Facebook.