In my many varied travels over the years I've often utilised the internet to arrange much of our flights, hotels, excursions and tours. When there's just 1 or 2 people, it's so easy to do online. A few clicks and my dream holiday is booked. When it comes to group travel, though, it's totally different story.
If there's 4 or more of you to arrange travel for, it can be a real pain & time wasting to organise the people travelling with you and the trip's logistics, find good group deals, to arrange everyone's payments which may often mean out of your own pocket before they reimburse you too! The hardest thing is to search for competitive deals as you're often stuck with whatever is available rather than what's right for you.
So when we were asked to review MyBreakTrip.co.uk we were very curious. The site claims to help group travellers get the best deals and make the entire process of booking group travel a breeze. But could it live up to the hype? I put it to the test.
Here's a quite table of contents if you want to jump to a specific section of this review:-
MyBreakTrip.co.uk
So the premise is pretty straightforward. MyBreakTrip offers a platform for you to create a group trip the way you wish; you can select your perfect itinerary, invite your friends and family on the trip or even find other like minded travellers to join your trip. Once your group is happy with the itinerary, you can request quotes for your trip from well-known UK holiday suppliers. You can review multiple quotes, pick the best one and get everyone to pay separately (or as group). It's touted as a one-stop-shop for group travel. It's a refreshing new approach that I know from experience could have come in handy on numerous occasions over the past couple of decades I've been travelling!
Homepage
So let's start at the beginning. The bright and friendly homepage makes it pretty clear how you step through the process, with a few teasers on current public group trips you could join and some dream destinations you might want to visit. If you're logged in you'll see notifications on the user links at the top too.

There's a handy video worth watching to quickly understand how the site works. I would expect this video to be embedded in the homepage as it's often the first thing I'd watch if it was right there when I first visit the site. Here it is embedded in our site for you to enjoy.
While you can browse the site without logging in, the service really requires you to be a member to tailor the experience directly at your favourite destinations and travel requirements. I signed up pretty instantly thanks to the Facebook integration and was prompted to enter some profile details. The profile is an important aspect of the site so it's worth filling it out in full, especially if you plan to create a publicly accessible group trip idea. While you can have an entirely private trip for just your friends and / or family, the idea that like-minded travellers could join my trip (public trip type) and ultimately make it cheaper for us all is very appealing to me. So I filled in my profile complete with avatar and details of my past travels. It also asks you what type of travel you like the most which helps to tailor any public trip results to your liking. You may not need this for your trip but if it helps make the website more useful then I think it's worthwhile. It's also visible to others so when people join your trip you can see if they are your kind of traveller.
Searching for group trips to join
I'll get on to creating my own group trip in a moment, first let's try searching for a few trips I might want to join. You can do this in a couple of ways. Either using the search box which appears at the top of most pages (including the homepage) or start browsing around the "Trip Board" on the top menu. On top there is also the "Traveller Hub" which I found be an interesting way to connect with like-minded travellers. There's two options here, either click around on the map, dropping a marker on whatever country you're interested in, or click on the style of travel you like to refine your experience.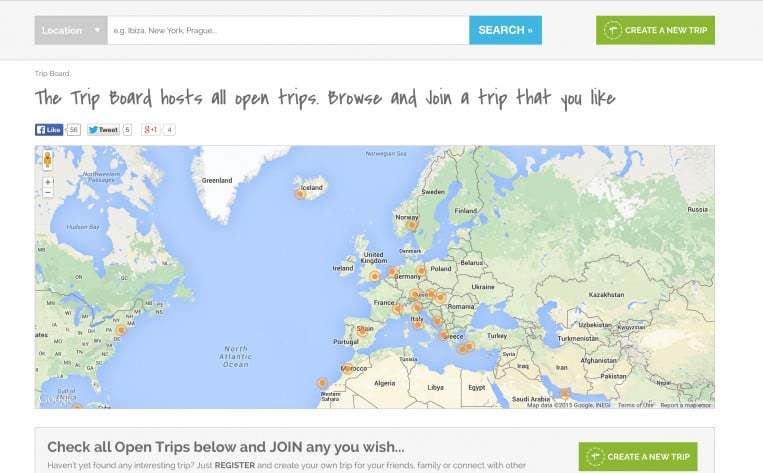 I found playing around here actually helped inspire me and check out a few group trips I'd previously not thought about or even been aware was an option. The map does appear a little blank at first so I wasn't too sure what to do here but once you get clicking it becomes apparent. It would be useful if there was maybe a counter showing for each country so I knew how many trips were available. That would save me having to click around multiple times just to find out there were none in certain places. Also at present its only by country rather than region, Not too big an issue for places like Morocco but a big issue for large countries like America, Canada and Australia where you might only want to see trips in California for instance. The great thing is you can see who put a particular country as their dream destination, you can check out their profiles, add them as friends and message them directly too. Its early days so the membership levels will only increase but I can see this being a great social hub for like minded travel junkies like me. A social network built around the kind of travel I like.
Creating my own group trip
Let's get down to the real concept of this service now. I want to find the best group deal for me, my friends and maybe some like-minded strangers who will accompany me on a trip. I'm a huge Formula 1 fan so I put together a trip based around attending the Singapore F1 Grand Prix held every September. Creating a new trip is easy, you can't miss the big green "Create a new trip" button usually found top right of most pages. It's a fairly straightforward form to fill in from there to create your trip and become the Group Leader. The Group Leader is responsible for organising the rest of travellers and the logistics of the trip.
On this form you enter the city of origin and the destination city. It tries to match your search with a location in its vast database or world cities, not always finding cities I was searching for but for the most part was accurate. Of course one reason for this is that its only major cities with airports or rail stations that you'll need to search from. So my trip starts in London and the destination is Singapore. If your trip involves an itinerary visiting numerous cities and countries then you can add all of them here too. I made my trip open to the public to see who else would join me and entered a detailed description of the trip, what people can expect, what would be included and what areas of interest to entice people to join. I also created a graphic for my trip. This can be a snapshot of the destination but I decided to try and tempt people a little more with this graphic.
My trip settings
There's some important information to enter as well that not only tells group members when the trip will be, expected budget and number of members allowed to join, but it also tells suppliers who will offer you quotes for your trip. You can put in age ranges, type of travel and even gender, which lets you really specify the type of people you really want accompanying you. There's some fairly strict criteria here which on my first attempt I had trouble meeting but after a couple of tries my trip was set up.
Once I'd entered all the information about my trip it was set up and ready for people to search for and find it on the Trip Board too. Just like I had searched earlier. I could share this directly on Facebook which is a very handy feature and also send the link to my trip page via email too. It's really just a waiting game now, for people to join my trip both from friends I had invited and strangers on the site. My trip page is a very inviting layout with a large map showing the full itinerary, mine was simple but it's a good representation of where we'll be going. There's also easy to read info on all aspects of the trip. Other users can also leave comments asking questions about the trip.
Waiting for members to join my trip
This waiting period really depends on the kind of trip you've added and the travellers you're looking for. You can of course share the link with people on twitter, Facebook, any other network you're on, friends, family and just wait for members of MyBreakTrip to join. Thankfully on my trip it wasn't long before some of my friends and some people on the site had joined and I was notified by email with their profile images appeared on my trip page too. I was hoping for around 10 members but was happy to have 5. I could contact them directly, chat about the trip and get a sense of who they were so I knew the trip would be a success.
Getting quotes from suppliers
Once I was happy with the members that had joined my trip, I could move on to the next stage which is getting quotes that match my trip's requirements. In the past this was always the tough part. Group travel is notoriously tough to administer and get good deals on too. Most price comparison websites deal with specific prices for specific items, no bulk discounts applied or the ability to get members to pay separately. Moreover, most online search engines limit the number of travellers/passengers to just 8 or 9 while travellers on MyBreakTrip can create group trips with up to 50 travellers. Certainly not much offering for a bespoke package like the trip I'd created.

Moving on to the next step is very simple. Just a quick form to submit that tells the group that we're now getting quotes and not accepting any more people to the group. It's important that the site locks down the number of people and the trip's requirements (e.g. budget, destination, dates, etc.) here so that the quotes provided are accurate. Again once you've submitted it's pretty much a waiting game for suppliers to come forward and offer quotes. No doubt as the sites popularity increases the number of suppliers competing will also increase so you can expect faster responses and hopefully lower prices too.
Thankfully I had a quote back within 24 hours with a cost I was happy with. I could share this with the group and get their feedback. The quote included a total price for all of us, details on the hotel, flights, inclusion of extras like the grand prix tickets and details on any excursions they suggested.
Again how long you're willing to wait for more quotes is up to you. It's good to have a rough price in mind so you can see how they compare to your expected price. If you get more than one you can always contact them for more details (or travellers can optionally vote for the best quote) and you can even add your own suppliers who will be contacted and invited to quote too. Quite a clever system for getting more suppliers and more members to the site.
Paying for the trip
Moving on to payment is a similar experience to moving on to the quote stage. Informing all the travellers of the group, that I've accepted a quote and they can now pay for the trip. I specified when I created my trip that I wanted each member to pay individually. There's also an option for one person to pay for all but I'm not keen on that. The hassle in the past has always been that I've had to be responsible for all payments which inevitably leads to stress and headaches sorting it all out.
Each member of my trip was emailed and invited to pay for their portion of the total cost. I didn't have to do anything other than pay for my share. The payment page clearly shows the breakdown of costs per person and invites me to pay. The information here is as much a mental relief as it is a useful display. Knowing others had to pay their share and had been notified took the pressure off me to do this! I could just relax and not have to deal with the hassle of collecting payments and chasing people! As each member paid I could refresh my trip page and see the progress. Once they'd all paid I was notified by email and could move on to booking the trip.
Another key aspect of the online payment is the security. MyBreakTrip uses WorldPay for secure online payment processing and they are also a member of Travel Trust Association which means you are 100% financially covered.
Booking the group trip
Once again another step where I can notify the members that we're now booking everything. This also informed the supplier to go ahead and take the money from MyBreakTrip to book our flights, hotel, tickets, etc. This can take a while depending on how quick the supplier is for your trip but I didn't have to wait too long before I got confirmation that everything was booked and I could see some of the details on my trip page too.

I could even request all of the details by email as well as print off what was displayed here. Before the trip actually takes place I can now use my trip page and the MyBreakTrip service to contact the group about anything that needs discussing before we leave. Things like meeting up at the airport, discussing preferences for days out and just generally getting very excited about our impending travels!
Conclusion
The service is in its early days but what strikes me about MyBreakTrip is the really easy approach to group travel booking. Something I've not come across before and so dearly would have liked when organising trips in the past. Allowing travellers and suppliers to join for free and use an intuitive platform to move through the many steps of successfully booking travel for a group of people. Easier said than done in the past so this service is a breath of fresh air! I constantly felt in control of the trip I had created while also relinquishing responsibility to MyBreakTrip  suppliers and other group members when it was called for.
MyBreakTrip also make it clear you can contact them directly via email for support which I used a couple of times. Their friendly and quick responses meant my trip was able to progress from just an idea for a trip to being fully booked! All with the peace of mind their service was doing much of the work for me. Exactly how the internet should be.
I really enjoyed the user experience of mybreaktrip.co.uk and would definitely use it again. It is a great tool to use for a family holiday, a city break with friends or for finding more travellers like myself. We've all got dream holiday ideas, maybe even some that you've yet to find the right like-minded person to go with you. This website could be the answer to a lot of group travel problems. I'm keen to see how it progresses in the coming months and years. The more members, trips and suppliers it has the more useful it becomes.