I was recently discovered the website GoEuro a relatively new player in the travel industry with a big idea that could revolutionise the way we book travel.
So I decided to put it to the test. Here's how I got on. I hope you find this review useful.
The concept
It's pretty simple and one I often think about when I travel, but I'm sure many travellers don't. When you think of travel overseas our first thought is always to book flights and hop on a plane. But what if other modes of transport were cheaper?
What if they took less time door to door? Or maybe were just more convenient than flying? Wouldn't it be great if you could compare all of this in one place and pick the option that's best for your trip?
Take a look at this quick video from The Guardian with the founder of GoEuro.
This concept really puts the power in your hands but with all those options and preferences can it live up to the challenge?
At present GoEuro is honest enough to announce they're still in Beta, busy adding more partners and deals to give a greater range of offers. You've got to start somewhere right?
The homepage announces the site is currently "Optimised for the UK and Germany" but searches indicate a lot more destinations are in their database now.
The Homepage
When it comes to the internet, first impressions are everything. GoEuro's homepage is a great mixture of impressive photos with a sleek search form that keeps things simple. There's a list of approved partners which is relatively small at the moment but this will grow in the coming months I'm sure. The homepage is a responsive design that looks great whatever size your browser is and worked well on mobiles too.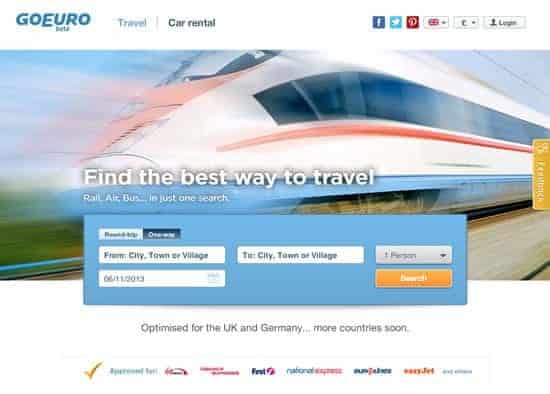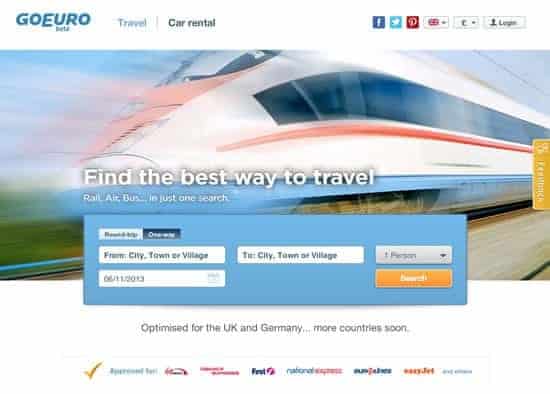 Domestic searches
If you're looking to travel from point to point in the UK then GoEuro did a great job of giving me all my options very easily. My first search was travel between London and Edinburgh. The results loaded quickly and at the top of the page you see the progress for each type of travel available.
Prices are listed next to each mode of transport so you can easily compare and I like how the length of the bar next to the prices compares the time it takes to complete the journey.
While flying is easiest it involves 3 types of transport to go door to door, whereas the train was only fractionally slower and was over £10 cheaper. The bus was by far the cheapest at just £15 but would take over 9 hours!
Armed with this knowledge it's easy to see which I would prefer. Everyone has their own preference, some want to save money and have the time, some one convenience while others will want to save time. I like this approach to comparing.
I tried another simple route outside of major cities to see what it would compare then. Bristol in the South West of England to Norwich in the mid-East is a fairly unusual route so a good test. The results found direct buses between the two cities for just £20 which is great.
The train was £33.80 and a little quicker than the bus. The anomaly was the planes. It's not a route you'd need to fly so I'm not sure why it suggested anything.
The result it suggested costs a whopping £154.21 and takes 24 hours and 17 minutes! It involved a train, a bus, 3 flights from Exeter to Belfast to Edinburgh to Norwich, followed by another bus in to the city.
While the route will indeed get you there it's rather redundant suggesting it, amusing to see but I'd imagine if flying really were your thing then a train to London and a flight from an airport there would be a lot easier and cheaper than the route suggested.
International Travel
As the name suggests most destinations in Europe are searchable on the site although the results you get can be a bit hit and miss. Flights are well catered for over most of Europe especially out of the UK.
It's interesting to see estimated driving times and roughly how much it will cost, presumably at current petrol costs rather than car hire costs. London to Paris takes approximately 5 hours 26 minutes although there's no mention of ferry crossing or channel tunnel costs in this.
Interestingly the flight costs include other transport costs. Flights from Luton airport cost £68.70 for 2 people while the train to Luton (from "London") is £30. so the total flight cost shown is £98.70. Unfortunately there's no train option for Eurostar from London to Paris. Something I'd expect to see and want to compare with other prices.
I also tried Berlin in Germany to Innsbruck in Austria. Two popular cities and fairly well connected too. Trans were the slowest of course, around 8 hours, while flying produced some weird and wonderful results. In all cases the transport was of course getting you from A to B but the suggested routes didn't make much human sense.
A flight via Air Berlin, for example, involved flying from Berlin to Cologne in the morning, waiting 8 hours at the airport before catching a 1 hour flight to Innsbruck. A costly and frankly silly suggestion. There were some good results in there once I'd worked out which ones were no good.
Conclusion
I can see a lot of promise with GoEuro the idea of comparing modes of transport directly next to one another is a fine example of how large amounts of data can be put to good use. The site itself is well designed and fairly easy to understand, its ability to compare easily worked very well. There were however a couple of issued that hindered my experience.
The current lack of partners meant obvious routes weren't available. I believe the team at GoEuro are busy securing more partnerships so this will only improve with time but I would suggest that as many routes as possible be added now, even if profitable partnerships are yet to be completed.
That way the routes I expect to find will appear and I'm more likely to use the site frequently in the future.
The other issue was the redundant and sometimes confusing suggestions that got in the way of listing the results I really should be seeing. I think there should be a comparison time limit. If a plane route takes 3 hours more than a train, bus or car journey then it should not be included.
Aside from these points which I am confident will be easily rectified in the future, GoEuro did a great job at comparing the transport types and I'm eager to see how the site improves in the future.
The design is sleek and simple, the concept is definitely interesting to me as I love all modes of transport.
What to read next