SVG is made up of some 6000 lush tropical islands, most of them are inhabited and all of which are a great excuse to leave the main island of St. Vincent and explore. The next stop on our SVG Live Liming Week was Bequia, pronounced "Beckway". It's often touted as a more relaxed and authentic experience compared to the hustle and bustle of the main island. Bequia has a population of just 4300 people scattered across 7 sqaure miles. Its undulating landscape forces the roads to hug the coastline and the beautiful turquoise waters are worth the trip alone.
Getting to Bequia
While Bequai does have a small airport for mostly chartered flights there is a much cheaper and fairly short ferry ride from St. Vincent. The journey only took an hour on our "Bequai Express" which lumbered along, rocking from side to side in open water. The crossing can be a little wobbly at times especially in inclement weather but our journey was pretty smooth and you're soon back in to the calm seas around Bequia. The port is the busiest area of the island but everything moves at a decidedly Caribbean pace. There's usually no real rush to get things done and after a few days in St. Vincent & The Grenadines we were used to this way of life, enjoying the relaxed vibe that everyone seems to exude here.
Bequia Beach Hotel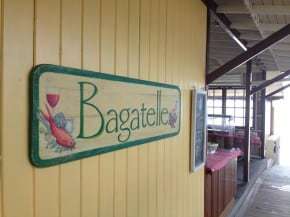 Our first stop in Bequai was the modern yet rustic styled "Bequia Beach Hotel". A short drive in an open air taxi, essentially a pickup van with a high roof and comfy padded benches in the back. The winding roads create great vistas around every turn and the path dipped down around the resort and entering its wonderful colonial styled beach front buildings. Situated in and on the sides of a natural valley, the Bequai Beach Resort had a real european touch to it. I've had the pleasure of staying in places like this before where a european expat sets up a new resort and brings with them European standards of building and management. The resort has a mixture of pretty little colourful cottages, beach facing apartments, hill side hotel rooms and even a 4 bedroom villa with a private pool that overlooks the landscape and beach.
Cocktails and dinner with the owner Bengt Mortstedt gave us the opportunity to find out what made him pick Bequai and build a new hotel here. Like others before him, the high pressure career coupled with a chance holiday to Bequai created a life long passion for the island and a new career in the hotel industry was born. Bengt was keen to tell us that Bequai is the "original Caribbean", before the tourists really came to the Caribbean islands like Barbados and Jamaica, influencing their culture. While its hard to pinpoint how much this is true its definitely apparent that Bequai has retained its own unique way of life that locals and tourists love.
Sugar Reef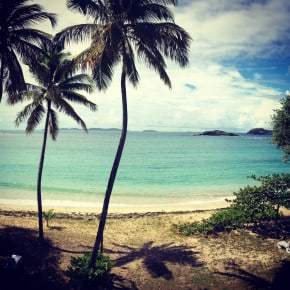 Hidden amongst the palm trees and hills of Bequia there is a small community of expats that have been here since the 70s in some cases. Clearly in tune with the Bequai vibe that has prevailed through the decades. The owners of the Sugar Reef Hotel are part of this expat community, with a cute boutique style resort nestled in a small bay on the east side of the island. With just a few houses dotted around the hills there's a great sense of space and seclusion here and both the location and the decor of the hotel feel very connected with nature. With just a handful of beach-front rooms and more rooms with spectacular views up at the "French House", Its easy to see why they created the hotel here. A cocktail reception gave us a chance to meet some more of the local expat community and find out what it is about this tiny island that has kept them here so long.
We met a great range of people, from artists who have happily called Bequia "Home" since the late 70s, to young couples who have lived here most of their lives as their parents run hotels or local businesses. Bequai can be frustrating at times, I'm told, with a slower pace of life its hard to get things fixed quickly and island life makes getting deliveries and supplies all the more challenging, not to mention expensive. Besides all this the pros of living in Bequia clearly outweigh the cons as everyone we met adores the island, its people and its awe-inspiring views. There's just something about Bequai.
Tour of Bequia island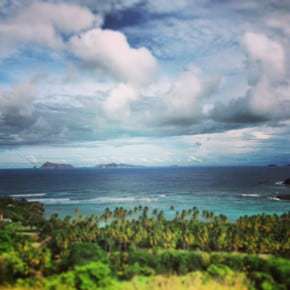 While its nice to find beautiful hotels to do some real Caribbean Liming, this little island is worth exploring too not just for the views but also for some great local characters. The "Old Hegg" Turtle Sanctuary is definitely one of those places. The sole creation of Orton "Brother" King, once a professional diver for 35 years, he said creating his turtle sanctuary was a calling for him and he successfully nurtures around 50 turtles at any one time. The sanctuary is small and a fairly humble affair, just a few pools and tanks for turtles of different ages. He also has an impressive goat farm and collection of dogs too that love to follow him around and lounge out in the sun.
One of Bequia's most colourful characters and possibly the island's happiest man,"Nugget" is famous for his model boats . We were invited in to the Sargent Boat Works, filled with the most beautiful ornate wooden boats of all shapes and sizes. He gave us a tour and told us all about how he puts these beautiful ornaments together. Some take up to 3 months to create and involve hundreds of pieces of wood. He's often asked to create model replicas of yachts that people own around the island. Following the original plans and painstakingly carving every little detail. He was an infectiously happy guy and a real pleasure to meet, its the local characters that always make a place what it is, even more so on such a small island.
Leaving in style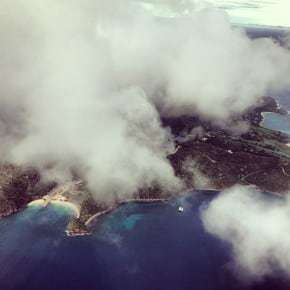 With word that our ferry on to our next destination was out of action we, were left with no choice but to  charter a plane. Before this trip I'd never been in anything smaller than a jetliner so with some trepidation we headed to the small air strip right on the coast, built on reclaimed land. Our re-assuringly posh and well dressed pilot greeted us next to his tiny little 10 seater aircraft. The "Britten Norman Islander" was by far the smallest plane I'd ever been in and with a clear view of the pilot ahead it was a very new experience for me.
The flight lasted just 20 minutes and was quite spectacular. With so many islands in St. Vincent & The Grenadines there really is no better way to see them all than from the air. From the moment you take off the views are amazing, heading out over the Caribbean Sea passing island after island, floating amongst the clouds and eagerly watching the view below. The smooth journey was an all-too-short experience I'd so wished had been longer, with such stunning blue waters, sail boats parked by private islands and local life continuing below us.
The landing at Union Island was an exciting end to our time on Bequia. Just a couple of days to sample its delights and a glimpse in to a very different island life, both for locals and the expats who so lovingly call Bequia "Home".
Want to know more about St Vincent & The Grenadines? Check out the official Facebook Page here and enter their competition to win your own amazing holiday in SVG! You can also see lots more of my photos of St. Vincent here and check out the video of climbing La Soufrière volcano too.