Exploring a region on a motorcycle has started to become a trend that not just appeals to the youth all eager to start an adventure, but also to a bigger demographic of travellers who would like to go deeper, and experience something more authentic in a country.
In spite of the bumpy roads and fairly fly-by-night public transportation, the country is very motorbike friendly. This is something the fearless and adventurous traveler can truly enjoy. Exploring a country, such as Vietnam on a motorbike could also be a good way to conveniently visit its most popular attractions and off-the-beaten paths. Here are some of the best travel tips you may want to know if you decided to explore Vietnam by motorbike.

Why Should You Try It?
Exploring through the streets of Ho Chi Minh and Hanoi may sound like an overwhelming at first glance, as Vietnam is known to have one of the worst traffic in Southeast Asia. But fortunately, a motorbike or motorcycle can easily squeeze through the traffic and you can easily find parking spaces in many places.
Motorcycling is also a great solution for travelers on a shoestring who are looking to stretch their travel funds, and perhaps explore every corner of cities. Depending on the length of your trip, you can find time for some "off the road" sites together with the common tourist areas covered by most Vietnam tours.
Motorbikes are extremely cheap to rent, buy, and maintain in this country. It seems like anywhere you look, you will find a motorbike repair shop.
How to Do It?
Again, it's very cheap to rent or buy a motorbike in Vietnam. However, you must be careful when choosing the right bike for your needs. It is best to invest in a higher quality brand and make sure that you get it from a trustworthy company. Vespa, Yamaha, and Honda are three of the best brands you can get. You may also want to do some research on how to inspect your motorbike and how you can make negotiation on making the price lower. Westerners, even though respected and well-liked in the country, are usually charged higher prices in many places.
110cc to 125cc will be totally enough for exploring the country unless you're planning to go through rougher part of the country. In these cases, it's best to get a more powerful model. Vietnam has a low-speed limit – 25mi/h for cities and 37mi/h for highways – so, having a very powerful motorbike can usually be a disadvantage in congested parts of the country. You are able to ride across the country on an automatic, semi-automatic or manual motorbike, so pick what will suit best for your riding experience.
For more convenience, you may want to search for Vietnam tours that offer motorcycling tour in the itinerary. By joining, you can guarantee that you will get excellent views and enjoy the heat of the sun on your back and the gust of wind on your face.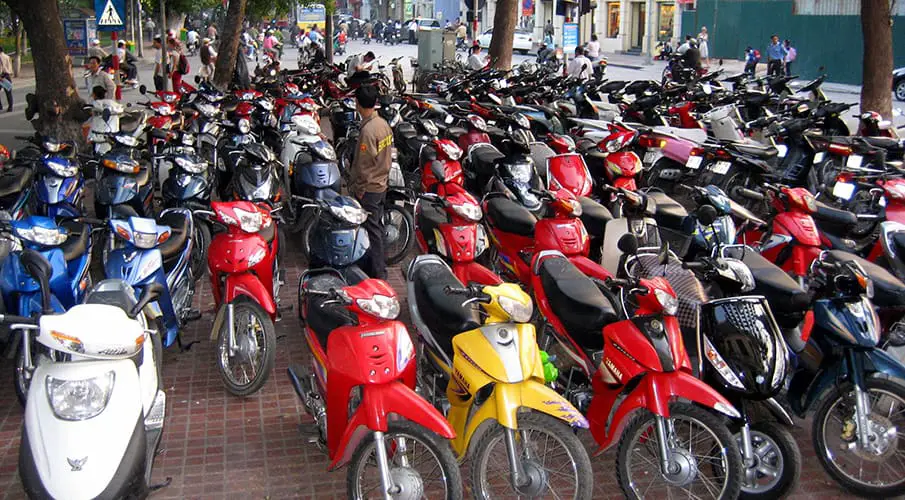 Best Biking Routes
Ha Giang Loop: Located on northern part of Vietnam, Ha Giang Loop is a route that circles back on its starting line, which is popular for having some of the best sceneries in the country. Depending on the roads you take, you can complete a loop in 2 to 6 days. The conditions of the road can vary between great and awful, so, be ready for the worst.
Ho Chi Minh v.v. Hanoi: You can cover this route by following the east coast. Mostly great roads, and on the way, you can visit the cities like Hoi An, Da Nang, and Hue. Many travellers prefer this route. Depending on your speed, this route will take 1 to 3 weeks.
Ho Chi Minh Road: This route starts outside of Ho Chi Minh and winds all the way to the country's western border. Going this route, you will be able to enjoy amazingly peaceful road with remarkable scenery; highly ideal for nature lovers who would like to experience unspoiled Vietnam.
Safety Reminders
The most important tips you can get when visiting a country is how you can keep yourself safe during the duration of your trip. While Vietnam is a very safe country, it has some of the most dangerous roads in the world. Because of this, make sure to always wear the right safety gears, drive cautiously, and always be alert of the vehicles that drive with you.
When it comes to the thieving problem, see to it that your motorbikes are in a secure, safe parking spot every time you leave or park it, and don't leave them unlocked or unattended for many hours. Gears that are left like helmet are theft-prone. The culprit can just cut through the strap and run with it.