Like many seasons travellers I've stayed in a lot of hotels, some luxury resorts, some hotels that have seen better days and some hotels that claim to be "budget". In fact there's a large number of cheap hotels where the saying "you get what you pay for" really seems appropriate. Damp on the paper thin walls, grumpy staff and beds so uncomfortable you'll be lucky if you ever get to sleep. Finding a place that's value for money can be really hit and miss.  The same used to be true of airlines but the advent of "low cost carriers" has changed that. the mentality of cheap services with optional extras if you want them has transformed the aviation industry and the real winners are those that run value for money budget airlines. In 2009 Tony Fernandes, the owner of Air Asia and the Tune Group opened their first budget "Tune Hotel". On a recent visit to the Malaysian capital of Kuala Lumpur we were invited to review the downtown Tune Hotel to see if the no-frills airline model works for no-frills hotels.
Arriving at the hotel
On arrival the first thing you notice is the lobby, minimalist but well styled, it's simple and effective. If you're going to do something cheap build it well and style it cleanly. Two ticks there then as there's very little here to even moan about. The lobby area felt inviting enough with it's black and red decor. Like low cost airlines the branding and corporate colours are everywhere so you know you're definitely in the right place! The staff were friendly and easy to deal with, giving us all the info on the optional extras. The basic rate is just the room which has a ceiling fan. Things like air-conditioning, towels and wifi are optional so you just pay for what you use. You purchase credit for the A/C and wifi so when it runs out you just buy some more. More on that later.
Our room
We were given our drawstring bags containing our towels for the duration of our stay and some shampoo sachets. Basic but all you need and you can keep the heavily branded drawstring bag, handy for a day at the beach or pool, if you don't mind advertising where you've stayed. We headed up to our room on the second floor and used our key card to enter. The room was surprisingly cosy, small but had everything you'd expect a no-frills hotel to have. No TV of course but you're in town to see the city not watch TV! Bed side lamps, ceiling fan and A/C, a well designed bathroom.
What makes a good hotel room?
I'm a tall guy and it drives me nuts when you go to any hotel, luxury or budget and find the shower head is fixed at about 5 feet tall. i'm 6'4 (1.85 metres). Thankfully at the Tune Hotels the showers are nice and high, much higher than me and powerful too.  If there's two things any hotel room should have, it's a good shower and a good bed. Tune Hotels boast they have a "5 star sleeping experience for a 1 star price" and while I wouldn't agree the whole room matches that statement, the bed sure does. Very comfortable and easy to sleep in. Most mattresses in hotels of a similar price have seen better days and are so soft your back has no support. A good bed is sure to keep your customers happy, no matter how basic the rest of the hotel is.
The room was by no means perfect of course but the hotel is currently renovating it's bedrooms. It was clean and presentable, just had a few edges that needed tidying so it's good to see they're busy improving the hotel. One thing you notice all over the Tune Hotels is the advertising. It makes sense to keep room rates low by selling advertising space inside the room, even the bathroom had an advert for Shampoo. I didn't find it too offensive thankfully although I can imagine some people would. Which would you prefer? A dull and dirty budget hotel room or a clean and bright one with advertising?
Downtown Kuala Lumpur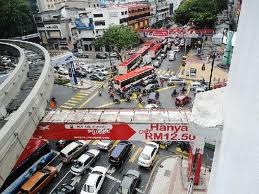 Outside the hotel the location is great, on a cross-roads so fairly busy traffic in the day time but quiet at night. Just a short walk to the monorail which links to all the most popular destinations. Easy to get a cab too as there's a guy in the hotel lobby that can arrange one for you. Just a 5 minute walk away are some great Indian and Indonesian restaurants plus a few shopping malls too. It's definitely a busy part of town in the day time but Tune Hotels are designed for you to be out and about during the day and back at night when the traffic decreases. At night it's very quiet so you should have no problem sleeping.
We enjoyed our stay at the Tune Hotel in Downtown Kuala Lumpur. If you enter with a mindset of a low-cost airline you're expectations will probably be exceeded. It's by no means a luxury hotel but what it does offer it does well. It's comfortable, cosy and well designed to reduce costs. A real contrast to similarly priced hotels in KL that don't offer the same comfort and service.
A big thank you to Biresh at Tune Hotels for arranging this review and their hospitality. We look forward to sampling some more Tune Hotels soon. Keep an eye on our site for more hotel reviews.
More information