You don't have to miss your pet when you travel; bring them with you – you'll be surprised how much they add to your next adventure.
If you plan on taking Fido or Fluffy along, however, there are some tips you'll need to have in your arsenal.
These 5 hacks will help you get ready for your trip with your most loyal pal!
Plan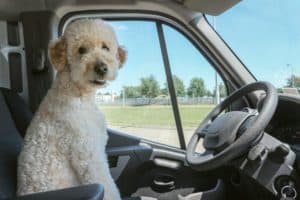 Thorough planning is an essential for any trip, and when you are traveling with a pet, there is always a little more to think about. Know the airline policies and protocols when bringing your pet onboard. Also, consider setting up a pet plan so you're covered in case of emergency. Check out Bivvy, they have some cheap and reliable plans.
Make sure the carrier that you have is approved and fits within size limits.  Planning a roadtrip? Backseat hammocks are a great way to make use of the space between seats and ensure that your pet has more surface area to get comfortable (and hopefully nap). 
Either way, you are also going to want to make sure that the carrier or car is a comfortable spot for them, especially if they are going to be in one for a while.
Pack
We put a lot of thought into packing for ourselves, make sure we do the same for our pets.  Their favorite treats on hand are always a good idea, and some extra just in case.  This gives you the ability to get their attention back on you when there are plenty of distractions in the new travel world. Dog toys are helpful for longer travel days to keep them occupied while they are in a confined place.
The type of travel might call for different toys; while in the car you might not mind a squeaky toy, on crowded public transportation a quieter chew toy might be a better idea.  CBD oil for pets is also a good idea to have on hand.
Compact in size and easy to administer to your pet, it is a great tool to make traveling with your pet a smoother process and keep them calm throughout the journey.
Practice
Start with getting your pet used to shorter car rides and slowly increase the amount of time.  Your pet should get used to the car fairly quickly and be a pro in no time – just in time for your trip! If you are taking to the skies to travel, try slowly introducing your pets to busy and loud places, especially if they are accustomed to quiet suburban living.
Airports are loud, populated, and hard to recreate, bringing them to approved parks, restaurants, or even just a walk on a busier street might help them to adapt to noise levels at the airport easier. Traveling in a carrier?  Put your pet in the carrier and go to busier areas in your city.
Pro Tip: If you can, arrive at the airport a little earlier than usual and walk them around a little bit. This gives them time to adapt to a new environment and calm down before the flight.
Comfort
Car seat covers are essential. When choosing your car seat covers, there are plenty of factors to consider before travelling with a pet in tow. Choose car seat covers that offer comfort and protect your interior properly. In their carrier, backseat, or wherever they will be for the time of travel, make sure your pet is comfortable. Some pets might like to cozy up in a blanket or bed, others might try to stay a little cooler.
Be mindful of the temperature; if you are hot, your pet is too. Bring water for your pet as well as yourself; if you are traveling by plane bring empty containers and fill up after TSA.
Patience
Practice patience with everyone, including your fur baby. Reality is, something will not go according to plan while you are traveling. If it is your first time traveling with a pet, be patient with their interaction with others and new experiences.
Take time to introduce them to new things, and know that their reaction might not be what you were anticipating, and that is okay.
Most importantly, make sure you and your pet have a good time!  Don't sweat the small stuff and adapt to changing plans accordingly.