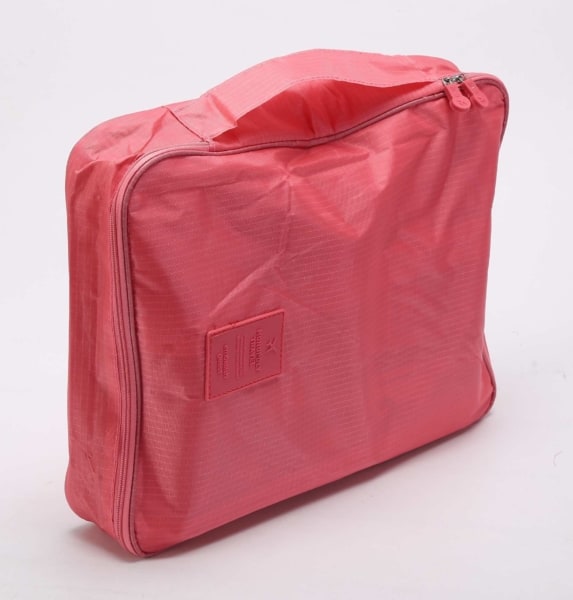 I like to think over the years of many extended trips and plenty of business travel I've become a master of packing. Whether its cramming in as much as possible for a 10 months overseas or trying to fit everything I need in to carry-on, I've always found a way and refined my packing skills to a near art.
But one thing has always been a sacrifice and thats creases. So packing delicate fabrics I need the day I land has always been an issue. I was recently offered a review opportunity for a product that might help me in this department and have any business clothes or formal wear kept crisp, crease free and neatly organised too. But will it stand up to the test? Lets find out
Fadish Slim Shirt Pouch
Essentially the Slim Shirt Pouch is a little suitcase for a shirt and a few accessories like ties. It has the same robust feeling a fabric suitcase would have, with reinforced edges and pretty decent quality materials. Almost all of the packaging was in Chinese which wasn't much help but the stats were in English.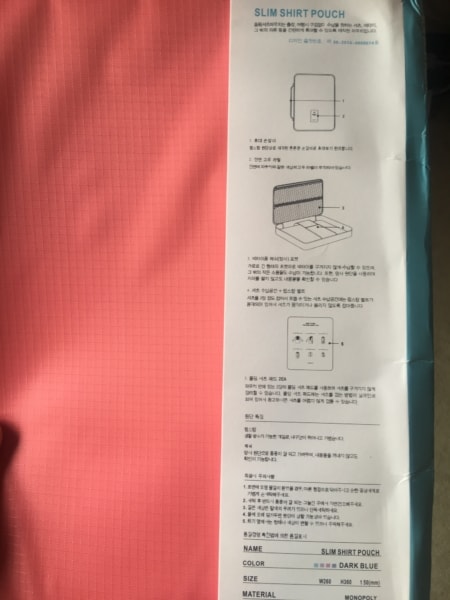 Its size is just 26 x 36 x 1.5cm but that's all you need for a neatly folded shirt. The aim of the game here is to separate your delicately ironed clothing from the rest of the stuff thats moving around and squashing the rest of your clothes. So just how do you put your clothes in this item?
How to fold the shirts
With limited dimensions there's definitely a skill to folding your shirt just right to fit in to the pouch. It takes a bit of practice and some instructions printed on a handy plastic card. There's actually two of these cards so you could easily fold 2 shirts up and fit them in the pouch.
On your first attempt you'll need to use both cards, this is because as you fold your shirt you'll slowly be covering up the instructions! Just place the other card next to the pouch and follow the last few steps from there.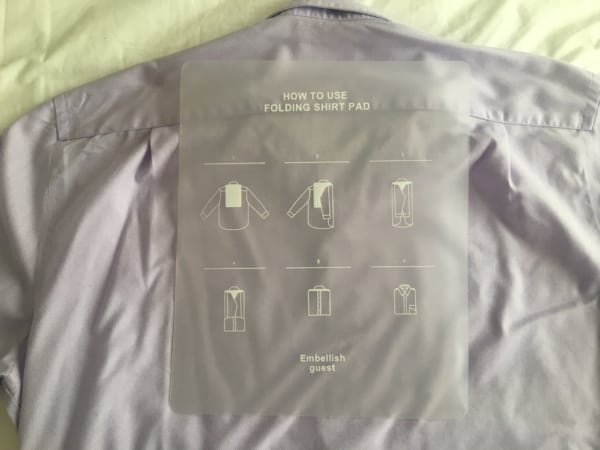 Give you shirts a good iron first to make sure they are crease free. Then do all of the buttons up to give the shirt its shape. Its much easier to work with a buttoned up shirt than an unbuttoned one.
Lay the shirt on its front, button side down and place the plastic card just below the collar. The rigidity of the card makes it much easier to fold the shirt in the right places.
Fold in the sides of the shirt a little until you find it easy to lay the two sleeves vertically. This helps reduce the width of the shirt to fit within the pouch and also help store the sleeves in the vertical position, without doing this you'll find the sleeves want to lay diagonally which will cause extra folders and unsightly creases!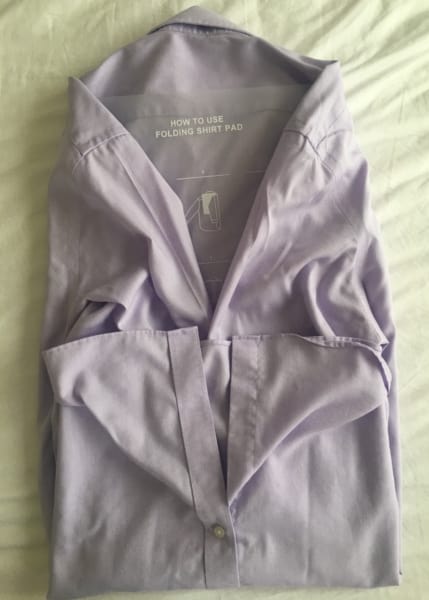 Once you've got the sleeves neatly in place you can fold up the bottom of the shirt, bringing it up over the plastic card, using the edge of the card as the folding point.
Then simply fold it up again from the bottom, the plastic card will naturally be pushed up and you can remove it as the last fold is done. Then turn the shirt over and you're done. One neatly folded shirt!
You'll then want to place the shirt in the pouch for save storage. It took me 3 attempts to get my shirt to just the right width so that it fitted in the pouch without squashing the edges of my folds, which would cause more creasing. This could be because I'm broad shouldered and quite tall so my large shirt maybe bigger than the shirts you're trying to store. Either way its a simple process to repeat so wasn't any bother.
You could easily fit two shirts in the pouch so repeat the steps above with another shirt and place it on top of the first inside the pouch.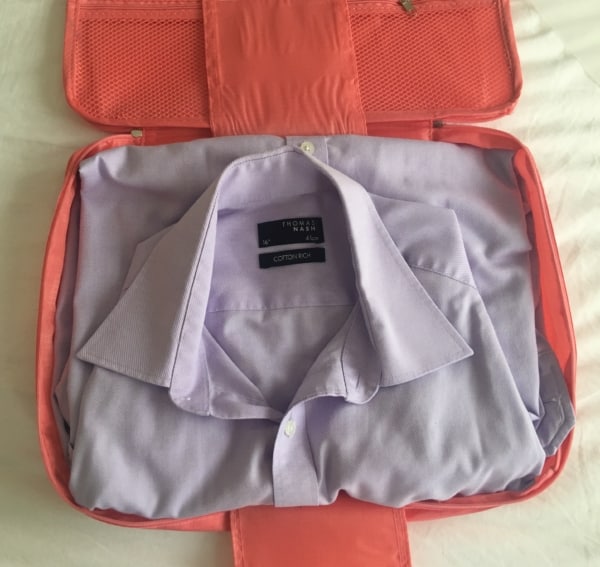 One of the most important features is the velcro restraint you put over the top of the shirts, while it may seem insignificant this will actually stop the shirts moving around in the pouch which, if  your suitcase is stored vertically, will stop your shirts from creasing even more.
There's two netted compartments for accessories like ties. I found my long tie needed folding a little more than I would have liked but its good to know its for the most part stored flat and neat, ready for my arrival and formal event.
I'd recommend placing this either at the top or bottom of your suitcase when packing it so that it sits against a flat surface. This will help keep the pouch and its contents flat too.
Build quality and design
I quite like the design of this product, its neat and has enough thought put in to the storage to make the product truly useful. Its definitely better than just folding shirts and putting them in with the rest of your clothes, especially if you need these clothes ready on the day you arrive. I hate ironing so if I can avoid it on my travels then I'm happy!
The build quality is what you'd expect from a relatively cheap product. The protective "monopoly" fabric will keep your clothes from harm. Its waterproof so in those disaster situations where your shampoo or toothpaste tubes leak inside your suitcase, you know your shirts will be protected.
You could easily use the net compartments for other items like a watch, jewellery, or any other delicate items you want to keep safe from the rest of your luggage contents.
If there were one area i'd expect to fail first it would be the zips. They seem quite cheap and even on first use were a bit stiff and had a habit of catching tiny fabrics left over from the manufacturing process. Use the zips with care and don't yank them too hard, then they should last.
Conclusion
I'm quite impressed with this product and I can certainly see a use for it. I think at a push you could probably squeeze 3 shirts in to it once you've got the hang of folding them just right. Its good to know that my formal wear is protected sufficiently and if anything its improved my folding skills and no doubt my packing abilities. As a long time travel lover and frequent flyer that always puts a smile on my face.
You can check out the product for yourself here.

This review was sponsored by Q4 International Marketing. All opinions are my own.