By Arienne Parzei 
Probably the most difficulty you'll encounter while traveling through the Philippines is transportation. You know where you need to go but what's the best (and possibly cheapest) way to do it? And more importantly, how do you do it?
It can be a little overwhelming trying to figure out how you're going to get from point A to point B, how much it will (and should) cost, and what kind of schedule things run on.
Here is a summary of the most common forms of transportation you'll come across while traveling through the country.
Flying
The Philippines has quite an extensive domestic air system and it's growing. With so many islands it's no wonder they do.  There are three major carriers; Cebu Pacific Air, Air Philippines Express, and Zest Air.  Prices are very affordable, sometimes costing less than the price of a one-way ferry ride.  Most flights are no longer than an hour (gate to gate) unless you're traveling from the far north to the far south.
Because these are budget airlines there are a few things to keep in mind. Firstly, baggage limits are lower. Cebu Pacific Air only allows 15kgs (30lbs) and only 10kgs (20lbs) for flights to and from Caticlan (Boracay) due to smaller planes and a shorter runway.  Overages can add up quickly, making your flight much more expensive then you originally thought. Secondly, food is only available for purchase on longer flights.
Pack a snack and buy a bottle of water before you get on the plane to tied you over. Thirdly, the airlines can be very strict about check in times.
Most counters close 45 minutes before departure time, so make sure you're at the check in line with time to spare. You'll also have to go through a security check just to walk into the airport. So give yourself some extra time because these lines can sometimes move slowly.
When you're flying out of a city you'll have to pay a departure tax in cash at the airport. Prices range from P40 for smaller cities to P200 in Manila and Cebu. And if you're flying internationally out of Manila or Cebu, the departure tax climbs to P750 and P550 respectively.
Flying is a great option for getting around the country in a shorter amount of time, however delays are common. Out of the 5 flights I had on my trip, 3 of them were delayed. So give yourself a "travel day" when flying between cities and at least 3-4 hrs if you're going to be connecting to another flight.
Ferries
If time is not an issue and you like the feeling of being on the water, the ferry system in the Philippines is another good option.  There are a number of companies offering various routes connecting the many islands. Fastcraft boats include SuperCat, OceanJet , and Weesam Express. Slower and cheaper boats include SuperFerry, Cokaliong Shipping, and Negros Navigation to name a few.
Food is usually available for purchase and to help pass the time a movie will be played if the boat has the ability for it. If you're prone to seasickness pack some medication, as the waters can be rough. Now, unfortunately there have been many reports of ferry accidents in the Philippines over the years.
The larger companies are better at only allowing the maximum capacity on board, but smaller more independent companies may try to get the best bang for their buck.  If you feel at all uncomfortable or it seems like there's more people then there should be just get off the boat and grab the next one.  Always trust your gut feelings.
Bankas
Bankas are smaller boats you'll encounter for short trips between islands or if you go on a day excursion of island hoping.  A small motor at the back of the boat powers them.
Seating arrangements vary from boat to boat with either two benches facing each other or rows seating four people across.
You're likely to get splashed so if you're carrying your luggage with you make sure you're got your stuff protected from the water.
Taxis
You'll mainly encounter taxis in the larger cities. There are two types of taxis, flat rate and metered.  Flat-rate taxis are best if you're traveling a long distance. For metered taxis the pick up rate is P30 and then increases by P4 every 300-400 meters.
The airports are now trying to streamline the taxi service, so head to the taxi stand at the departures gate, tell the person on duty where you plan to go and wait for the next available taxi. If you're grabbing a taxi from the airport the pick up rate is P70.
Although I didn't have any issues with drivers trying to make a couple extra pesos off me, just be sure that the meter is turned on once you get going to avoid arguing with a made up price. And as with most land travel, ask the person in charge at your hotel or hostel how much the trip should roughly cost.
Jeepneys
Jeepneys are modified trucks into bus-like passenger vehicles.  Many are basic looking, but in Manila you'd think some of them where featured on a Pimp My Ride episode.
They don't follow any schedule but do have planned out routes.  There are no "Jeepney Stops", so flag one down and ask if it's going in your direction.
Sometimes their routes are written on the side of the vehicle. The convenient part is that they will drop you off wherever you want, provided it's along the route it's traveling.
Jeepney rides cost a flat rate, usually P25. You can either pay once you get on or when you're getting off.  Drivers like to pick up as many people as they can and it's not an uncommon sight to see people sitting up on the roofs!
Tricycles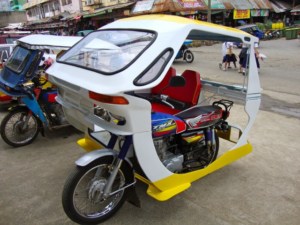 The most common form of transportation your mainly likely to use is the tricycle.  Similar to tuk tuks in Thailand, tricycles are modified motorbikes with a side compartment for passengers. Think of yourself as Harrison Ford in Indian Jones and the Last Crusade, minus the high-speed chase.
There are so many around, especially in the smaller cities and towns. The styles vary depending on the island. On Bohol Island you can really only fit two people with a small compartment on the back for your pack. The tricycles on Bohol also have different religious sayings written on the back like "don't leave your wallet in church because one man may see it as the answers to his prayers".
On the island of Palawan the tricycles are designed to pick up people along the way, similar to Jeepneys. You can have upwards of 5 passengers in one tricycle!  And instead of religious sayings on the back the tricycles have names written on the front like "Queen Brian" and "Bessie".
The prices vary depending on distance traveled so negotiate a price with the driver beforehand. In Puerto Princesa, on Palawan, you'll actually pay per person if your driver is picking up people along the way.
The standard price for the locals is P7 for the first 2 kms and an additional P1 for each km after that. But keep in mind this is the system for the locals. As travelers, you're likely to pay a little bit more. P10 per person worked while I was there. Again, ask someone at your hotel/hostel how much it should roughly cost to avoid getting overcharged.
Motorcycles
It seems almost anyone who owns one can offer rides for a fee.  Tell the guy where you're going and he'll give you a price. If you don't like it negotiate with the driver.  While I was there my boyfriend and I found ourselves in a remote beach with no regular transportation to get back to our accommodation. Much to my objections the two of us squeezed onto the back on the motorcycle and off we went.
Images of us crashing and ending up in the hospital flashed in my head. This stranger literally had our lives in his hands. But about 10 minutes into the ride I couldn't help but laugh. Here we are, three grown people practically sitting on top of each other, zooming through the back roads of the Philippines waving back at people along the way.  It's not my ideal form of transportation but an enjoyable one if you find yourself off the beaten path with no other transportation option.
You can also rent motorbikes for whatever length of time you'd like.  Prices start at about P500-600 per day but haggle a lower price, especially if you want it for more than a day.
Arienne Parzei is a travel writer, videographer, and photographer from Toronto, Canada. Her insatiable curiosity for learning about different cultures first-hand has led her to some amazing destinations and experiences, including climbing Mt. Kilimanjaro, living in South Korea for two years, and backpacking for eight months through China, Southeast Asia, Australia and New Zealand. She shares her travel experiences on her website www.seeyousoon.ca and hopes to inspire you in the process.