When talking about things to do in Australia, destinations like the Great Barrier Reef, Ayres Rock and the Sydney Opera House are always mentioned and definitely worth a visit.
However…
What if all you want is to find those hidden gems and experience what are undoubtedly some of the most beautiful holiday spots in Australia?
Below is a list of my top 10 unusual things to do in Australia that you should definitely visit.
Kangaroo Island, South Australia
If your holiday checklist demands wildlife, mesmerising beaches, adventurous activities, gourmet food, as well as spas and retreats to relax, then you can't look past than Kangaroo Island.
Australia's third-largest island is also known for being a pristine wilderness – a place that has offered protection to some of Australia's native animals, a place of magnificence and a place of escape. You won't be disappointed. 
Kangaroo island is one of the most visited tiny islands in western Australia, especially for people from Melbourne or Adelaide. Arguably, the best way to reach and explore the island is by booking one of the daily Melbourne cruises that stop on the island and give you the chance to experience Aussie's trademark animals. There are many cruise companies with daily departs from Adelaide and Melbourne including P&O, Princess Cruises, and Cunard.
Exmouth, Western Australia
Exmouth is situated between the Cape Range National Park and the world-heritage listed Ningaloo Marine Park. Ningaloo ranks seventh on the world's list of coral reef biodiversity 'hotspots' and second in terms of the number of species found within a limited range. Feel like a swim? Why not jump in for a swim amongst unique and colourful fish, vibrant corals, playful dolphins, turtles and at the right time of year, alongside the majestic whale sharks as they migrate past the coast.
Merimbula, New South Wales
Merimbula is the jewel of the Sapphire Coast. With its great climate, pristine beaches and abundant natural beauty, a holiday in Merimbula will be like no other.
Merimbula is also known for Magic Mountain which was recently awarded in Trip Advisor's Travellers' Choice 2013 Top Ten Water Parks and Amusement Parks in the South Pacific.
Stanley, Tasmania
Stanley is a historic town on the far north-west coast of Tasmania. The major attraction of Stanley is 'The Nut' – a solidified lava lake from a long extinct volcano. Visit this picturesque town, hop on the chairlift and head to the top of The Nut and enjoy what is quite simply a stunning 360 degree view of the edge of the world!
William Bay National Park, Western Australia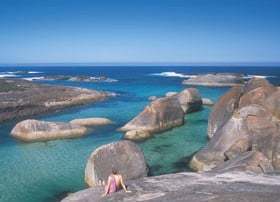 Australia is blessed with plenty of national parks and one such extraordinary park is the William Bay National Park in Denmark, Western Australia.
The centrepiece of the park is Greens Pool and Elephant Rocks where rounded granite boulders create a reef stretching a hundred metres out to sea.
Port Fairy, Victoria
This charming fishing village can be found at the end of the Great Ocean Road. Port Fairy is filled with wide streets lined with 19th century cottages, countless Norfolk pines and timeworn stone churches. If you're going to visit the area, the Port Fairy Folk Festival is held during Victoria's Labour Day long weekend in March each year.
Coconut (Poruma) Island, Queensland
The island, also known as Poruma Island, is located north-east of Thursday Island in the Torres Strait. From the moment you arrive, you instantly feel like you've arrived to an untouched and unbelievably beautiful place.
As well as white sand beaches, it has some of the clearest waters, enormous palm trees and a sea turtle hatchery. This place is a must and definitely deserves to be on my unusual things to do in Australia list!
Lord Howe Island, New South Wales
Enjoy the crystal waters, wildlife and mountain peaks of World Heritage-listed Lord Howe Island in the Pacific. To put it simply, this is a natural paradise. With a simple, relaxed and uncrowded island lifestyle, its appeal is that it feels thousands of kilometres away from the rest of the world. 
Bay of Fires, Tasmania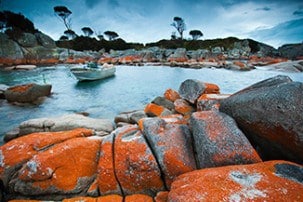 The Bay of Fires is a region of a magical landscape filled with stunning contrasting features such as the pure white beaches, bright orange granite boulders and a band of sapphire and emerald seas, all fringed with gorgeous forests.  
This is the secret of Tasmania. Another destination most definitely worth of this "Unusual things to do in Australia" checklist. Don't miss out.
Hyams Beach, New South Wales
Hyams Beach is renowned as having the whitest sand in the world.Located about three hours from Sydney, this beach is situated in Jervis Bay and offers beautiful beaches, sea kayaking, snorkelling and rock pools to explore. You can even see whales and dolphins at certain times of the year.