Besides one of the most picturesque locations of Mykonos, Kanalia is also an excellent location for windsurfers, with the Meltemi winds giving the sea on the western coasts inviting waves for them to demonstrate their skills.
Just a stone's throw away from some of the most popular beaches on the island, like Ornos, and with several exclusive holiday properties well protected from the winds due to the carefully thought-through design of their outdoor spaces, Kanalia can satisfy those looking to maintain their luxury lifestyle and also taste the authentic Mykonos experience.
Three of the most beautiful villas in Mykonos with stupefying views and all modern facilities and comforts at Kanalia are:
Villa Reina (up to 6 guests – 3 bedrooms)
An elegant, 180m2 house with distinguishing whitewashed walls and stone details adorning its exteriors, along with elements borrowed from traditional Cycladic architecture and rustic notes that add old-world charm and impeccable style to the property.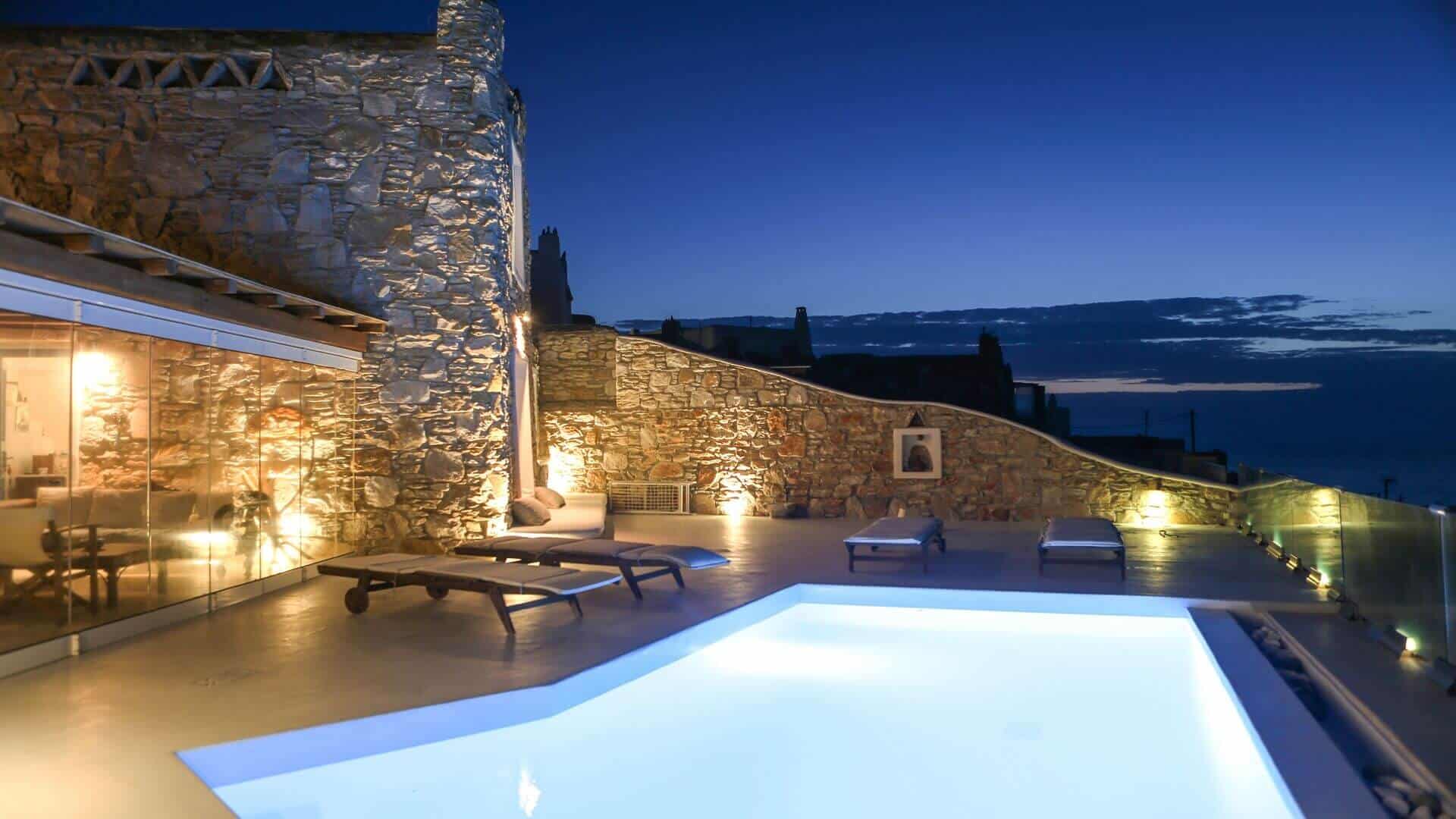 Built over two levels it offers guests stupendous panoramas of the Aegean Sea and plenty of amenities to enjoy their stay, like a fully equipped kitchen, spacious bedrooms with en-suite bathrooms, two guest rooms, a swimming pool with loungers and a shaded seating/dining area right next to it, glass doors for unobstructed views, and plenty of little nooks where one can luxuriate in a fine meal or simply have some privacy.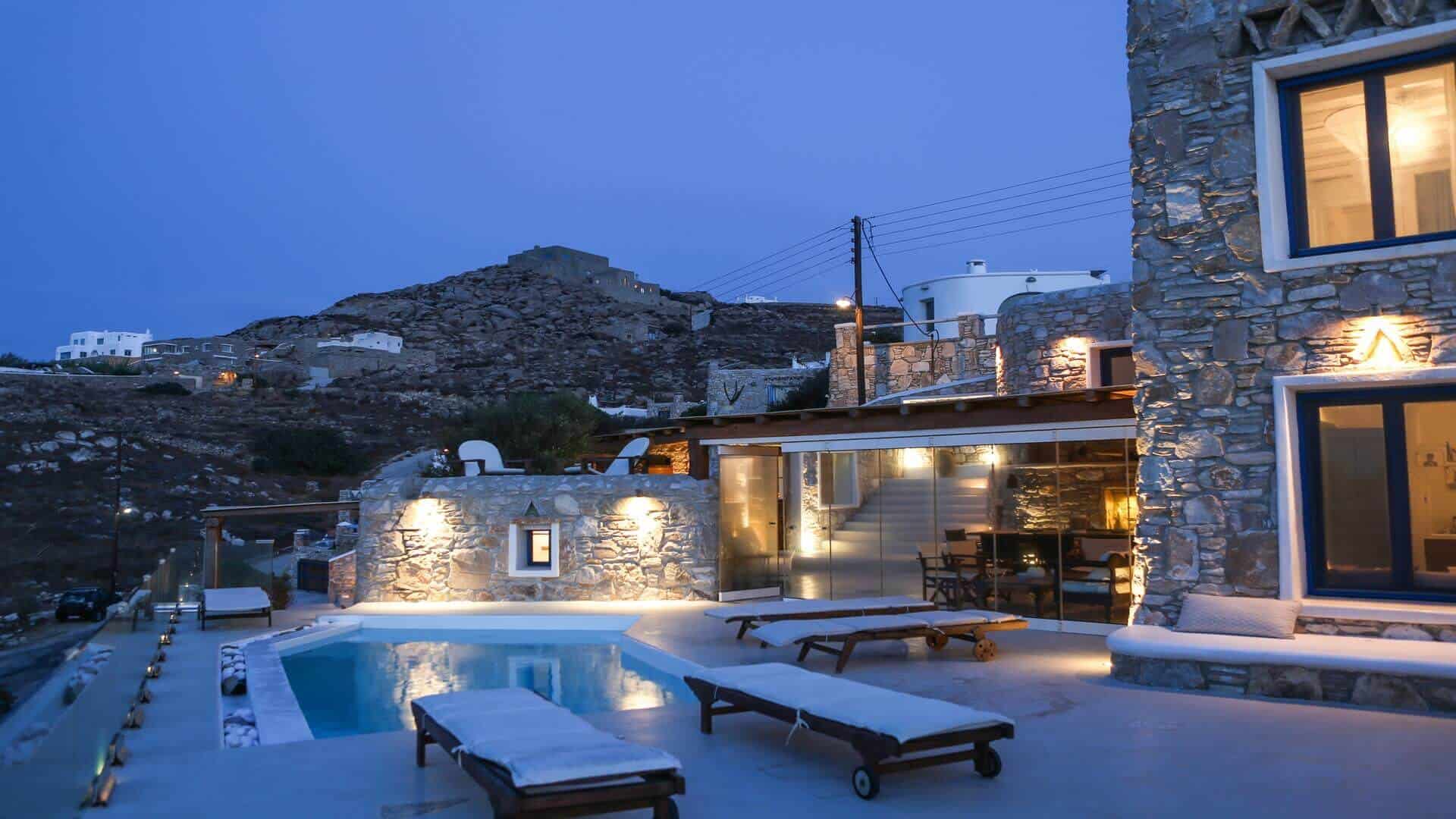 Villa Tutku (up to 10 guests – 5 bedrooms)
The views from this ravishing villa are fantastic. Overlooking the dotted-with-quaint-villages western coast of the island and a portion of the Aegean that turns into a real spectacle at night, when the twinkling lights of fishermen's boats and swanky yachts make it look like a masterpiece of Van Gogh, the luxurious 140m2 property can comfortably accommodate a family of 10 members or a small group of friends with superior splendour.
Besides the delightful details that give the place a true Mykonian flair, Villa Tutku has been meticulously designed to infuse a sense of serenity and reinvigoration to those living in it, with extreme attention to every detail, from the colour scheme to the furnishings.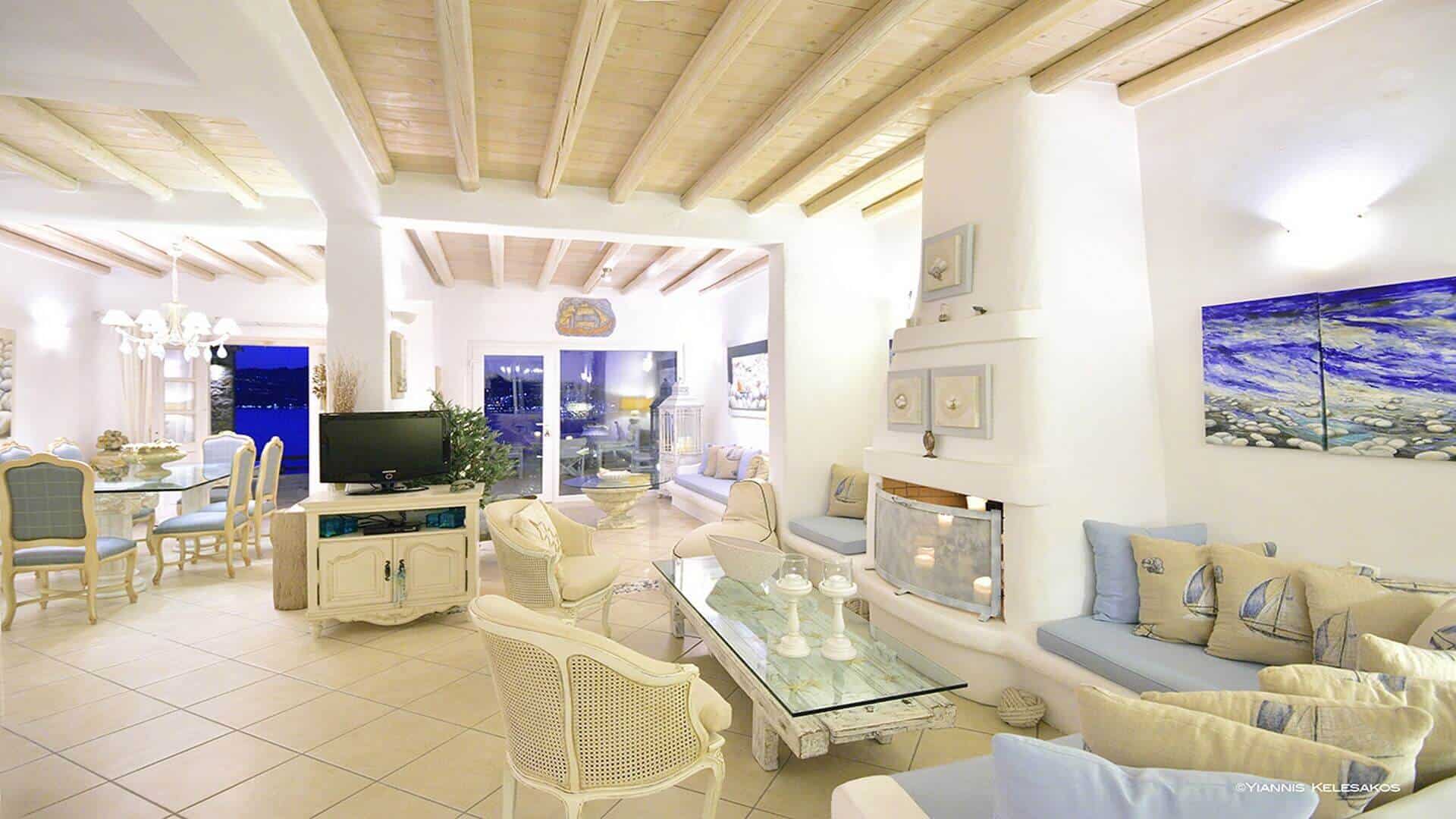 Among others, the dreamy holiday house features four spacious bedrooms (3 of which come with en-suite bathrooms), an extra guest house, a fully equipped kitchen, a nice-sized swimming pool, and more than enough dining and lounging areas that allow guests to enjoy their privacy, a hearty meal, a delicious breakfast with the company of stupendous seascapes from every inch of the property. And, if you feel like partying and exploring the night scene Mykonos is so famous for, Ornos Bay is less than 2km away!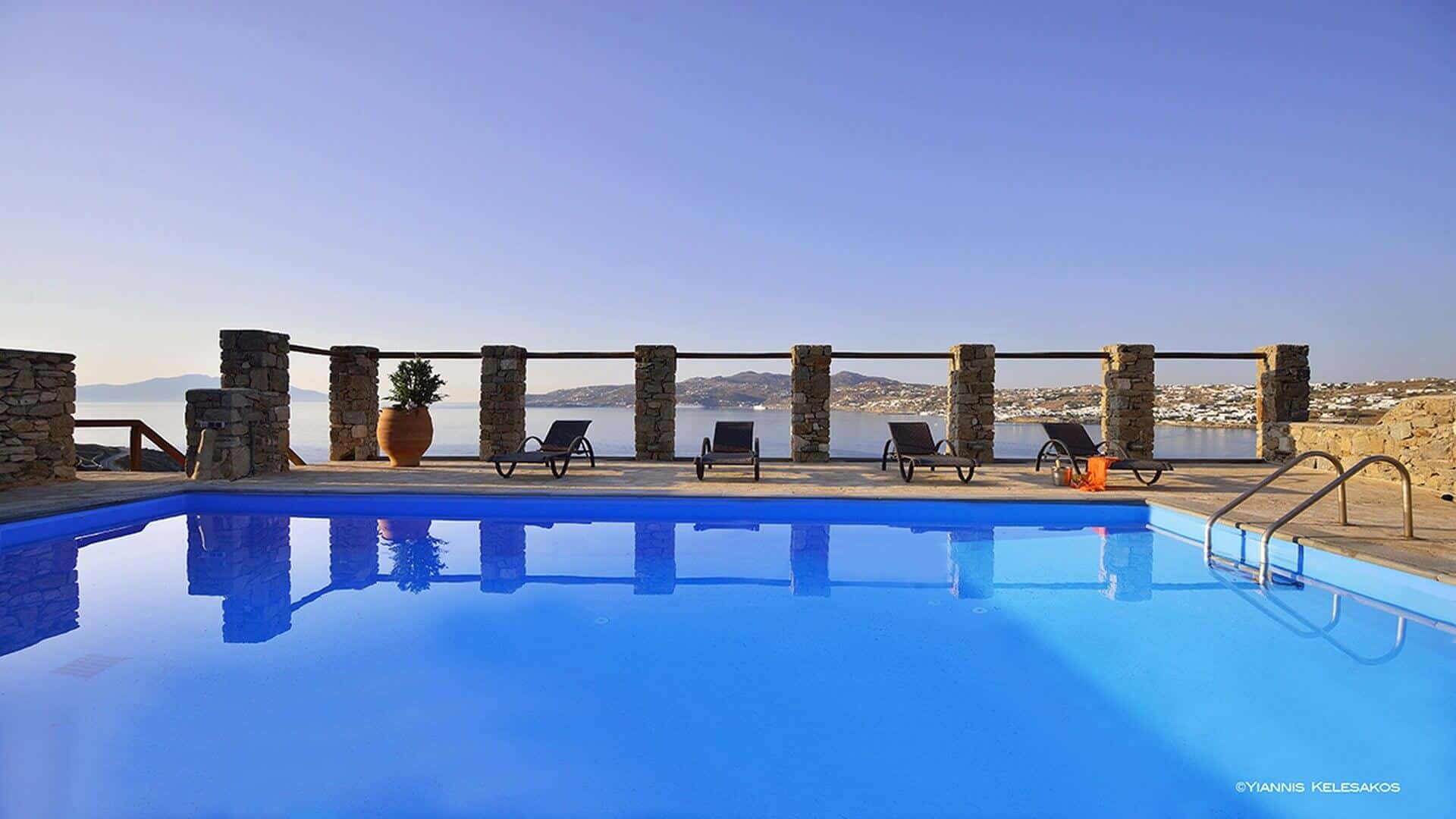 Villa Emily (up to 14 guests – 7 bedrooms)
Elegance, style, chicness, and grandeur characterise Villa Emily. The exclusive 620m2 property with the beautiful brick details and marble floors offers scenic vistas of both Mykonos Town and the crystal waters of the Aegean Sea.
Designed as two housing units to ensure the privacy and comfort for all 14 guests, it features an outdoor swimming pool with an arresting "light show" that comes to life at night and luxurious sunbeds, a designated BBQ area, lots of dining nooks, a traditional wood oven, pergolas, two guest rooms lacking no modern facilities and comforts (with private entrances), a fully equipped kitchen, and many more. Take your glass of champagne, choose the plush seating area of your likes, and let your soul be filled with colours, smells, and views only a few will ever see in a lifetime!