Top 5 Tips For Smarter and Cheaper Family Travel
Posted in: Uncategorized
Traveling as a family is not only one of the best types of experiences that your family can share together, it's also a great way to expose your children to new cultures.
But at the same time, traveling together as a family is bound to be some of the biggest expenses that you will incur. From airfare to hotel rooms to car rentals to food to miscellaneous expenses, unless if you're having everything paid for by someone else or with credit card rewards, travel is not cheap.
Fortunately, there are a myriad of different ways by which you will be able to reduce the cost of family travel, and we're going to talk about a handful of those ways in this article.
Here are our top five tips for smarter and cheaper family travel:
1 – Timing Is Everything
The cost of travel can go up or down depending on the time of year and the popular demand. In fact, the cost of hotel rooms or airfare can go up or down very significantly by the time of week and not just by the time of year.
For instance, traveling on Thursday or Tuesday rather than more in-demand days such as Friday or Sunday can cause the cost of roundtrip airfare to drop by several hundred dollars.
2 – Never Quit Looking For Deals Online or With Apps
You should never quit using websites or travel apps to find ways to reduce the cost of travel. For example, you can use gasoline apps to help locate the cheapest gasoline stations in the area, and you can do the same for restaurants and hotel rooms.
But you also shouldn't be afraid to get very specific about finding ways to save money on things in the area in which you're traveling. For example, if you're traveling to Myrtle Beach, South Carolina, and to want to view dinner shoes, you could type in 'book your tickets to live dinner shoes in Myrtle Beach, SC' and you should find absolutely no shortage of coupons or ticket discounts.
3 – Take Advantage of Frequent Flyer Programs
Taking advantage of frequent flyer programs may seem obvious, but did you also know that you can take advantage of them for your children too? In fact, it's possible to set up frequent flyer programs for your children when they are infants, and they'll accrue miles when they travel just as fast as you do.
You'll then be able to redeem those miles at a later date and make them usable on the whole family. Using this strategy, many families are able to fly for free all together once everyone has enough points or miles accrued.
4 – Eat In Rather Than Out
Here's another big way to save money on family travel: eat in rather than out. While going grocery shopping on your trip may not exactly sound fun, if you're on a budget it will definitely be one of the cheapest ways to eat while you're traveling.
And if there are any free meals you can take advantage of, such as a free hotel breakfast, then do so as well.
This doesn't mean that you should avoid eating out at all costs, because visiting unique restaurants in new areas is undoubtedly fun. But it does mean that you need to be cautious about eating out repeatedly if you're not sure you're able to afford it. Even smaller and cheaper meals will add up quickly.
5 – Opt For Rental Apartments or Condos Over Hotel Rooms
Hotel rooms are honestly one of the most expensive places to say wherever you go. Noticeably cheaper will be to rent apartments, condos, or even houses where you can typically save a few hundred dollars for a week's stay while also enjoying more living space, amenities, and free parking.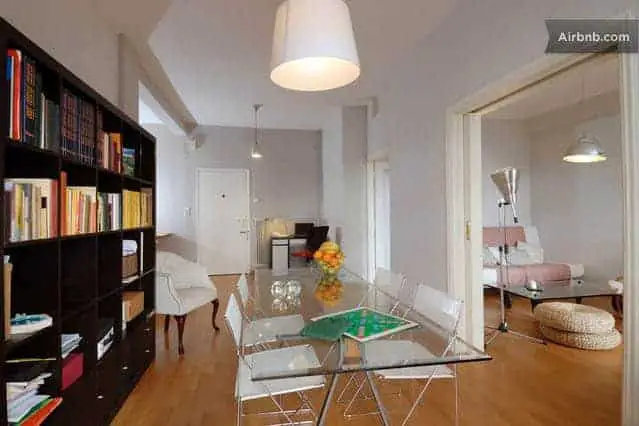 For example, it's not all uncommon to rent an apartment or a condo for only one or two hundred dollars a night, when booking a hotel room in the same area could possibly cost double that (and again, for a lot less space). Another option would be to search for AirBnB's for another cheaper place to stay at.
Smarter and Cheaper Family Travel
There are many more ways that you can save on family vacations beyond the tips that we have covered here, so don't end your research just yet.
………