My personal top 5 best places in Korea.
1. Jindo (Jin island)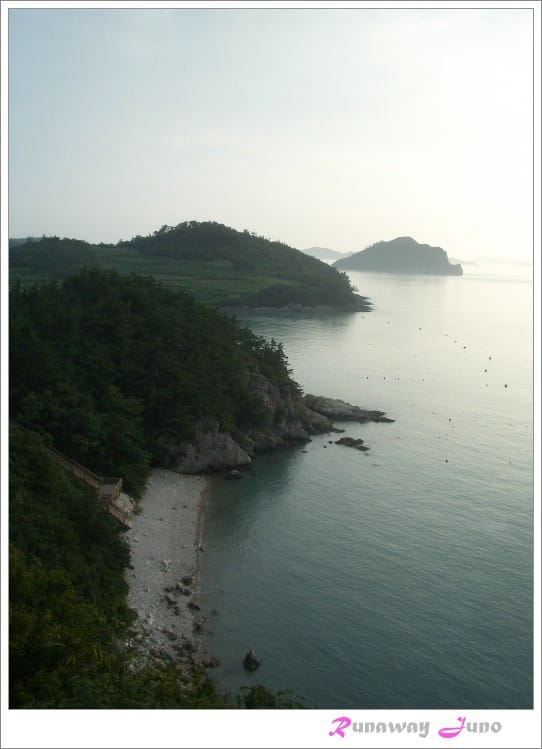 When someone asks me about the nicest beach in Korea I immediately think about the beach in Jindo. There are some beautiful beaches around Korea so in summer all beaches are crowded like you can't imagine.
In the summer of 2006 I went to Jindo. Located in very south of the Korean peninsula. 6 hours driving from Seoul.
I am not a big fan of crowded places. That is why I normally don't go to the beach in the summertime here in Korea but this one is totally different! Of course there are many beaches around the island but I want to go somewhere where the local people go. I stayed at a little house right by the ocean and I asked a man who worked at a ferry dock: "Where is your favorite beach around here?". He drew the whole route on the map that I was carrying. He was so excited about having a tourist in his town and very enthusiastic! Asking local people is a great way to get information.
After a 20 minute drive there it was: Seomang beach. It's located on the Southwest side of Jindo with a great view. Soft blue ocean, mild waves, welcoming summer sunshine, little islands floating on the ocean. As soon as I saw this beach I instantly fell in love with it. There were only 5 people: parents with their two children and an owner of a little supermarket. The sound of little girls giggling while the waves softly crash. What more could you want? Seomang beach is certainly not a big or a fancy place but for me it's perfect!
2. Busan
Busan is the 2nd biggest city of Korea. Located the opposite side of Korean peninsula in Gyungsang-do (Gyungsang province). As I was born and raised in Seoul I see Busan as a very exotic city. Busan is on the coast so it is a totally different vibe than Seoul and they speak with a strong accent.
When I was a freshman I decided to take some time off and go some place very far from where I live. Many of my friends in school are from Busan, so I just decided to buy a red-eye train ticket. It takes 5 hours by train from Seoul to Busan. Now we have a KTX so it's shortened to 2 and a half hours
So there I was at midnight, train to Busan in complete dark highway.5 o'clock in the morning Busan station was very busy, unexpectedly. Had some light breakfast at street vendor and I headed to beach. Whole point of trip to Busan in fall was see some ocean.
There are many great beaches in Busan such as Haeundae, Gwanganli, Songjung and few others. Heaundae is the most famous one in Busan so I went there. Sitting on sand beach, and watching sun's rising. It was little foggy day so sunrise makes the sky really red. A bit scarlet-ish. Perfect moment indeed. Since that trip I fell in love with Busan. Oh and I can't leave out Jagalchi-Sijang. One of the best seafood local markets in Korea. You pick something you want from the fish-full of basket and they make sushi out of that in second. I still remember the atmosphere and taste of with sushi and Soju. By the way, Busan has their own brand of Soju, so try it if you dare.
3. Mt.Seorak (Seorak san)
Mt.Seorak is one of the most beautiful mountains in Korea. Mt.Seorak is in 3 hours away from Seoul to east, in Gangwon-do (Gangwon province).
There are two memorable visits to Mt.Seorak in my life. First, when I was sophomore I went there in fall to see some maples. Have you heard autumn of Korea is full of color? We are not famous with maples like Canada, but it is really phenomenal.
My friends and I drove to Mt.Seorak to see all the colors. Mt.Seorak is beautiful in any season but particularly in autumn. We knew it was going to be very crowd so we decided to just drive around the mountain. We've seen some great views on the way but when we were getting closer to Mt.Seorak, it was unbelievably beautiful. We drove up to mountain and the whole mountain was covered with red, yellow, green, and many other pretty colors. The best maple art I've ever seen.
Second experience was when I was very young. Frankly I don't remember much details of that trip. However this is important and memorable because this trip was a sign of my travel-full of adult hood. It was drizzling day, and we were hiking up to Mt.Seorak. I was very young and 1,708 meter high is quite hard for a little girl. But I didn't give up. I was on the top of the mountain and I remember this moment intermittent but strong. That was the moment I discover my nature of adventure.
4. Jeju island (Jeju do)
Asian Hawaii. This is a nickname for Jeju Island. The biggest island in Korea, it has the highest mountain in South Korea and it made by volcanic activity of the Mt.Halla, the highest mountain in South Korea. So it has different geological features.
I visited Jeju Island several time in every season for many years, and I fell in love every time.
The best compliment I want to say about Jeju is this little island is full of nature. Beautiful beach, amazing waterfall, all the strange rocks made by volcanic action, people, and culture.
You can imagine how beautiful beach must be according to the nickname.
All over this island there are full of mysterious looking natural landscape. Waterfalls, strange looking rocks all round the island, and all the black basalt.
Now we can visit jeju island by plane any time we want but it is quite far from homeland so Jeju has its own cultural difference. Old jeju regional dialect is very different than regular Korean. I've read about it before I visited Jeju but it's quite hard to imagine. Then I saw local people talking and yes, I didn't understand at all. It is very interesting experience.
Oh yes and the highest mountain in South korea. 1,950 meters high, located center of island, it called Mt.Halla. I climb to the top once, and it was the hardest hiking I've ever been. However the view was the best for sure. Botanists say there are very valuable plants in Mt.Halla. Maybe because of that the view around the path was gorgeous and view from the top was phenomenal.
Next time I visit Jeju, I will meet more local people and learn more stories about Jeju.
If you are planning to visit Korea, I recommend include Jeju island in your itinerary.
5. Taean Bando (Taean peninsula)
West sea of Korea is very interesting. Three sides of Korean peninsula have all different kind of beach. East sea is very deep, and has short sandy beach. Around South sea is not deep as East Sea but it has long and wide sand. But beaches around West Sea is mud flat and not deep. When you visit West sea, you have to check timetable for tide.
I liked mud flad of West sea. There are little peninsula in West Sea, called Taean Bando. (Bando is Korean word for peninsula) Nice beaches around the peninsula. One beach I saw a little crab making a hole and go in and out of the hole he/she made. It was so amazing. You can see many other see lifes in this mud flat.
One other thing amazes me was the shape of mud what wave made. I can't explain how it works but when the ebb tide is coming I could see underwater mud flat and they all shape like wave. Natural mysteries I guess.
Coastline of West sea is really complicated. Hence many islands, little peninsulas, and beautiful little beaches. When you visit West sea of Korea, I recommend you to take your time to look around.
Check out this amazing tour from Beijing to Seoul over 14 days, from Intrepid Travel. What do you think of the itinerary? Would you go?