When the sun goes down in Sydney, the Sydneysiders come out to play…and play they do, all around town. Sydney is home to some of Australia's most eclectic and unique bars, and some of the city's finest are housed in places you may never expect to look. In Sydney location is everything – pick a spot in the heart of the CBD or near the water.
Sydney has it all from fantastic bars with flair to quirky bars housed in boutique hotels, the Harbour City's hotel bars are aplenty – here are five of the best.
Gowings Bar and Grill – QT Hotel Sydney
Located in the newly refurbished boutique QT Hotel Sydney, Gowings Bar and Grill has plenty of flair and spunk to match the hotel's unique décor. Adorned with lights, the alcohol is located above the patrons' heads in a glass enclosure – but don't worry, the staff will get down whatever you want! And speaking of the staff, the bartenders here are a delight: they will recommend you drinks, chat to you, and provide you with a great time – what a plus!
Charlie Bar – Novotel Manly Pacific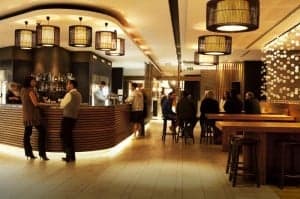 The Novotel in Darling Harbour is definitely a Sydney icon, but it's Charlie Bar in the Novotel Manly that is truly the apple of the patron's eye. With a sleek black and brown interior, this venue is sleek bar meets pub leisure – just make sure to try their delectable seafood in between sipping your whisky or cocktail.
The Pool Bar – The Darling
Situated in The Star casino, Sydney's entertainment and gaming complex, The Darling is a five-star hotel designed for the very best. While the complex is packed with bars and clubs, like Cherry Bar and Marquee, nothing says class and elegance more than the poolside bar in the hotel itself. Sip on a champagne while basking in the sunchairs next to the white tea and eucalyptus scented pool. Do you really need another reason to go…?
GRAIN – Four Seasons
They say that sometimes to change the mould; you have to go against the grain. While Grain is not making waves in politics, it certainly is a hotel bar like no other. Located in Sydney's iconic Four Seasons hotel, Grain boasts delectable canapés and world-class cocktails – the bar is all about celebrating the finer things in life, after all.
Blu Bar on 36 – Shangri-La Hotel
If none of these hotel bars meet your standard, don't fret – the best is saved for last. 36 levels above the Rocks, Blu Bar on 36 is your go-to destination for an experience like no other. Sip on one of Blu Bar's signature cocktails and enjoy gazing down at the Harbour – from up in the sky, the city almost looks like a quiet painting, frozen in time with a sprinkle of fairy dust that lights up the Sydney night.