Overlanding is all about taking the road less traveled. Allowing your journey to leave the normal tourist haunts and activities, taking you out of your comfort zone. This can be achieved by hopping on an all-purpose vehicle that is kitted out to be self-sufficient for multiple days. This can lead to amazing camping spots and hiking in totally remote places.
These types of adventures are not just about hopping on a vehicle and it taking you place to place. You and your fellow travelers are an integral part of the success of the trip. On an overland trip you're more than just a passenger, you're part of the crew, and everyone gets involved to help with setting up camp, pitching tents, shopping for food and even cooking. There are also a number of other responsibilities that are part of the overlanding lifestyle, for example collecting water and firewood, loading luggage and helping to keep the truck clean and tidy. This idea of 'pitching in' as a group has always been intrinsic to overlanding – generations of overlanders have reveled in the experience of being part of an adventure rather than just a passenger.
Why travel in Alaska?
Alaska is "The Last Frontier", with diverse landscape, incredible flora and fauna, and a fascinating history. Although people believe it to be cold in Alaska, there is a window from June to September that the plants, animals and locals all rush to get outside in the sun that never sets and having temps average around 72 F (25 C.)
Top 10 Things To Do in Alaska
10. Rafting the glacially fed waters of Alaska. You want an intense experience; check out Six Mile Creek's memorable Class IV and Class V Alaska whitewater rafting.
9. Enter yourself in the Homer Jackpot Derby with some World Class Halibut Fishing. You too could catch a 277 lb. Halibut for over $40,000!! Can't win if you don't try.
8. Sea Kayaking just outside of Valdez at the Columbia glacier with towering icebergs and meandering through the bays only accessible by kayak to observe sea otters, harbor seals, sea lions, bears and, quite often, whales!
7. Wildlife cruise just outside of Seward in Resurrection Bay. Learn about the rich history of Resurrection Bay while viewing the jagged cliffs, seabirds, marine wildlife and alpine glaciers, including the magnificent Bear Glacier. Then step ashore the privately owned Fox Island for an all-you-can-eat buffet style wild Alaska salmon and prime rib lunch.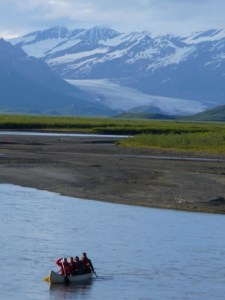 6. Trailblazing through a few of Denali National Park's six million acres of wild land. Hop on one of the park's shuttle buses and get off wherever you desire creating a chance encounter with its varied wildlife.
5. Hop in a 7-seater plane for a flight over and around the 20,328′ (6,196 m) Mt. McKinley for a unique encounter with the highest peak in North America that is only visible 20% of the year. But this flight isn't just about Mt. McKinley, you also get an amazing perspective of the national park along with viewing the surrounding mountain ranges and the 100s of glaciers clinging precariously to their host.
4. Fish the Kenai or Copper rivers for salmon weighing up to 98 pounds! Kings, silvers, pinks, and sockeye are all available and ready to catch. Some places claim that fishermen have walked away with over 700 fish in a day. If you want to go all-out, try fly-in fly fishing at NoSeemUm, one of Alaska's best fishing lodge's and experiences.You could make lots of friends, but you'll need a massive grill.
3. Ice climbing amidst the stunning beauty of the Wrangell St. Elias National Park. The Root Glacier offers the perfect venue for people of all ages and skill levels to participate in this exciting and rewarding sport.
2. Bush camp along the Maclaren river and within walking distance of the Maclaren glacier. Experience the wilderness in its entire splendor. Camping with minimal amenities and sitting around the campfire with more stars than you can fathom. The next day you canoe back down the river to the lodge.
1. Alaska Bear Viewing at Brooks River Falls in Katmai National Park. If you've ever watched the bears on BBC or Discovery, this is the day trip that will blow your mind watching the brown bears standing at the falls edge catching salmon mid-air.
I know there are more things to do, but these are what I view as the Top 10. By all means, give me other suggestions. I can't wait to get up in Alaska for the 2013 season!