When people think of Cambodia they naturally think of Angkor Wat and its beautiful temples. Siem Reap is the nearby town that has rapidly expanded in recent years to accommodate the ever-increasing number of tourists that flock to the temples.
What many don't know is that there are a host of other things to do in the area besides temple gazing.
We were recently invited to take a tour out of Siem Reap by GetYourGuide.com. A site that has an impressive amount of tours all over the world. We did a search for "Cambodia" and found 86 tours to choose from.
We opted for a sunset cruise on Tonle Sap Lake.
Tonle Sap Lake
The "Great Lake" is the largest freshwater lake in Cambodia which became a UNESCO "biosphere" in 1997.
It's a fairly dramatic lake in that it's levels rise and fall quite dramatically with the seasons.
We visited in April, near the end of the dry season so levels were fairly low.
Our tour started by being picked up from our hotel in Siem Reap in a comfortable mini van with A/C.
A must in the hot and humid dry season. Our mini van contained about 10 other tourists and our Khmer guide was friendly and knowledgable, telling us about the various temples and suburbs of Siem Reap.
Tonle Sap Lake is around 35 minutes from the centre of Siem Reap and a fairly scenic journey through villages and out in to the countryside.
There's currently a small port for the many river boats that can take you out to the lake, apparently a Korean company are building a new port here so I expect this area will change in the next few years.
Watch our short video of our experience
Boat rides and floating villages
Our guide organised our tickets for a river boat just big enough for our group and we chugged on down the river tributary to the main lake.
It's a slow journey with lots of passing boats in both directions. As it's dry season there's a fair amount of hunting for the deepest part of the river. It's an entertaining ride, passing a number of buildings, shops and homes all hovering about the water or river banks on stilts.
You can tell from some of the debris in the trees along the shore that the levels must rise a quite astonishing amount around here. Occasionally a village boat would pull up along side and the daughter or son would jump on to our boat with a basket of cans of drinks, then jump back to her moving boat and speed off to the next tourists!
After about 45 minutes the river opens up to the lake and a vast expanse of water appears before you. We headed towards one "floating village".
There are two in this area, one with villagers of Vietnamese ancestry, the other Cambodian. We visited the village of Chong Kneas, which has everything a villager needs.
Houses, schools, churches, temples, shops and hairdressers, all on stilts above the water. It's quite an impressive feat of engineering.
We cruised around the village for only 10 minutes before heading to a "Crocodile and Fish farm".
This was actually more like a shop for tourists where local kids are sent by their parents to wave snakes around and shout "1 dollar for photo!".
The crocodile and fish pens were small but filled with their respective animals. There's also an observation deck here where you can get a good view of the entire floating village.
Tara lake boat
Onwards to the largest boat on the lake, you can't miss it. The Tara sat high in the water and was unfortunately unable to cruise as the water levels were too low.
No matter as she's parked between the two floating villages with a good view of the surrounding countryside and ominous looking clouds in the distance.
The Tara has definitely seen better days. As with many vehicles and buildings in Cambodia, they are often pushed well beyond their expected lifespan usually with fixes that involve cutting a few corners to save money.
With only 12 of us on board but space for many more it was slightly lacking in atmosphere but the promise of an all-you-can-drink bar makes up for that.
We all sat on the smaller top deck, furthest away from the humming engine which I'm reliably informed runs on environmentally friendly Biodeisel.
The toilets were down in the bowels of the ship and were an interesting experience, no working lights but at least they were clean and not squat toilets.
Dinner
Our guide for the day showed us a simple menu and ran off to get us all a round of drinks. The menu said Champagne which sounded too good to be true! Unfortunately it was, as it turned out to be slightly fizzy blackberry juice.
The beers were the safest bet although did need a good clean before drinking from the can.
We were expecting a 3 course meal, but this being Cambodia you should never expect it to always turn out that way. We actually got to choose from a very basic menu.
Chicken with rice, Khmer Curry, Sweet and Sour or good old "french fried". Most of the group opted for the Sweet and Sour which unfortunately turned out to be inedible due to the astonishing amount of chillies in it. I've never known sweet and sour to have that much spice in.
We sent the poor guide back to the kitchen and asked for chips instead which thankfully weren't spiced in any way. I'm told the Khmer Curry was ok so opt for that if you get the chance.
Sunset over Tonle Lake
The real reason for being on the boat is of course the sunset. At first we thought we may miss out on that as huge storm clouds in the distance began to block the sun's rays. In fact the clouds created an even more spectacular sunset than we ever expected.
An almost apocalyptic sunset painting across the sky, the clouds thankfully never came our way with any rain so we just got to enjoy the view and another beer. We even had a lightning show as well which was very impressive.
Heading home
Our time on the boat was fairly short. Once the sun sets it's time to head back across the lake, down the river and back tour hotel by minivan, around a 90 minute journey.
This meant that the "all you can drink" bar really means about 2 beers, 3 if you're really thirsty and can drink fast. The staff waved us off as we boarded our little boat once more and we chugged back across the lake.
The lightning show increased, thankfully moving away from us as it did. It was almost dark by the time we reached the port which meant we got to enjoy the lightning in all its powerful glory.
Conclusion
While the trip wasn't quite what we expected, not many things are in Cambodia, we did get to visit Tonle Lake and tour around the floating village. We were treated to an exciting sunset even if we weren't treated to a 3 course meal or quite the luxury lake cruiser we thought it would be.
It's a shame the boat couldn't tour around the lake either.
I'd recommend going closer to or during the rainy season if you want to explore more of Tonle Sap.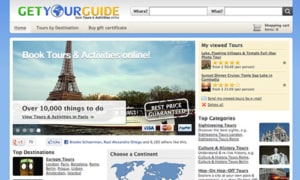 Our thanks to Get Your Guide
We'd like to thank our tour partner GetYourGuide.com for letting us choose one of the many tours available on their site. It's a very slick process of booking tours which really suits my online booking way of life.