5 Things to do on Geoje Island, Korea
Posted in: South Korea
1. Hike Mt. DaegumsanBeing a country that's 70{bec4beb4183ddc16376e6eff89836f2abe3407e857522bf84005ba0ad48d654d} mountains, hiking is a pretty popular thing to do in Korea in general, but in my opinon, the hikes in Geoje are much more interesting. Hiking Mt. Daegumsan was especially interesting for me because of the breathtaking island views on the way to the top. In the spring time, huge fields of azalea's bloom on the top of the mountain, and look absolutely stunning. Walking through the fields of pinks and purples makes the hike all the more worth it. Be sure to check when they're in bloom though – they only stay around for a few weeks in the spring!2. Oedo Island
Built by a husband and wife who settled on the island in 1969, this popular botanical garden does a pretty good job in showing the loving relationship between the couple. Filled with an impressive collection of thousands of plants and flowers, all perfectly lines and taken care of. There isn't a leaf out of place on this island. The colours, the smells, the sculptures, will all take you by surprise. It's so beautiful, it's usually refered to as the "paradise of Korea".
How to get there: There are many different ports on Geoje, but if you're in Okpo or Gohyeon, the easiest way to get to Oedo is taking a ferry from the Jangsangpo port.
3. Beach Day!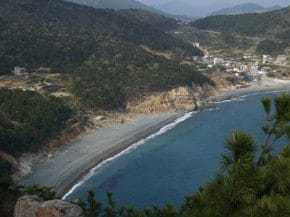 I think we've established that Geoje is an island by now, so it's pretty obvious that there are many beaches on the island. My personal favourite is the Hakdong Pebble Beach – it was the first beach I visited on the island, and therefore holds a little spot in my heart. It's different from the typical sand beach, and plus, sand doesn't get in awkward places, although it's a little uncomfortable sitting on pebbles at first. If you're a bit of an explorer, that the path down towards the right side of the beach – you'll find the pebbles get bigger and bigger the further you go down, until they're literally bigger than you!
Other popular (sand) beaches on the island include: Gujora, Deokpo, Wayheon
How to get to Hakdong Pebble Beach: Bus number 56 from Gohyeon Bus Terminal.
4. P.O.W Camp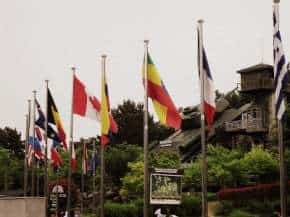 It's always good to get to know some of the history of places, and this island has plenty. It used to be home to Chinese and North Korean P.O.W soldiers during the Korean War – up to 170,000 of them. With the signing of truce on July 27, 1953, the camp was closed. The park was constructed to recreate the everyday life of prisoners of war based on the material and record of the time. A walk through the park will take you back in time to experience a little about how life was like for these P.O.W., from how they ate, cooked, or even went to the toilet.
5. Rent a motorcycle and explore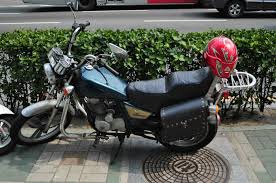 Public transport isn't the best on the island, the buses do the job at the end of the day, but most mainly go between Okpo and Gohyeon – the two big, main towns on the island. Because of this, you mainly see just those parts of the island, but there's so much more natural beauty on the island that is unseen purely because no form of public transport really goes there. I recommend hiring a motorcycle and going out of the main towns, and explore the beauty of the island – trust me, there are some amazing views and spots on the island.