Whether you're visiting the UK on your travels or you're a local, often overlooked is the fun of a village fete.
Over the spring and summer you can find village festivals, fayres and fetes held across the UK and I wouldn't miss them for the world.
For a taste of a quintessentially English event I wouldn't recommend you miss one either.
Easy to spot, you can find out about events near you by checking online, picking up a local newspaper or simply going for a country drive;
I love going out hunting for a hand painted sign that will lead you to another random event!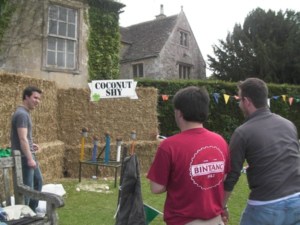 For the uninitiated, let me provide an introduction to what must be added to the 'must see' list of any traveller in England. These fetes usually take place on the village green or high street. Although this implies they're quite small, you'll actually discover that there's enough there to keep you busy for an entire afternoon.
Stalls come out with games galore, such as crockery smashing, the coconut shy (try to knock a coconut off a stand and take it home as a prize!) and skittles.
I've discovered some new ones myself recently, including bash the rat: where you have to try to hit a toy rat as it falls out of a tube, ferret and even duck racing, and an interesting game where you have to try to throw toilet rolls into a toilet cistern.
It's a very strange sight indeed, but still good fun.
One of my favourites has to be watching a village tug-of-war fight, where the local men team up and try to prove their masculinity in a show of brute strength. Whichever team pulls the other across a line marked on the ground gets a cheer from the village ladies and goes off to the local pub for a well earned pint!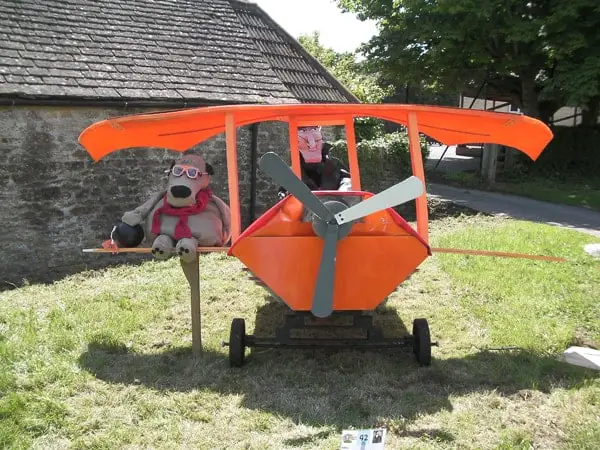 Just this month I took part in the Kington Langley Scarecrow Festival, a great event in a beautiful village in Wiltshire.
The villagers get into the spirit by spending the weeks (and possibly months if you look at the detail some put into them!) running up to the event building their masterpieces. Then, over the weekend you pick up your guide and wander the village trying to guess what the themed creations are.
With a prize of £100 for the most guessed correctly, even the rain didn't keep people away, and it's brilliant to stroll down the 'children's street' and see that even the little ones have given it a good go too.
Once you're tired out from all the fun, games and exploration, there's always some great food and drink on offer, and you'll definitely want a snack after you've walked past the Victoria spongecompetition stand.
Us Brits love a good Pimms tent so there's something for those that like a little alcoholic tipple, but for a good old English cuppa, look out for the signs for cream teas. These are heaven on earth – a lovely cup of tea, complete with an English scone and lashings of clotted cream and jam. It's a great way to recoup, fill yourself up and a chance to people watch.
There's a real sense of camaraderie at these fetes, which always leaves you warm and fuzzy inside. It's a time when the entire local community comes out together to have a giggle and raise funds for the village, which is where the cash usually goes. You can see neighbours have a good old chat and anyone new to the area is made to feel as welcome as those that have lived there all their life.
It's a place of happiness and fun, and a great way to see what English country life is like. Throw in the fact that every good British village has an excellent pub to stop off at during your explorations, I can't think of anything else I'd rather do during a weekend in the British countryside!