Our #GoByCamper road trip proceeded ever Northward on from Queenstown and Christchurch to a place that's been high on my list for some time. Its a pretty little town with quite possible the most beautiful view you'll ever see in New Zealand! And considering how many beautiful views there are in this country thats really saying something
With just over 3,500 lucky people that call this place home, Kaikoura has really built an impressive name for itself partly thanks to its rich marine life. If you want to go whale or dolphin watching then this is the place to come. The town stretches along the east coast of New Zealand's South Island with a seal colony at one end of the bay and quite possible the best view in New Zealand to the north.  The Southern Alps meets the sea here with stunning snow-capped mountains that reach down to the coastline.
The whale watching tourism industry is second to none and if you're not prone to sea-sickness then I highly recommend it. As we are travelling with a 1 year old a rough ride in a boat isn't really something we were willing to subject her too and the trip isn't cheap either. But it is a once-in-a-lifetime experience so if you have the budget its definitely the number 1 thing to do in Kaikoura.
Its a great little town to explore too and there's plenty of great cafes, restaurants and bars as well. We had a great day walking through town and doing a spot of shopping in the independent stores. The town centre is very walkable and there's a long promenade if you're looking to exercise a little more.
The real highlight for me was driving out to the eastern edge of town where you'll find a very accessible seal colony. There's a free carpark with enough space for our big Maui Motorhome. I was amazed by how many we saw right next to the car park, just lounging around on rocks, sunbathing and occasionally splashing in to the water to cool off. It was such a great sight and they clearly don't mind the crowd of tourists watching them. We spent a good hour here walking around on the pebble beach and got amazingly close to them. A word of warning though, its important to give them space and definitely don't try and touch them. They can get vicious if provoked so its best to watch from a safe distance.
What sets this experience off is that from the eastern edge of town you get to see the entire bay with the Southern Alps in the distance. Its truly one of the most beautiful views I have ever seen and when the sun is shining it really can't be beat. Definitely a great place to get a family photo. Its at times like this I realise how important and iconic the photos are that we take. Our 1 year old daughter may never remember this trip but the photos will last forever and thanks to the beauty of this incredible country they are pretty spectacular too!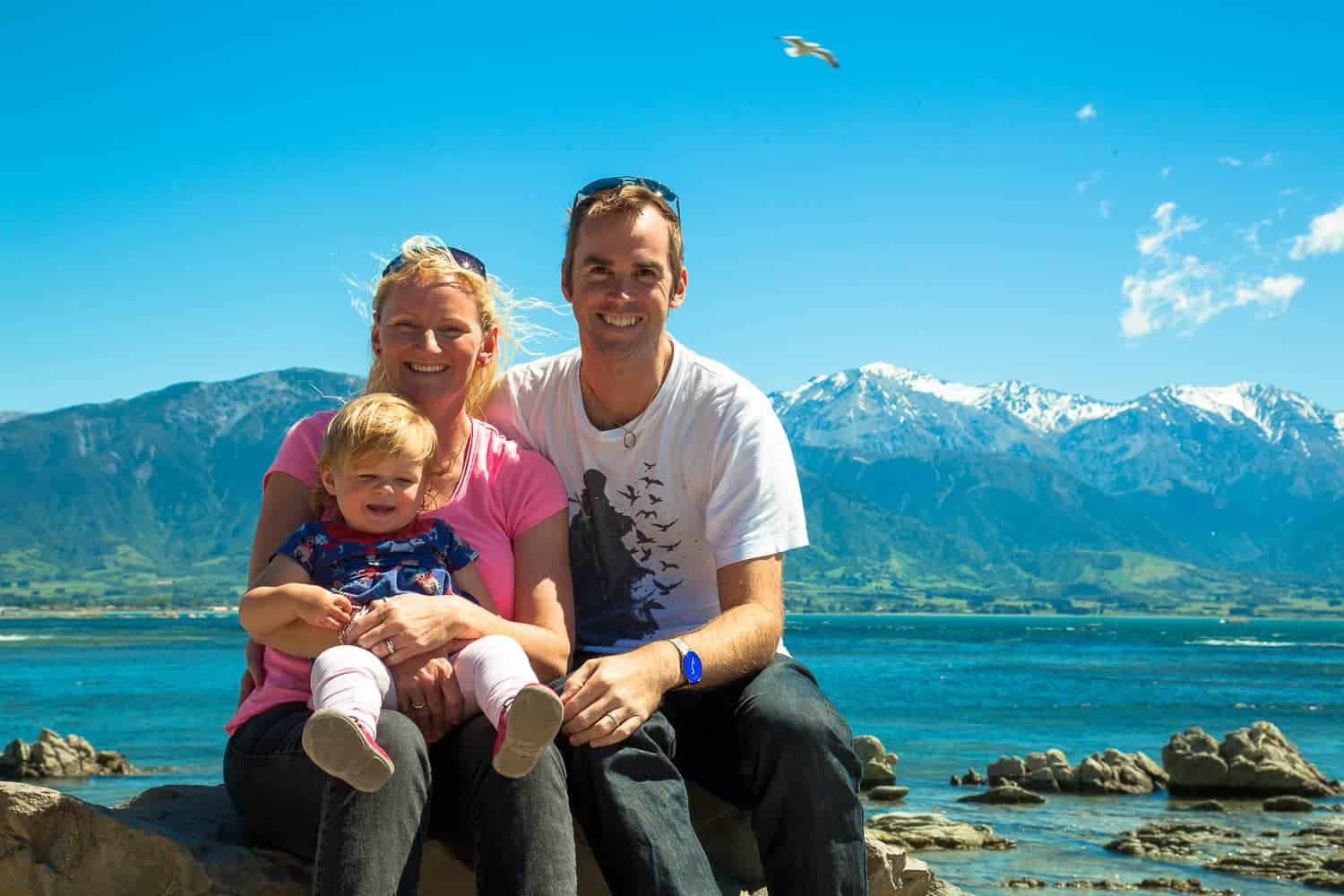 Where to stay
We stayed at the wonderfully relaxing Top 10 Holiday Park situated just behind the Whale watching office and railway station. The views of the alps here are spectacular and the entire park is green and pleasant. There's a rather chilly swimming pool if you fancy taking a dip and there's all the usual holiday park amenities with a very easy walk in to town as well. Kaikoura is a naturally relaxed place, we could have stayed here for a week and just slowed down a little, but our next destination awaits!
Follow our #GoByCamper Adventure
A big thank you to Maui Motorhomes for this amazing experience and to Top 10 Holiday Parks for their hospitality. You can follow more of our adventures, and others on twitter at #GoByCamper and #MauiMotorHomes or via our Facebook page. Be sure to check out the Maui Facebook page too for all the latest campervan gossip!