Its been an amazing journey so far in our trusty Maui Motorhome, working our way north from Queenstown, through the glaciers of Franz Josef, onwards over Arthur's Pass to Christchurch and heading ever northward crossing from one island to another to visit Wellington. The next destinations on our tour take us in to the heart of the North Island and to some of New Zealand's most popular holiday towns.
Taupo
I once visited here in 2001 and it seems I've been pronouncing it wrong ever since. While its easy (and a little lazy) to say it phonetically, the correct pronunciation is "Tor Pu" and something the Mauri locals are keen to teach you. Its a very pretty city located on the edge of the great lake Taupo, created by a massive volcanic eruption that didn't so much as spew lava but destroy much of the North Island, creating an entirely new landscape and was so large it was actually documented as turning the skies red over both ancient Roman Italy and China. The lake is definitely the centre piece of this town and its worth spending some time along its shores. The views stretch on for miles and there's plenty of good spots you drive to for a better perspective. You can also park your big Maui Campervan at the free carpark towards the end of the promenade drive with ample parking for big vehicles.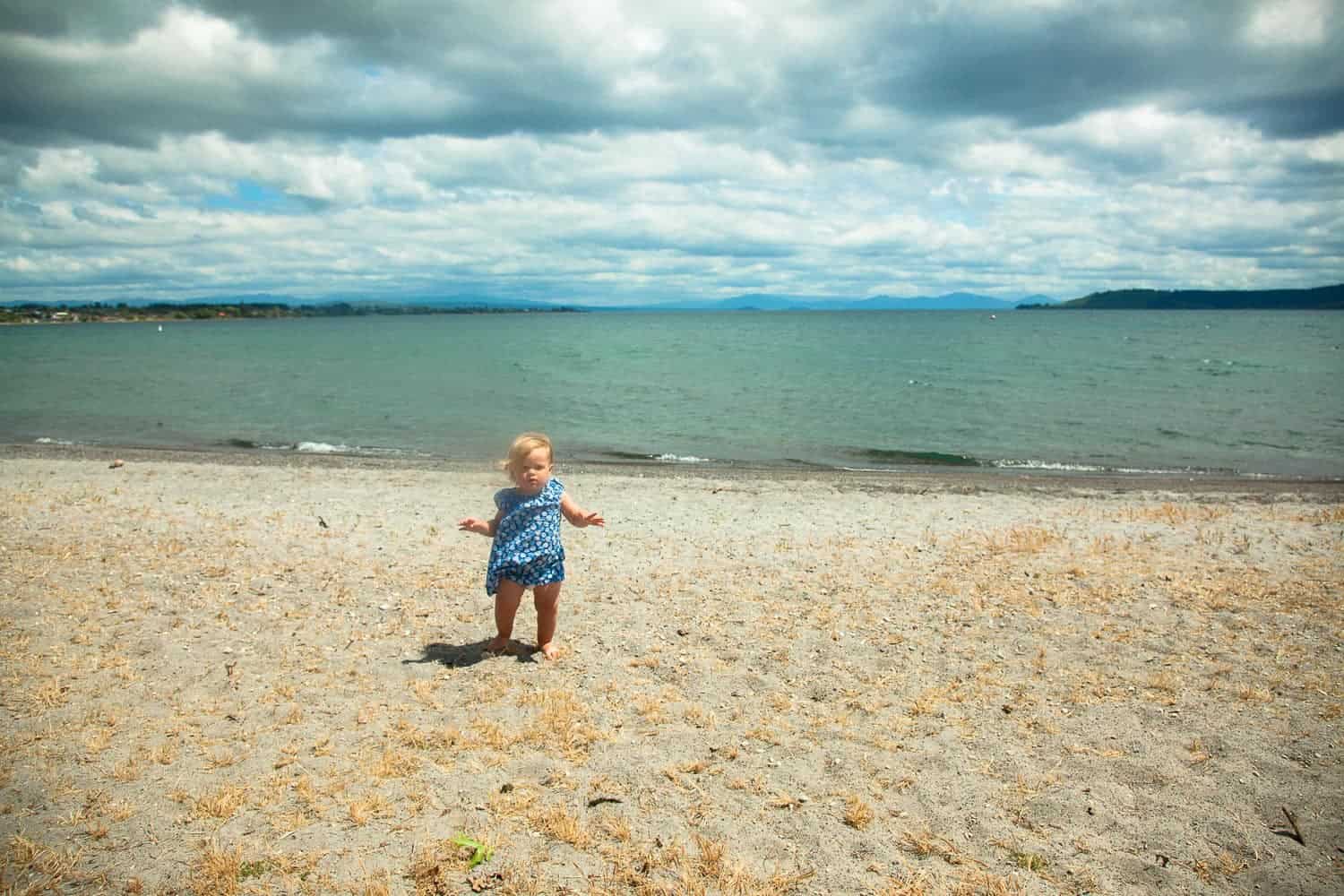 The town centre is easily walkable and quite frankly there's not much to see in the centre of town other than the lake. The good stuff is all on the peripheral. Although there was a cycle challenge in town the weekend we were there so there were plenty of people, tourists, organisers and cyclists getting ready for the big race!
De Bretts Hot Springs
We were invited to check out a place I visited very briefly back in 2001, one of the highlights of my trip last time and something I was very keen to show my wife and daughter. The entire Taupo area has an immense amount of underground geothermal activity with hot springs offering a fantastic chance to bathe in warm pools and soak up some of the mineral goodness. We were invited to stay for 2 nights at the De Bretts Hot Springs located on the drive in to Taupo from the south. There's been a hot springs attraction here since the late 1800s but its current guise has been lovingly maintained and upgraded since the late 1980s. Offering a full holiday park experience with huge hot spring pools in secluded surroundings. Our first night was in one of their fantastic "Superior cabins" which is essentially a small bungalow with views of the lake. We arrived at sunset too so had a chance to watch the sun go down and relax in a spacious lounge before a good night's sleep in a huge super king bed.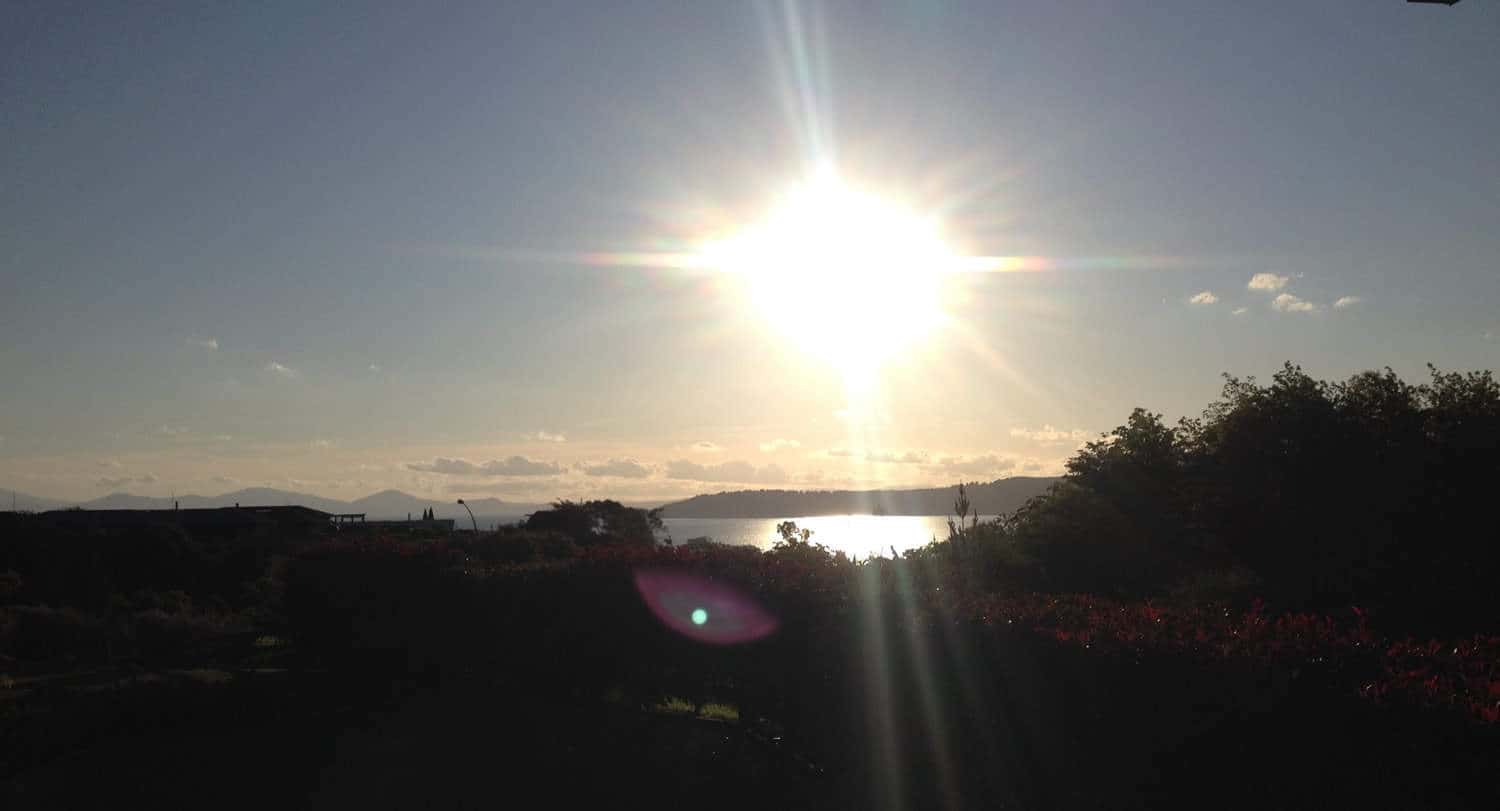 We love our campervan but it sure was great to have a little more space and comfort just for one night. Our second night was at a powered site in our Maui Motorhome, right next to the play area which our daughter enjoyed immensely.
The hot springs themselves are open to the public too for just $22 a day. They're a short walk behind the little cafe and reception area, down a steep hill and in to a secluded woodland area making it such a picturesque setting. There's two large pools here at different temperatures with a couple of hot tubs in between and landscaped gardens all around. There's also a water park for the kids and huge set of tubes you can go zipping down, all with hot spring water  too for a very different pool experience.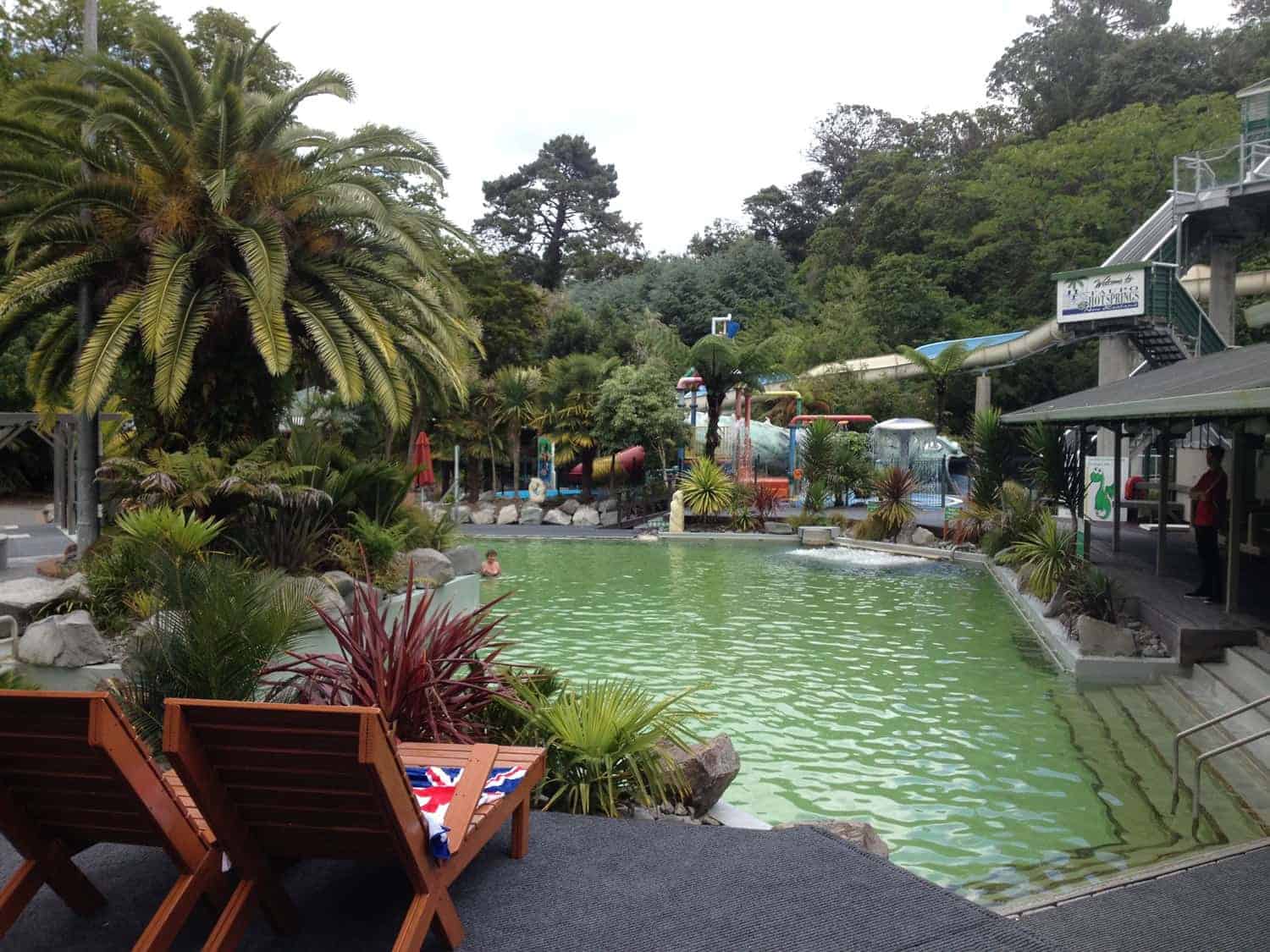 There's also ample seating around so you can relax, take a dip and take a break as well as grab a coffee and enjoy the surroundings. Its such a peaceful place to be that you spend much more time there than in a normal swimming pool. The two big pools are around 42C and 39C but this does vary from day to day. The water that comes out of the hot springs is actually much hotter than this and is aerated and cooled naturally before entering the pools. Its such a surreal feeling stepping in to a pool with hot water in it. Like stepping in to the world's biggest bath tub.
You're advised not to put your head under the water as there is a chance the water could contain amebas but water wont enter your system without being forced up from jumping or diving. My favourite was definitely the hotter of the two pools, stinging you as you get in but within minutes its at perfect bath temperature with some waterfall fountains offering an extra chance to enjoy the hot mineral water.
It really is an incredible place and our day pass allowed us to return in the evenings for another hot spring dip with our daughter who was clearly amazed that the swimming pool was so warm! Its a great place to visit any time of day but I highly recommend around sunset as the lights come on and the entire setting transforms in to a grotto like wonderland. The hot spring pools are open 8:30am to 9:30pm daily and there's even private pools you can use as part of your entrance fee. Adults cost just $22 with children $11 each. The holiday park facilities were great and the location was perfect for an easy drive in to town. Check out taupodebretts.co.nz for more details.
Huka Falls
Another natural wonder in this very active part of New Zealand is Huka Falls. A very short drive out of town to a national park that's free to park at too. There's some 3 hour treks from here if you're feeling up to it but no need if you just want to see the waterfall. A bridge spans the intense and noisy barrage of water that squeezes in to a narrow 15m wide channel from the lake and pours over the waterfall with colossal force.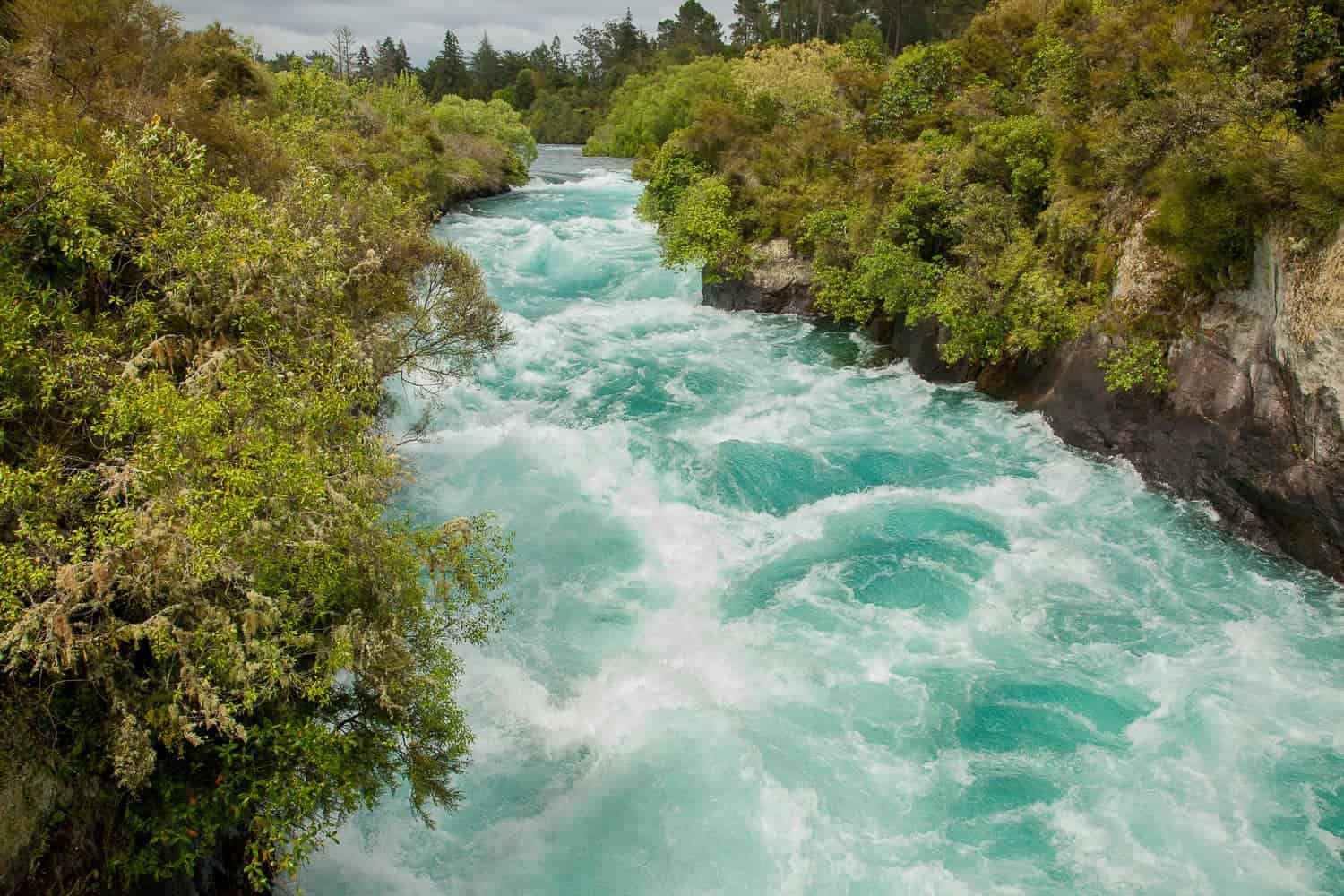 Some 220,000 litres per second flow over this fall with brilliant turquoise water and white spray tumbling constantly before your eyes. There's numerous vantage points here and its all a very easy walk with lots of barriers too. Perfect for taking our toddler to as she could marvel at this new sight in complete safety.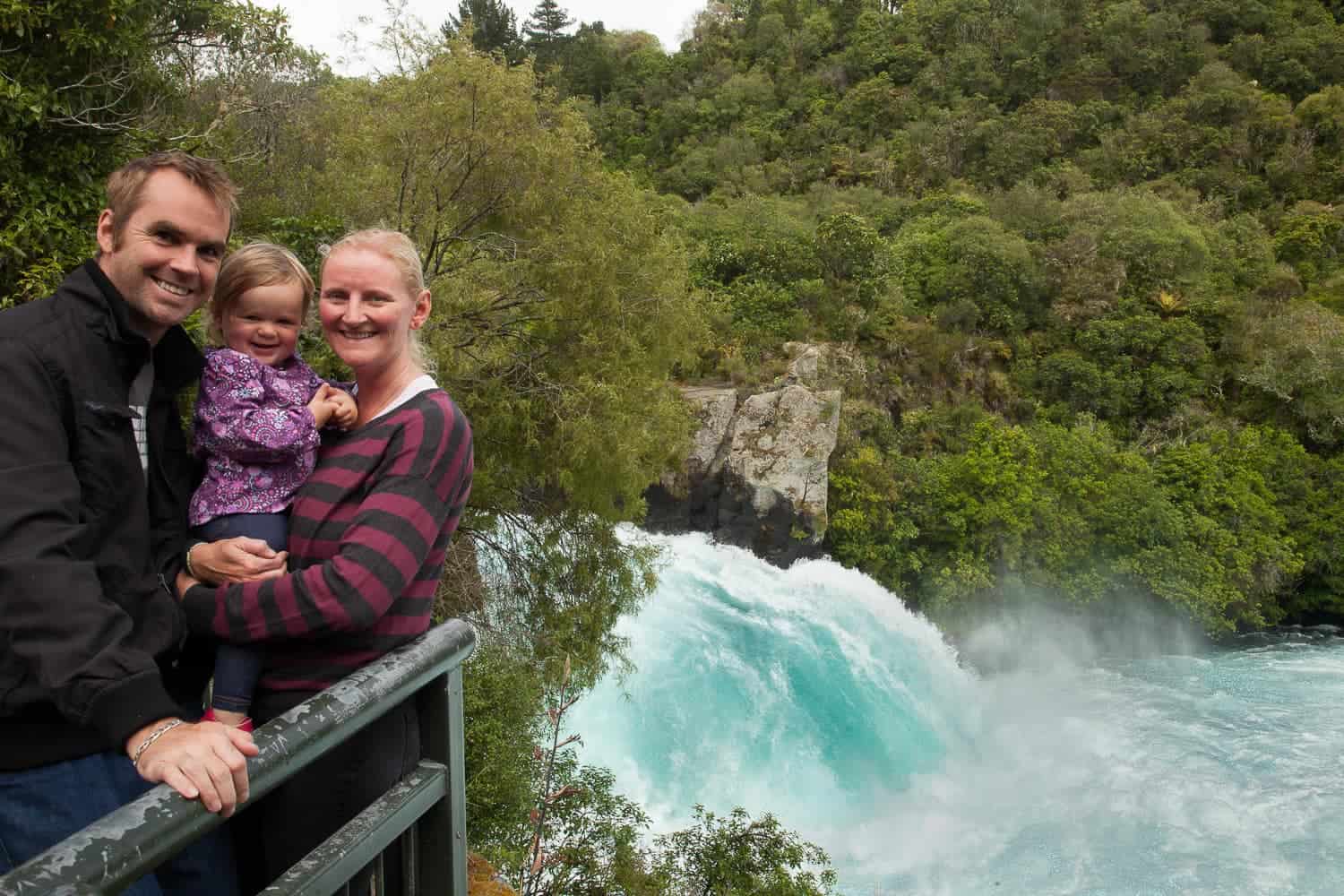 Thank you
A huge thank you to De Bretts Hot Springs and Spa for their hospitality during our stay in Taupo. We had a fantastic time and I really couldn't get enough of those hot spring pools. Also thank you to our sponsors Maui Motorhomes for their continued support and excellent campervan.
Follow our adventures!
You can follow more of our epic road trip adventures with the hashtag #GoByCamper and check out @MauiRentals on twitter too. For all our latest travels follow @travelwithamate and like us on Facebook while you're at it.