The rides on top of the Stratosphere Tower and Hotel in Las Vegas are not for the faint hearted, but they are very much an adrenalin junkie's dream!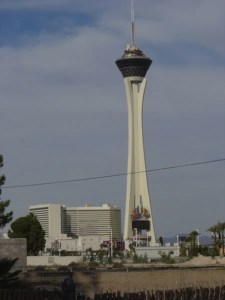 Even just being at the top of the tower can be a bit daunting for anyone that is not keen on heights. It is the highest freestanding observation platform in the USA, and stands some 1,149 feet high (which means it is about 100 stories high).
As it is situated down the bottom of "The Strip", without any other tall building around, it is hard to appreciate how tall it is – until you are up it.
There are 3 rides right at the top to challenge, and thrill, both those that ride them, but also those watching those crazy enough to go on them.
You buy a pass to go up the Tower where you have amazing views from both inside and on an outside balcony. There is a coffee shop, gift shop and the rides.
Before you head off for the States, don't forget to get your ESTA visa in order! The nice thing about the ESTA is that it makes it so you don't need a visa at all. You can get one online, all you do is fill out the form and you'll receive it in your e-mail within a day.
I have videoed the three main rides so here's my Stratosphere Las Vegas review for you.
X-Scream
This ride takes people over the edge of the tower, leaving them peering down the 100 stories drop to the ground.
Insanity
This ride not only takes people over the side of the tower, but then spins them round.
Big Shot
This ride shoots riders even higher than the 100 stories.
Sky Jump
There is also a new addition where you can be strapped into a harness and are winched down (rapidly) to the ground. Check out this crazy video.
[tp_hotels_selections_discount_shortcodes city="20703″ title="The latest hotel discounts in Las Vegas" paginate=true off_title=false type_selections="popularity" number_results="20″ subid="" city_label="Las Vegas" type_selections_label="Popularity" link_without_dates=true]