The city of Barcelona is amazing, expansive and full of life and culture.
There are so many great areas to consider when deciding where to stay in the city, it can be overwhelming to choose just one.
So to help you pick the area which best suits you, here are some neighbourhoods I recommend as the best places to stay in barcelona for nightlife, each with its own style and experiences to offer.
Gràcia
Gràcia is unique and full of life. Until the late 19th century this area was independent of Barcelona, and it still retains a strong local community. Many artists are attracted and inspired by its happy mix of young and old, traditional and bohemian. Plaça del Sol is a popular square in Gràcia, surrounded by terrace cafés.
Every night you can find some excitement here along with many other people who come for a drink and a little fun.
Gràcia is an area in which you can stay and never leave. It has everything you will need like restaurants, shops, grocery stores, bars and much more. It even has its own Gaudí architecture: the beautiful Casa Vicens.
However, if you decide to venture out of the neighbourhood, the Joanic and Fontana metro stops service the area and it's only a ten minute ride to Plaça Catalunya.
Quirky, unique, local feel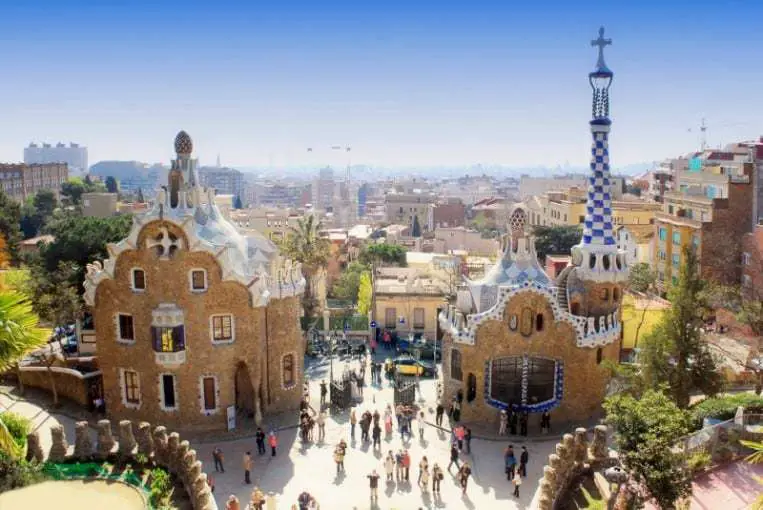 Barceloneta
This beach neighborhood is the perfect place to stay in summer, and it too has everything you need.
Here you'll find the most popular beach in the city, the Barcelona Aquarium, the Catalunya History Museum, many restaurants and cafés, shops and nightlife.
Several of Barcelona's best nightclubs such as Shôko and Opium Mar, are located on the beachfront in the nearby area of Port Olympic, which also makes it ideal for those who love to party.
Barceloneta's most attractive feature is its beautiful beach. It is always busy with sun worshippers and people selling anything from an ice cold mojito to a massage. You can spend the day soaking up the sun, playing volleyball or tucking into one of the best paellas in the city at a seafront restaurant.
Sunny, vibrant, excellent amenities
Tip: I recommend renting an apartment in Barcelona to get the best feel for the city. It's a comfortable way to stay and can be a much cheaper alternative, especially when visiting in a large group.
Eixample
The Eixample district is unique, and is divided into the right side, Eixample Dreta, and left side, Eixample Esquerra, by the famous Passeig de Gràcia avenue. This is the street where you'll find the spectacular Casa Batlló and Casa Milà by Antoni Gaudí.
Eixample Esquerra is a popular area for clubs and bars.
Within this area there are a few blocks which are sometimes referred to as Gaixample, as they have become a welcoming home to many of the city's LGBT residents and visitors.
On the outskirts you'll find one of Barcelona's most popular attractions: The Magic Fountain of Montjuïc.
Eixample Dreta is an elegant, modern area of the city home to Gaudí's masterpiece, the Sagrada Familia. This is a very family friendly area with good access to the rest of the city by metro and bus.
This part of the Eixample is full of modernist architecture, from large flats to fancy lamp posts, just take a look around and you will see the small charming details. ON a side note, if you're thinking you could teach english while traveling in Spain it might be a great way to extend your stay.
Central, large, plenty to do
https://www.youtube.com/watch?v=zxlpbs-dKPk
Poble Sec
The Poble Sec neighborhood near Montjuïc Hill is becoming increasingly popular with visitors to the city.
More people than ever are now choosing to stay in this area to avoid large crowds typical of areas like Las Ramblas, while still remaining close to all the sights either on foot or by public transport.
There is quick access to the popular street Paral-lel, which has many restaurants and bars, and was once the center of Barcelona's nightlife.
I recommend heading to Carrer Blai for some delicious 1€ tapas.
Local, central, great food & drinks
Gothic Quarter
The Barri Gòtic is in a great, central location, and is very popular with the international crowd.
With the famous Las Ramblas on one side and the chic El Born neighborhood on the other, this part of the Old Town has plenty to offer visitors.
You can really see its history when you walk down the narrow cobblestone streets, with Roman ruins and spectacular medieval architecture scattered everywhere.
This area is also known for its lively nightlife and pretty squares like Plaça Reial.
The Cathedral of Barcelona is located in this area. It is an amazing sight, with its amazing architecture, 14th century gargoyles watching over you, and 13 white geese that live in the cloister.
Super-central, lively, historic