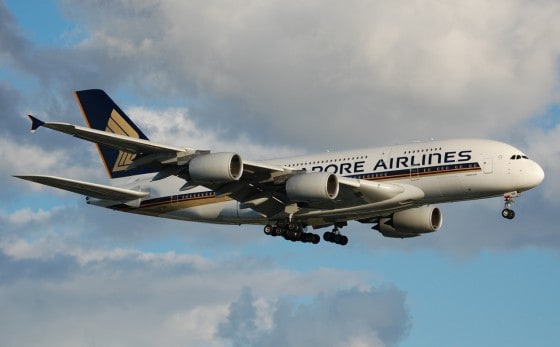 After a very enjoyable 2.5 months in Asia, catching up with good friends and exploring more of both Singapore and Malaysia, it was time to head back to England via London Heathrow.
Singapore Airline's SQ308 would be our flight of choice for our return journey.
So here's my in-depth SQ308 flight review so you know exactly what to expect when you fly with Singapore Airlines.
Why choose SQ308?
We chose this flight for a couple of reasons. Firstly its a fully daytime flight which is unusual for a 13.5 hour journey. Leaving at 9:05am and losing 7 hours on the way (as it was summer time in the UK) meant we'd be landing at around 3:30pm UK time.
It's hard to work out which has the bigger effect on jetlag, the time difference or the hours away on a plane as I don't sleep all that much when flying. All the other Singapore to London flights I've done have involved some overnight travel which usually cause more jet-lag. So it would be interesting to see if this flight would.
Secondly we chose SQ308 as its one of Singapore Airline's Airbus A380 planes, the huge double-decker that on this flight was configured with all business-class on the upper deck. Some of their Singapore to London flights have extra economy seats upstairs so if you're looking for more seating options, or possibly more business class seating options, check which type of A380 you're booking on.
There's some notable differences when flying on an A380 that, for me make it well worth hunting out.
Leaving Changi Airport
There's probably no better airport on earth than Changi. It has everything you'd expect and a whole lot more. In fact in many ways it redefines what a good airport should be like. The Check in area is quiet and very bright with high ceilings and lots of space.
Border control takes a minute if that, I've never seen much of a queue there, they seem to handle staff numbers very well unlike some airports I've flown from. There's no security at this point which speeds things up immensely. That's handled at each gate which makes a huge difference.
There's no shortage of things to do once you're in the departure lounge. Check out the free cinema, get a panoramic view of the runway and planes being serviced. Use the internet for free, enjoy the sunflower garden outside or even the wonderful butterfly sanctuary.
There's no time to be bored here.
Boarding the A380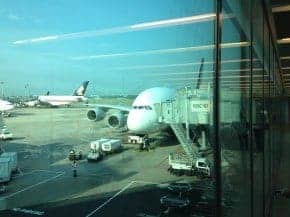 Considering its size, the Singapore Airlines A380 configurations only carry a maximum of 471 people, fairly low compared to most carriers with A380s at the moment. Changi is fully equipped to handle these giants too, being the first airport and national carrier to fly the A380.
The departure gate has 2 ramps to board either the upper or main deck. So depending on your seat you'll be directed to the entrance that will get you to your seat quickest.
Boarding time didn't seem any longer than any other flight I've taken. We were soon pushing back and taxi-ing to the runway.
There was a delay of some 40 minutes before take-off due to congestion on our flight path but the surroundings were comfortable enough to relax in.
Take off
Its worth noting the take off of an A380 as its quite unlike any other plane I've flown on. Most planes push you back in your seat with a roar of the engines when they begin to hurtle down the runway.
This doesn't happen with an A380 as it weighs up to 700 tonnes! There's no feeling of acceleration at all as this process takes a little longer. Airbus also boast that the A380's superior sound insulation reduces outside noise by 50%.
This is most apparent when taking off as you can barely notice any difference. Take off becomes quite a relaxing experience, almost a non-event. Take off out of Changi Airport was smooth and quiet, perfect for anxious flyers.
In-Flight Entertainment
As with all major carriers these days there's on-demand facilities showing a handful of the latest blockbusters and a decent collection of other movies, TV and music. The current entertainment offering on the Singapore Airlines A380s is an older system first introduced in 2008.
While its fully featured I'm looking forward to when the airline update their A380s in line with their new entertainment service on their Boeing 777s which definitely offer a bit more. Never-the-less the choice of movies was very impressive. Catering for both a western and Asian market.
All the latest movies including some indie movies I'd never heard of but were worth watching. They also had entire movie franchises which is something I'd not seen before.
If movies aren't your thing there's a decent amount of TV shows and even some live music concerts from the likes of the Rolling Stones. As this was a day flight I had no problem consuming 5 movies and a couple of episodes of an american sitcom.
The only difference with Singapore Airlines compared to some European carriers is that with Singapore you can't start watching movies before takeoff and during landing. Something which I found enjoyable to pass the time during these parts of the flight. Hopefully this will change as more airlines allow this.
Comfortable seating
We were lucky enough to have bulk-head seats during this flight which were comfortable and offered a little more leg room. I'm tall so didn't have a chair in front of me that usually rubs against my knees.
Singapore Airlines do seem to have a level of quality in their seat upholstery that makes them more comfortable and cleaner looking too. This A380 features a cream and almost orange interior in one section.
With a light blue in another, you could describe the interior as "inoffensive", it's not the most exciting but it is relaxing and comfortable. The plane also features a colour changing LED lighting system which the crew can control to simulate sunset and sunrise. A wonderful way to be woken up or sent off to sleep.
Of course with this being a night flight it wasn't really needed although for some reason I did see the lights go through sunset and sunrise modes a number of times.
There was no need for everyone to pull their window blinds down so there were patches of darker and lighter parts of the plan interior where some had and some hadn't. Maybe this was the reason.
Conclusion
Considering the 14 or so hours we spent on the aircraft, the journey seemed to go by so easy and effortlessly. The food was great, Singapore do have some of the best inflight meals and rather than push drinks trollies around we could go up to the galley and help request any soft drinks and alcoholic drinks we wanted, along with small snacks too.
The flight crew were friendly and attentive, always willing to help with a smile, all dressed in the very unique Singapore Airlines uniform. I've flown long haul many times now but that was definitely the easiest flight, a combination of day time flying, comfortable surroundings and a smooth journey all the way.
Helped by the beautiful beast that is the Airbus A380. I definitely recommend flying on this aircraft if you get the chance.
Our thanks to Singapore Airlines for their hospitality on SQ308 from Singapore to London.
From London: Singapore Airlines offers 28 nonstop flights per week, or four times daily from Heathrow, with Airbus 380-800 and Boeing 777-300ER aircraft
From Manchester: Singapore Airlines operates daily flights from Manchester to Singapore via Munich with Boeing 777-300ER aircraft
For more information visit www.singaporeair.com
Cheap hotel deals in Singapore
I've been searching the internet for the best hotel deals in Singapore right now. Here's what I've found. I'll keep this list updated regularly. Just click "VIEW HOTEL" to see more details about the discount deal.
| | | | | |
| --- | --- | --- | --- | --- |
| Hotel | Stars | Discount | Price per night, from | Choose dates |
| Marina Bay Sands | ★★★★★ | -20% | 869693 | |
| Shangri-La Hotel Singapore | ★★★★★ | -42% | 545315 | |
| Pan Pacific Singapore | ★★★★★ | -13% | 510446 | |
| Parkroyal on Pickering | ★★★★★ | -55% | 535238 | |
| Hotel Jen Orchardgateway Singapore by Shangri-La | ★★★★ | -39% | 411251 | |
| Carlton Hotel Singapore | ★★★★★ | -19% | 373301 | |
| The Ritz-Carlton, Millenia Singapore | ★★★★★ | -36% | 802514 | |
| Shangri-La's Rasa Sentosa Resort & Spa | ★★★★★ | -51% | 637315 | |
| The Fullerton Hotel Singapore | ★★★★★ | -39% | 275167 | |
| Mandarin Orchard Singapore | ★★★★★ | -46% | 468253 | |
| Swissotel Merchant Court Singapore | ★★★★★ | -36% | 388247 | |
| Marina Mandarin Singapore | ★★★★★ | -15% | 484412 | |
| Mandarin Oriental, Singapore | ★★★★★ | -9% | 533487 | |
| One Farrer Hotel | ★★★★★ | -26% | 341253 | |
| Swissotel The Stamford | ★★★★★ | -7% | 500466 | |
What to read now
How about checking out the Best new attractions in Singapore or my pick of the Best restaurants in Singapore right now. Maybe you're looking for things to do in Singapore on a budget. If you're travelling with an infant check out our Singapore Airlines bassinet review.
My experience
4.4
Great service, food and comfort