Now that we're a family with a toddler travelling has a whole new set of perspectives, challenges and experiences to be had. Some filled with excitement and anticipation while others like long haul flying often fill people with dread.
For years I've been the guy occasionally tutting at the parents who can't stop their baby screaming for the entire flight. Now it was time to take my baby on a flight and experience it from the parent's point of view!
Thankfully our first foray in to long haul flying was with Singapore Airlines, an airline constantly voted one of the best in the world and flying to a country we love to visit whenever we can. So how would 13 hours in a plane be for us and our daughter?
Here's our SQ305 review…
Flight details
Number: SQ305
Route: London Heathrow to Changi, Singapore
Flight time: 12 hours 40 minutes
Flight distance: 10,891 km (6,767 miles)
Aircraft type: Boeing 777-300
Registration: 9V-SWM
Checking in at London Heathrow Terminal 2
T2 at Heathrow Airport in London is the latest terminal to get a complete overhaul. I remember flying from this terminal many years ago and it certainly has changed beyond all recognition. Now a bright and spacious place to check in and spend a couple of hours. Check-in services here have changed a lot too. You now have to check in via computer, scanning your passport as proof of purchase. Don't bother printing any paperwork, I did and a passport is all you need so its really not worth it. Singapore Airlines long haul flights thankfully gave us 30kg each  for the flights and anyone that's travelled with a baby before will testify that you need every spare kg you can get!
The check in desks here serve multiple airlines which makes checking in much quicker as there's more available counters to walk up to. The downside is that the staff no longer work for your airline so forget about asking for a free upgrade. Those days are gone unfortunately.
Terminal 2 departure lounge is fantastic, to rival the best in the world I'd say. Some great places to eat, large open  space with plenty of natural light and even a play area for the kids which kept both my daughter and I entertained until we were ready to board SQ305.
View [tp_link origin=LON destination=SIN text_link="the latest cheap flights from London to Singapore" origin_date=1 destination_date=12 one_way=false type=1 subid=""]
Travelling with our toddler
We boarded our Boeing 777-312ER pretty quickly. Travelling with a child does have its perks as you get to jump the queues and head straight to the front. Of course it doesn't get you there any quicker but does help you grab a bit more overhead compartment space for the masses of carry-on every parent travels with. The fleet of 777s flying out of London have all been upgraded to the latest Singapore Airlines cabin interior which was spacious and bright. While the plane fuselage is obviously no different to any other 777-312 they have found new and ingenious ways to pack in all the carry-on and offer decent bassinet seats with the TV screens attached to the wall in front. Much better than trying to stuff them in to immovable arm rests which are often uncomfortable especially if you're as tall as me.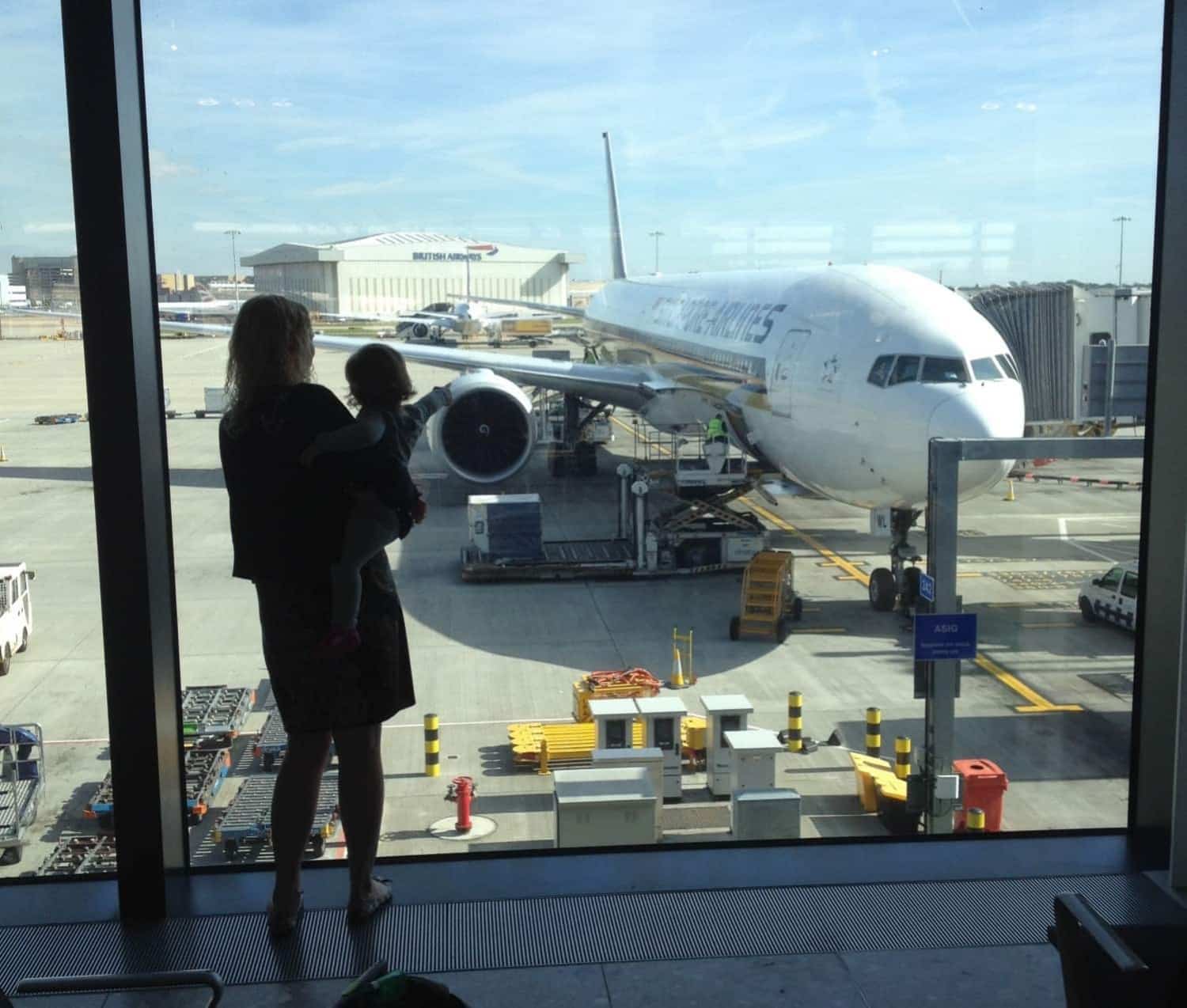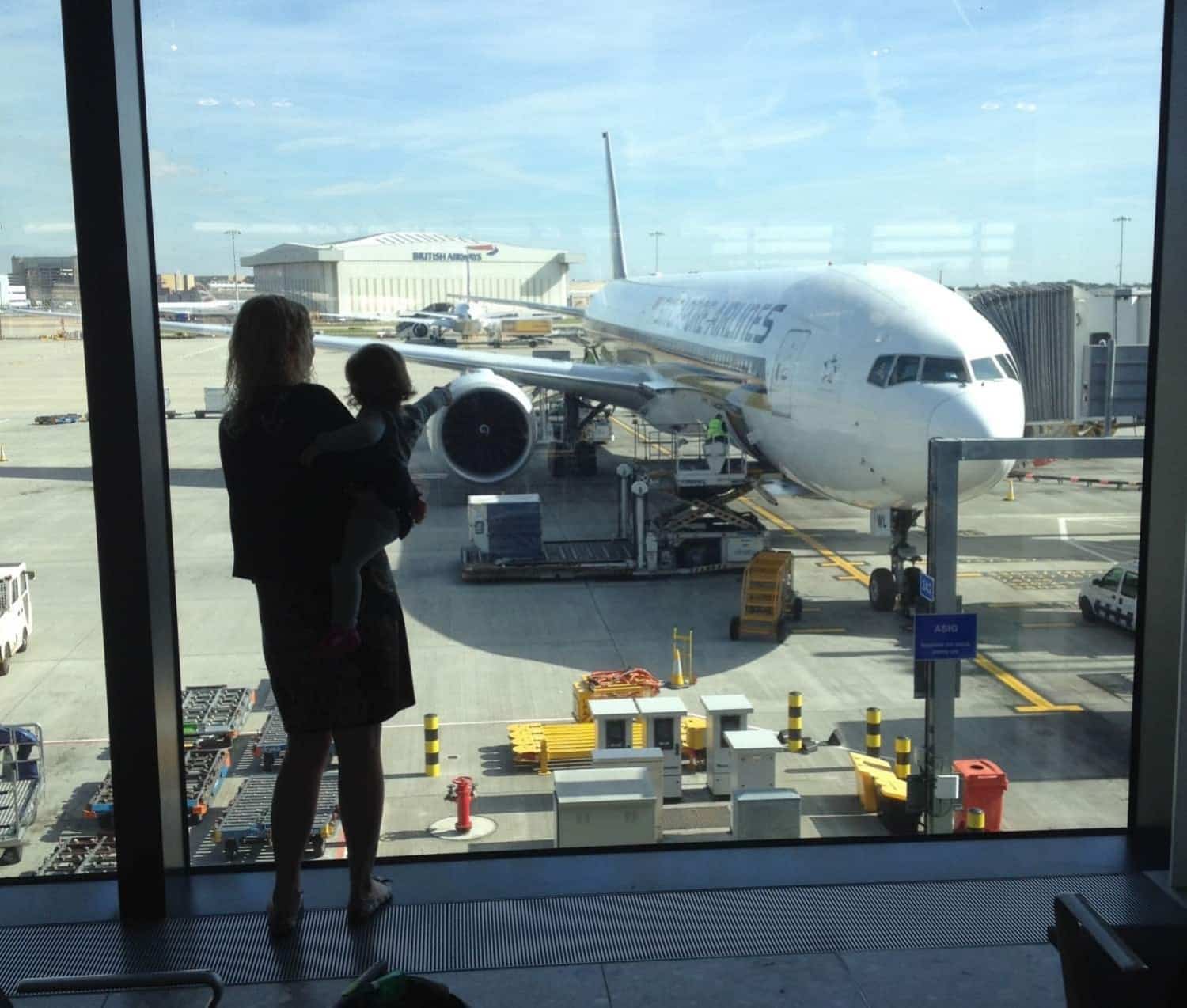 Our daughter seemed to like the plane as she promptly fell asleep before take-off. It made the anxious part of starting the journey a lot easier and once we were at cruising altitude we transferred her to her bassinet and she slept for a couple of hours.
Keeping a toddler entertained and happy is one of the toughest things on a long haul flight. They don't like to sit still and have no interest in the art-house indie movie with subtitles that you'd love to finally watch.
They want to be walked up and down the isle and constantly requesting books and toys that are in one of many bags in the overhead compartments. So the flight is anything but relaxing for a parent. Lots to do all the time and you'll be lucky to watch a couple of movies!
The best advice I have is to just go with it and remember that a 13 hour flight is like spending the day in your lounge with your child. They'll want toys, want food, want sleep and cuddles. They're also like to cry and possibly scream at some point too.
Its all in a days work for a baby so why should this day be any different? True to form our daughter did all these things, thankfully not too much of the screaming and crying. She slept well too in her bassinet although had to be removed a couple of times when turbulence forced the pilot to put on the seatbelt signs.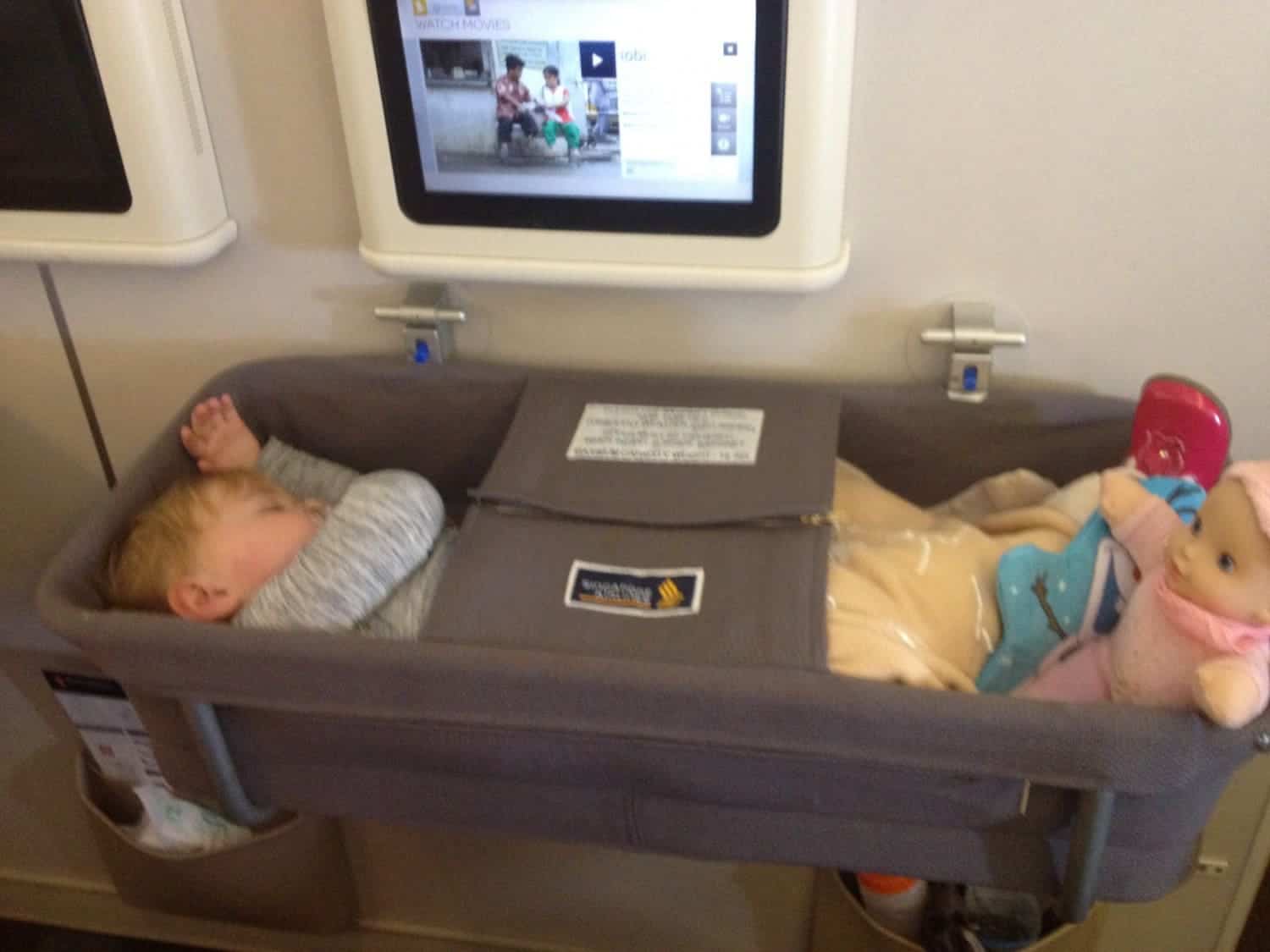 In flight entertainment
With the new interior in the Singapore Airlines 777 fleet out of London you get the new in-fight entertainment system too. I have to say its much improved with a better user interface and a hand held control that has its own screen. This allows you to browse while watching TV and also check the latest flight information without exiting your movie. The screens are also touch controlled which may seem like a great feature but you'll soon wish it wasn't there when the guy in the seat behind you starts tapping and swiping on the screen attached to your seat! There's really not much need for it either as the handheld device does all the controls you'll need.
As with every Singapore Airlines flight I've taken the range of movies and TV is excellent with all the hollywood blockbusters and classic indie movies you'll ever need. Plus a lot of great Asian movies including Bollywood and Chinese.
View [tp_link origin=LON destination=SIN text_link="the latest flight deals from London to Singapore" origin_date=1 destination_date=12 one_way=false type=1 subid=""]
The flight information app was great too which some impressive Google Earth style flyover animations that do a great job of telling you where you are. I always love to keep an eye on this as I find aviation fascinating.
The on problem I've noticed on numerous flights recently is the inability for the on-demand movies to play without jumping, skipping or pausing. Presumably because the computers used to handle all of this new system can't handle the data. I even asked the flight attendants to re-boot my particular seat (they'll happily do it) which takes around 20 minutes but sadly it didn't improve things.
It made watching movies a little less enjoyable. Hopefully they'll find a fix for this soon. It seems I wasn't the only one that experienced this too.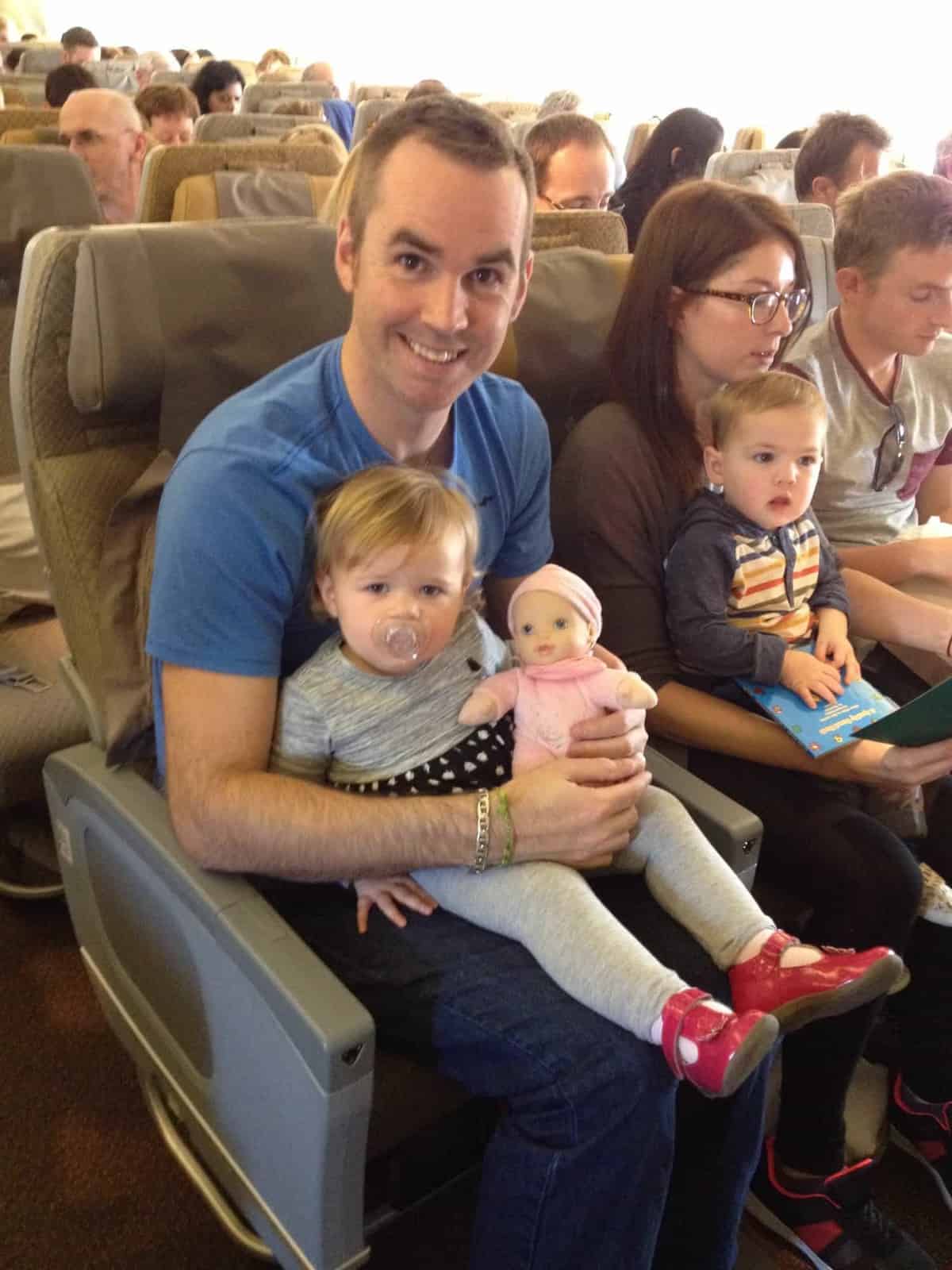 Service
I have to make a special note of the service on this flight as the crew were wonderfully accommodating and hospitable towards those with children. When we boarded the plane we were asked our daughter's name and all the crew used it throughout the flight, a nice touch that really made us feel welcome. Its all too easy for parents to feel they are a massive burden on both the other passengers and the crew.
Not so on this flight and they were so attentive to our daughter's needs. They even took turns picking her up and entertaining her for a few moments to give us a break. I was really surprised by how great they were with our daughter, in fact when the crew spotted us again at the baggage reclaim in Singapore they rushed over for one last cuddle and my daughter delighted in waving goodbye to them.
As a family travelling on a long haul flight this made a massive difference and the entire journey felt a little less stressful.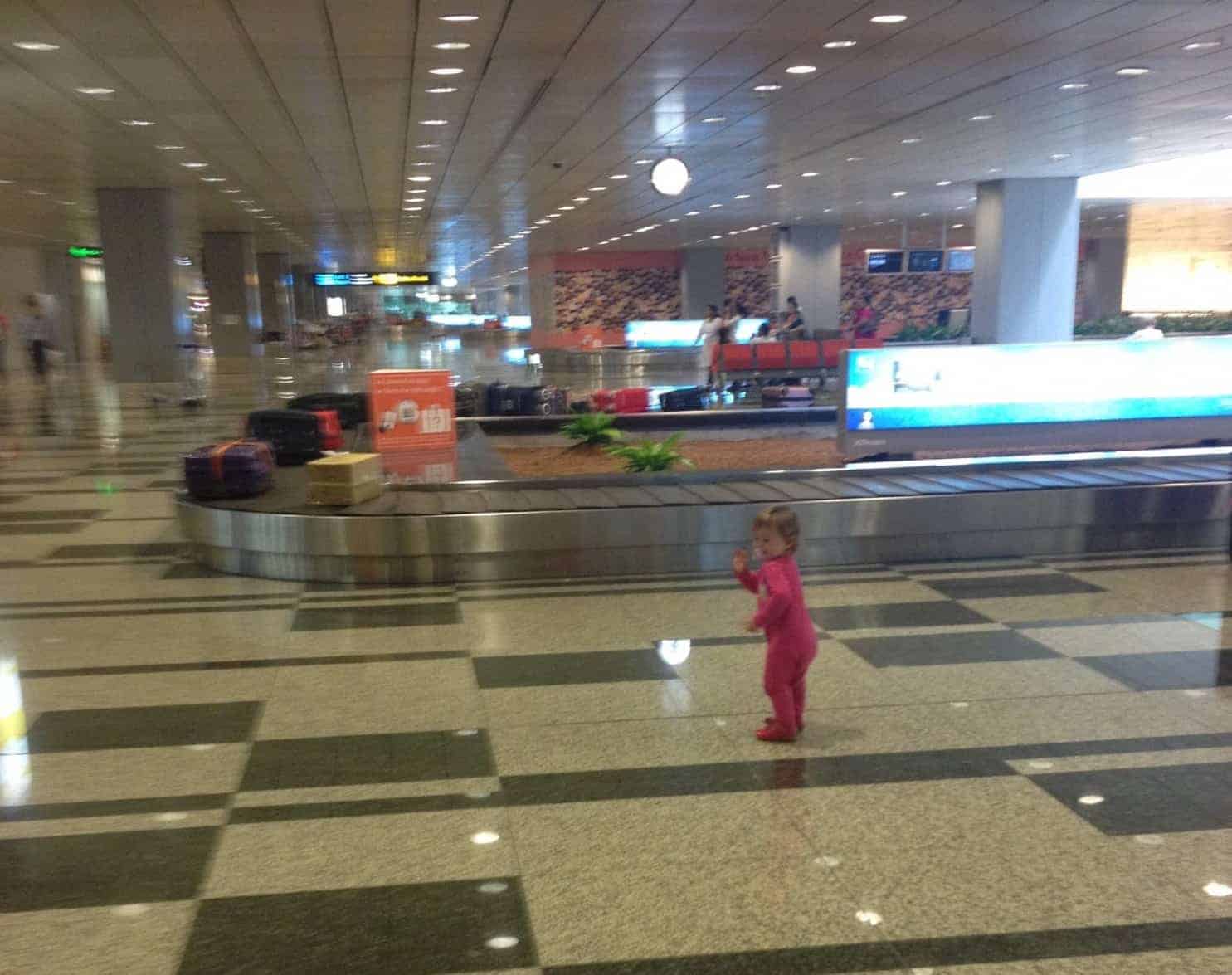 Conclusion
Thanks to decent seats in a new and well designed interior, great service from the crew and a happy placid daughter, the flight was enjoyable and comfortable. A lot more enjoyable that I thought a flight with a 16 month old toddler would be. It was a great first long haul flight for my daughter and has given us the confidence to take her anywhere in the world.
View [tp_link origin=LON destination=SIN text_link="the latest flight deals from London to Singapore" origin_date=1 destination_date=12 one_way=false type=1 subid=""]
Check out this awesome review from our friend Pommie Travels who sampled business class on her flight back from Changi Airport in Singapore.
With thanks
A big thank you to Singapore Airlines for their support with this review. You can book flights directly with them at the Singapore Airlines website and follow them on Twitter for all the latest news and very helpful customer service.