Everyone has a checklist of things they really want to do in the Philippines and on most peoples list you'll see 'swimming with Whale Sharks'. This may sound scary but these gentle giants are harmless to humans.
There are a number of places you can snorkel with whale sharks in the Philippines and one such place is Donsol in the Bicol region.
Check out our awesome video of our Whale Shark experience. Then read on for all the info on where to stay, what to do and what it will cost you.
Getting to Donsol
You can fly to nearby Legazpi city from Manila in just 1 hour but we prefer to go overland whenever possible. There are some great 'Deluxe' buses from Manila that cost around 1100 pesos (£17) and takes 10 – 12 hours.
It's an early start and a fairly late arrival unless you take the night bus but they day bus takes you through the heart of Manila and the countryside, passing through towns, villages, beautiful landscapes and stopping for lunch in a quiet town too.
If you have the time it's worth the journey. It's air-conditioned and has a working toilet! Very comfortable way to travel.
Donsol is a small town about 90 minutes from Legazpi City so overnight there and check out the Cagsawa ruins the next day with the impressive backdrop of the ever active 'Mayon Volcano'. Well worth a visit. Then hop in a local van at the bus station and head to Donsol for just 70 Pesos.
Where to stay in Donsol
We stayed at the comfortable and friendly 'Giddy's Place' which seems to be the only hotel in the town.
There are a number of resorts right next to the dive and Snorkelling centre but they lack the local atmosphere that friendly Filipinos will gladly offer you in town.
Whale shark interaction centre
Its just a 7 minute tricycle ride from Giddy's Place to the 'whale shark interaction centre' where you'll need to register in order to dive or snorkel.
This is to keep track of visitor numbers as the whale sharks are a protected species. Registration is 150 pesos and you can hire snorkel gear including flippers right there for 300 pesos.
Local fishermen run the boats which can take a total of 6 tourists. Total price of the boat is 3500 pesos so if you want to save money be sure to share with others.
The price includes a 'BIO' guide who will snorkel with you and help you get the best experience. They're friendly and experts In whale shark behaviour too.
Once out on the boat you don't need to travel far off shore. Just 5 – 10 minutes and you'll be with the other boats, all with spotters looking for a whale shark to follow.
The idea is to jump in and snorkel just ahead to either side of the whale shark but as there are usually 10 boats, with around 40 – 50 snorkelers it can get quite busy in the water.
Once your BIO spots the shark and actions for your group to jump in you immediately swim towards the other snorkelers and start looking beneath you hoping to catch a glimpse.
More about Whale Sharks
Whale sharks can grow up to 9 metres in length and have distinctive dark blue skin with light yellow spots on them. They come close to the surface to feed on krill, an abundant plankton in this area.
They have no teeth and their size means they have no predatory powers against larger fix. In fact the whale shark is the largest fish in the world. Weighing up to 34 tonnes.
Our whale shark experience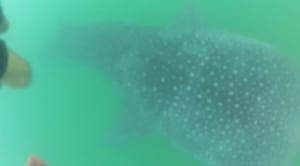 Our first snorkel was a failure. No sighting as we swam about. Back on the boat for another go. The captain and crew soon spotted another and we were off to investigate. You're constantly on edge, ready to dive in. Our second snorkel was better. The glimpse of a tail as it swam away.
Climbing back on to the boat takes some energy. 3rd snorkel we saw its entire tail, waving back and doth as it swam. It was so large it looked like a plane underwater with its tail fin protruding.
Our 4th snorkel was even better. Seeing its back and tail before it swam off faster than I could keep up. The best 2 sessions were undoubtably the last 2.
Jumping in along side it I was able to see the entire length of it from head to tail. Such a surreal sight compared to our land based life.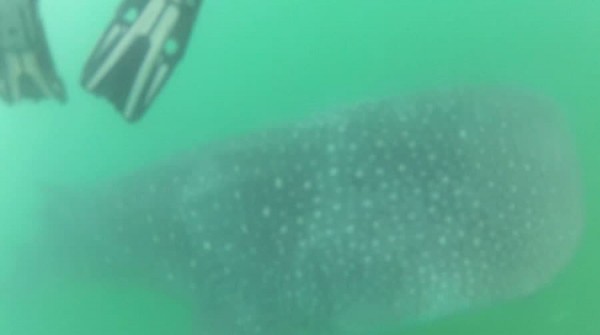 The last snorkel was the best. Jumping in at just the right point to be able to swim along side the head of this giant whale shark for over 2 minutes!
Ample time to analyse every part of it and take in the full impact of what we were doing this day. A truly amazing experience.
If you're coming to the Philippines then swimming with whale sharks is a must. It's easy to do as long as you can swim. Be prepared to have to contend with 10 – 20 other people in the water all trying to get the best view too.
6 snorkels is probably as many as you may have the stamina for as getting in and out it the boat and also keeping up with the shark can take more energy than you think.
More information
Hotel: Giddy's Place, Donsol – 2500 Pesos (£36) per night. 600 pesos for Backpacker room.
Transport to dive centre: Tricycle 100 pesos
Registration: 300 pesos per person
Snorkel hire: 300 pesos per person
Boat: between 585 pesos and 3500 pesos depending on the number of people in your boat.
Best time of year: late January to May
Best time of day: between 7:30am and 12pm