Having lived in Abu Dhabi for a number of years – many people often ask me why they should visit Abu Dhabi?
Well the reasons, I could write a book! So let's start with a short two-day trip and make sure we make the most of it shall we!
From water parks to gold souks, Abu Dhabi truly has something for everyone. The question is, how do you fit it all into a short trip?
Whether you've just popped in because of a stop-over flight or you're hanging around for a couple of days on a business trip, I've planned out the best way of spending two days in Abu Dhabi so you don't have to! You can easily stretch this to 4 days in Abu Dhabi if you want to. Maybe a long weekend or mid-week trip.
So here we go…
Where to stay in Abu Dhabi
First things first…after your long flight you will most likely want to check straight into your hotel to freshen up and relax for a bit.
Problem is, there are so many to choose from because Abu Dhabi is home to so many fantastic hotels, accommodating every budget! Here are a few of the best to make things easier for you…
If your requirement is one of ultimate relaxation, look no further than the [tp_link hotel_id="hotelId=1924615″ text_link="Shangri-La Residence Qaryat Al Beri" check_in=30 check_out=32 type=2 subid=""]. Self-described as an 'Arabian Oasis,' the Shangri-la entails nothing but breathtaking views, beautiful architecture, spas and private beaches.
It also has an amazing view of the Sheikh Zayed Grand Mosque that must be enjoyed at night!
If it's elegance and luxury you're after, [tp_link hotel_id="hotelId=874″ text_link="the Yas Viceroy is the place for you" check_in=30 check_out=32 type=2 subid=""]. It's intricate design, exquisite food, large range of bars and even its own art gallery makes it one of the most stylish and sought after hotels in Abu Dhabi.
For me it's the fact that it lights up and changes colour at night that makes it that little bit more appealing, that and of course the fact it sits directly on top of the Abu Dhabi F1 track.
Set in a convenient location, close to beaches, a golf course and the Yas Marina Circuit (aka the F1 track – if you're a petrol head check it out). The Park Inn is one of the busiest hotels in Abu Dhabi and draws in a very interesting crowd, so it's also a great place to meet a range of different people. In short – if it's adventure you want, the Park Inn is probably the perfect place for you!
If it is business that has brought you to Abu Dhabi, [tp_link hotel_id="hotelId=1925366″ text_link="The Nehal hotel may be exactly what you're looking for" check_in=30 check_out=32 type=2 subid=""]. It's comfortable, affordable and located in the heart of Abu Dhabi, (unlike the Yas Island hotels above) – it couldn't be more convenient!
[tp_hotels_selections_discount_shortcodes city="25484″ title="The latest Abu Dhabi hotel discounts" paginate=false off_title=false type_selections="tophotels" number_results="8″ subid="" city_label="Abu Dhabi City" type_selections_label="Top hotels" link_without_dates=true]
What to see in Abu Dhabi
Now that you're unpacked and settled in, it's time to start exploring…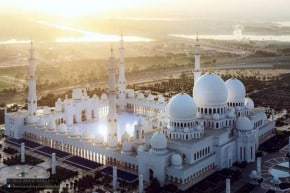 The breath taking Sheikh Zayed Grand Mosque should be first on your list and once visited will surely never be forgotten. Not only is it one of the world's largest mosques but its breathtakingly beautiful and has become famous around the world! I won't ruin the tour but there are a few world records broken in the Grand Mosque.
After being truly amazed by the beauty of the Grand Mosque, you might fancy having a rest and getting some coffee and cake. How about doing exactly that but in a palace?
The Emirate's Palace no less! Enjoy a cappuccino with a real difference – you can choose camels milk and every cup comes with gold leaf (real edible golf leaf). If that's not enough – you can even pick up a gold bar from the vending machine on your way out.
Of course I must add that if budgets permit you might want to consider staying the night – but if not the coffee, cake, afternoon tea and spa are all unbelievable and worth experiencing.
There is certainly no shortage of shopping opportunities in Abu Dhabi (whilst I am writing this I imagine a new mall is being opened) each with its own vast array of café's and restaurants. The Marina Mall is particularly picturesque in its setting close to the corniche and with some impressive water features inside. The shops aren't too bad either (but of course I would know less about that).
Check out this awesome video for a guide to things worth seeing in Abu Dhabi
More adventures in Abu Dhabi
For the more adventurous of you, Abu Dhabi has some fantastic experiences to offer…
Fancy a dip? How about a big one…Abu Dhabi is home to Yas Waterworld, which is sure to be an experience you wont forget! Just make sure you have enough sunscreen on, remember where you are.
But if water rides aren't really your thing there's always the world's largest indoor theme park, Ferrari World, instead… Yes, you read right a Ferrari themed theme park – home to the fastest roller coaster in the world.
You're definitely going to want to take a trip into the desert. A desert safari offers a fantastic opportunity to do exactly that…even on the back of a camel if you choose!
There are a wide variety to chose from and having experienced most of them the only thing I would highly recommend is – a) if you have a sensitive stomach
I suggest some travel sickness pills in advance and b) make sure you go on one where you can enjoy dinner and evening entertainment, it's amazing.
Where to eat in Abu Dhabi
After all of this you're going to pretty hungry. Not to worry, Abu Dhabi is definitely not lacking in places to eat! If you wanted to venture further afield than the food courts in the malls, you will not be disappointed (but I am not knocking the food courts – my favourite is at Yas Mall)!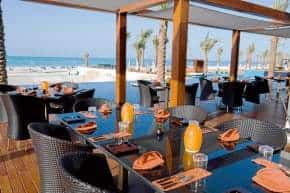 Sontaya, a South East Asian restaurant located at the [tp_link hotel_id="hotelId=910″ text_link="St. Regis Sadiyaat Island Resort" check_in=30 check_out=32 type=2 subid=""] is the ideal place to go for ambience, views and exquisite food. It is a great place to go with a large group of friends and when you step inside it literally feels like you have ventured to another country. I recommend everything on the menu…
This boutique café has a completely unique and mysterious feel to it, with décor unlike anything else in Abu Dhabi. As you only have two days you could just go here for coffee and cake – it really shouldn't be missed.
For award-winning food, embroidered furniture and caviar, Hakkasan promises a night you won't forget! It's a completely different experience to Hakkasan London and well worth the visit.
For the ultimate family dining experience with food from all over the world – Vasco's is a must visit. Situated on the corniche with an amazing outdoor space it's fun all round. And let's be honest, who doesn't like a course from 3 different continents.
You HAVE TO watch this amazing video showing you the kinds of cuisine you'll find in Abu Dhabi.
Finally – one that's a bit more off the beaten track is Mirage Marine. It sounds like I really like eating around the Marina Mall and the corniche, but seriously this place delivers the most exquisite Lebanese food. I strongly recommend not eating for a few hours before and after – everything is prepared to perfection and you will get a true sense of local culture.
So, I didn't say you would have time to sleep!
Whatever the reason you're flying from London to Abu Dhabi, one thing is for sure – you won't have time to be bored!
Flights to Abu Dhabi
I found some great flight deals going to Abu Dhabi from all over the world. Take a look through the pages to find one from your country.
[tp_in_our_city_fly_shortcodes destination=AUH title="" limit=50 paginate=true stops=0 one_way=false off_title=true subid="" currency="USD"]
Abu Dhabi Map
I've pinpointed a few of my favourite restaurants worth checking out.