The coast of northern Ireland is truly epic, is a sentence I've heard quite a few times. Finally it was time to check it out for myself. Our Great British Road Trip has taken us to some surprisingly epic places already, the highlands of Scotland, the islands of Orkney and now from Belfast, we headed towards the seaside town of Portrush.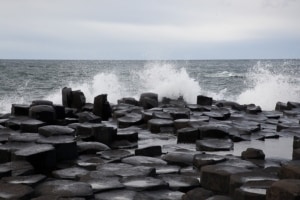 One of the biggest tourist attractions on the coast is of course the Giant's Causeway, so the coastal road is appropriately named the Causeway coastal route. Perfect for tourists with time on their hands like us! You can get to Portrush from Belfast in an hour or so but the best scenery is definitely along the coast. It took us a good 3 hours with numerous stops at awesome vantage points, where the rolling hills become mighty cliffs with tempestuous seas bashing against the rocks below. Quite a sight!
We arrived in the sleepy town of Portrush. Sleepy for us at least as we're now out of peak season for tourists. The perfect time of year to travel in the UK as the roads, tourist attractions and hotels are less congested. Portrush is a small town of around 6000 people and definitely geared towards the tourists. With an abundance of hotels, amusements arcades and restaurants. For this part of our journey we were staying in a family run establishment called the Portrush Holiday Hostel. A descriptive name but one that doesn't do it full justice if you ask me.
Run by the friendly couple Philip and Colette, Its really more of a home than a hostel. A grand Victorian town house with a modest entrance but a very cosy lounge. The lounge was big and feels like well-kept home. A big comfy sofa, ample room for 3 dining tables and the best feature, a beautiful original fireplace. If its cold outside they'll light the fire which roars away making the place so warm and inviting.
The bedrooms were clean and mostly functional, with our private room having a comfortable double bed and small cupboard. Not much room to put a couple of suitcases but if you're travelling light its fine. The Kitchen is huge and has lots of room for guests to cook their meals, even with lockable storage cupboards for your food. Breakfast is included and there's free tea, coffee and hot chocolate all day. It's always nice to stay in a place where they think about their customers. The free drinks were much appreciated, they have lots of laundry facilities out the back, ample space in the lounge for all the guests and free wifi access throughout the building. Something that has been surprisingly lacking in the hostels we've stayed in recently.
Things to do in and around Portrush
Philip gave us a great introduction to the area and what there is to do around here. 90% of people staying in Portrush are here to visit the famous Giants Causeway, a very unusual coastline of volcanically produced hexagonal columns like stepping-stones out to sea. There's actually so much more to the north coast of N.Ireland, some fantastic coastal walks, castles, even a temple. You can read our full review of things to do in Northern Ireland here.
Missenden Temple on the coast near Castlerock
Exploring Portrush
Portrush itself is worth exploring and we made sure we took some time out from exploring the coast to have a walk around this pretty little town. In its previous life this town was a haven for the rich and famous who would holiday here in the grand buildings and hotels. Its harbour with fishing boats is pretty place to walk around and a loop of Ramore head is a must. Most of the centre of town is based along this peninsula and the Holiday Hostel is just a couple of minutes away from the head's path that leads you to the edge of this jutting rock, with grand views of the surrounding coastline. Definitely worth it for a photo or two.
We found no shortage of places to eat in Portrush. The town still retains its seaside holiday image and every hotel along the main drag operates as a restaurant too. Philip told us how quality has risen over the years thanks to competition between the restaurants. One thing the town did seem to lack was some cosy pubs to relax in, but I get the feeling Portrush is designed for the busy tourist in mind.
Our video of Northern Ireland
Take a moment to watch our short video from the road trip. Featuring our time in Belfast and exploring the coast of Northern Ireland.
We really enjoyed our time in Portrush. Philip and Colette's Holiday Hostel is a great place to stay if you want to feel homely and relaxed. They've got all the little touches just right, everything that makes you feel welcome and helps you save money.
Location: 24 Princess Street, Portrush
Room rates: £15 per person for Private Double. £12.50 for 4 bed mixed dorm
With thanks
A special thanks to Philip and Colette for their hospitality and to HostelWorld for their continued support on our Great British Road Trip. Also a big thank you to the National Trust for entry in to the Giant's Causeway. For more information visit the National Trust website.