Zante,  also known as Zakynthos, is the southern most island in the Ionian Islands and is fast becoming the most popular of all the Greek islands.  It's triangular shape helps give Zante three distinctive areas. To the north west is mountainous with just a few small traditional greek mountain villages, the central region is a naturally rich plain filled with olive groves and vineyards, while the south east has some of the most beautiful beaches in all of Greece. So it's easy to see why there is something for everyone to enjoy here. Here's my pick of the best of Zante and why this tiny island is well worth visiting.
Navagio
Shipwreck Beach or "Navagio" is probably Zante Island's famous sight and something you'll see mentioned in all the tourist brochures. Navagio's white cliffs and gorgeous clear blue waters create one of the most beautiful and tranquil settings and the surreal sight of a shipwreck washed up on the beach is something to check out for yourself. You'll find it in the North West of the islands, far from the tourist crowds of the south. The easy way to get there is on a boat trip from St Nikolas harbour or Cape Skinari. Navagio is one of the most picturesque sights on the island so be sure to bring your camera.
The Blue Caves
Another natural tourist attraction here are the Blue Caves underneath Cape Skinari. Discovered in 1897, the caves are one of Zante's tourist gems. They're a surreal sight that really need to be seen and thankfully it's pretty easy these days. There are a number of boat trips offering snorkelling too which is a must here and you'll see a wide variety of marine life living there. The reflections of the caves here seem to create optical illusions with the dancing blue water and white rocks. Quite a sight.
Sea Turtles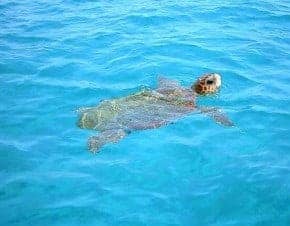 The Loggerhead sea turtle is an endangered species and Zante Island is one of the most important breeding grounds for these creatures. While their numbers decline, measures are being taken to protect their natural environment and hopefully help their numbers to grow again. The National Marine Park of Zante (NMPZ) are actively monitering breeding grounds and informing tourists too. There are a few turtle spotting boat trips departing from beaches around the Gulf of Laganas, in the South West of Zakynthos and from Zakynthos town. You're most likely going to see the turtles around the beaches of Laganas, Porto Koukla, Agios Sostis and Kalamaki. Turtle spotting trips will likely help you see a turtle in its natural environment, coming up to the surface to breath every so often. Their endangered status make these animals a must see while you're here and doing your part to ensure their habitat is preserved is a worthwhile cause while on the island.
Nightlife
There's no hiding it, Zante is famous for it's nightlife and is working its way up the ranks of top clubbing destinations. There's no shortage of party boats, booze cruises around the island and back to back night clubs in Laganas. The strip here is just back to back night-clubs and bars so you'll be sure to find a great venue for the evening. Midnight is when the larger clubs really get going and clubs like Rescue, Zeros and Medousa are always very popular. Some of the larger clubs can handle 1500 or more people and with cheap drinks at every bar you'll be sure to need a day on the beach after your big night out. In the peak summer months this area can get pretty crazy so if you're looking for something a bit calmer try the resort town of Kalamaki just a couple of miles down the road. You'll find some friendly bars and restaurants here, none of the madness in Laganas.
Getting to Zante
You can fly direct to Zante from many European destinations including London, costing around £150 – £200. Flight time is around 4 hours. Once you're there you'll find its easy to get around by taxi and coaches to the your hotel too. Make the most of your tour operator's excursions especially the snorkelling trips and boat to Navagio. Check out onthebeach.co.uk for the latest prices on flights and hotels.