Tanzania in Africa is one of the largest countries on the continent and the largest in East Africa. It borders with no less than 8 other African countries including Kenya, Uganda, Zambia and Mozambique. Tanzania is widely considered one of the longest continually inhabited areas of earth with fossils of pre-human hominids dating back at least 2 million years. Tribes and travellers, merchants and immigrants have all called Tanzania "home" at some point and it's location, trading routes and resources have all been a lure for many over the centuries.
History
Tanzania has been officially owned by a number of European nations, first the Germans in the 19th century before the 1st World War's League of Nations handed sovereign to the British. Other parts were given to Belgium which later became neighbouring Rwanda and Burundi. In 1961 British rule finally came to an end and Tanzania celebrated a fairly peaceful transition into independence, officially being recognised as Tanzania in April 1964. Since Independence Tanzania suffered a number of economic downturns but the 1990s and 2000s were a relatively prosperous period in Tanzania's history and tourism as been growing steadily during this time.
Weather in Tanzania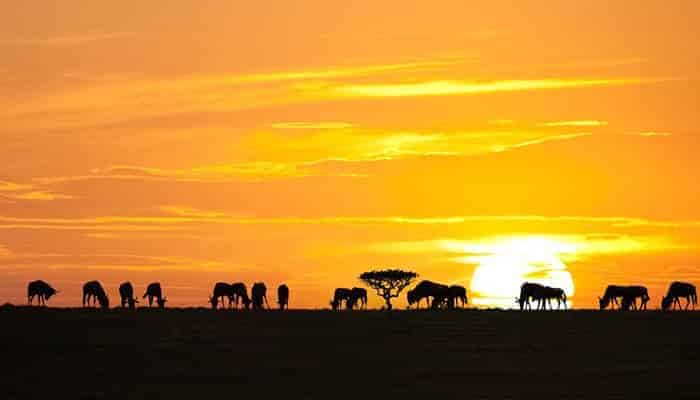 Tanzania enjoys a varied climate depending on your location. Its landscape shaping the weather patterns with hot and humid in the low lying areas and dryer climates up in the hills where temperatures drop dramatically at night. There are two rainy seasons in Tanzania, on from October to December, another between March and May. Temperatures vary between a high of 35C in mid April down to around 27C in later September and October. Temperatures at night can drop to around 18C on average in the later months although for most of the year they barely drop below 20C.
Best time to visit Tanzania
The best time of year to visit is during the dry seasons of January to March and June to September as you'll find a lot of the national parks trails are closed in the rainy seasons. Many of the tourist attractions and resorts also close during rainy season as tourist numbers decrease. I would recommend visiting around Late July as the temperatures begin to drop a little during the day but the rains have yet to start. If you're only there for the wildlife then you may want to brave the peak of the dry season in January as you're much more likely to see large numbers of animals at the few watering holes available to them. When the rains come the watering holes are plentiful and the animals scatter more, making it tougher to see them all. February is a great time of year to see the millions of Wildebeest in the Serengeti who migrate across the plains. It's an amazing sight and well worth it if you can take the heat.
Getting to Tanzania
A tourist visa is usually required depending on your country of origin so be sure to do your homework before you leave. Tourist visas usually cost $50 for a single entry, three month visa. American travellers to Tanzania have to pay $100 but the visa does allow multiple entries. You can obtain visas on arrival but the queue can be long if other international flights arrive at the same time as yours. I'd recommend getting your visa before you arrive. There's an express service at the Tanzania Embassy in the U.S. that costs $20 and will get you your visa within 3 working days. Flying in to Tanzania is relatively easy with lots of flights from Europe and Asia arriving daily. You'll most likely fly in to Julius Nyerere International Airport in Dar es Salaam. There is another airport in Kilimanjaro so depending on your itinerary its worth checking which international airport is best to fly in to. If you're flying in from the USA you'll need to get a connecting flight either in Europe, North Africa or South Africa.
Tanzania Safari Packages
No trip to Tanzania would be complete without a safari excursion but you can of course go one better and take a few days out in the Serengeti, camping in luxury and dining out amongst the wildlife. It really is what sets Africa apart from the rest of the world and Tanzania has some great Safari options. Visit amazing camps like Sanctuary Kusini where you can stay at a traditional safari tented camp and watch the sun set over the Serengeti.  A full days Safari amongst the millions of Wildebeest and plenty of Cheetahs. Picnic out on the plains and spend your days with expert guides who'll track the wildlife and drive you to the best viewing points. It's quite an unforgettable experience and perfect for an anniversary or even honeymoon.
Tanzania is well equipped for travellers and with warm temperatures all year round you'll find there's no shortage of experiences on offer here. The Serengeti is a must and should be on everyone's bucket list. Safaris here are very well equipped and expertly organised too. If you can take the high temperatures then the migration of Wildebeest is a must but there's still plenty going on in the cooler months.