It's probably fair to say Belgium is one of those countries that everyone has heard of but not many really know much about or what there is to do there. Flanders in particular is the northern region of Belgium and has a surprising amount of fun things to do. It's definitely time to find out what Belgium is really like besides the beer and chocolates. We were recently invited to check our a festival in Flanders as part of the "Flanders is a festival" campaign raising awareness of just how much is going on in this region.
How to get there
Firstly, reaching Belgium from the UK is fantastically easy. There are cheap flights of course but I'd recommend the Eurostar. You can catch it to Brussels in under 2 hours and there's lots of trains up to Antwerp taking just 50 minutes. So you can get to Antwerp quicker than you can get to Manchester! Travelling by train also makes you appreciate just how close Belgium is and how connected the UK, France and Belgium really are. You also arrive at one of the most beautiful stations I've ever visited at Antwerp Central. Definitely stop and take a few photos before you leave.
Music Festival
We wasted no time in jumping straight in to what the Flanders region does well. As the campaign name suggests there are lots of festivals in Belgium worth checking out. We arrived just in time to attend the first night of the Antilliaanse Feesten in nearby Hoogstraten. Driving through beautiful countryside and passing houses with immaculate gardens we arrived at this lively festival some 35 minutes from Antwerp. The belgians sure do know how to organise great festivals and this one has been running for 30 years now. A celebration of Caribbean music with 3 stages under huge roofs. The array of food on offer was very impressive, everything from great belgian food, Caribbean of course and Asian cuisine too.
The atmosphere was great and it's always interesting to see such long-established festivals, seemingly in the middle of nowhere doing well with a good crowd that continued to pour in even at midnight. Highlights for us were Morgan Heritage who were real crowd pleasers, Loco Mondo which we only caught part of their set but were really impressed by, and also the Salsa tent with its wonderful interior and DJ playing lots of great big-band songs for the impressive crowd of skilled salsa dancers.
Much like every music festival these days the drinks are expensive and they used an annoying token system, but other than that it was very well organised and had a great atmosphere. I'd highly recommend it if you're thinking of checking out some festivals in Belgium next summer! For more information check out www.antilliaansefeesten.be
Walking around Antwerp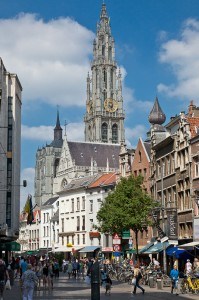 From the collection of tourist leaflets and books we were given it was clear that Antwerp is a very walkable city. There's lots to see and do on the streets so while there is some great transportation options like the tram system and tourist hop-on hop-off buses. While they are the quick option if you really want to cram everything in, our preference is to walk and soak up the atmosphere of Antwerp as we go.
We headed to Olv Cathedral, an obvious landmark that's hard to miss from anywhere in central Antwerp. It's surrounded by a number of large squares and pretty streets lined with beautiful buildings adorned with gothic architecture. This really is a very photogenic part of the city and the back to back cafés and bars make this the perfect place for people watching too. A look inside the cathedral reveals more wonderful architecture as well as a gallery of renaissance art. The streets outside also contain some great shops for some real authentic Belgian souvenirs including chocolates and all manner of interesting trinkets.
The Grote Markt was a particular favourite area of mine with some impressive buildings and a beautiful fountain statue in the centre, raining water down on to the cobble ground below, rather than in to a pond. It's a popular place for a photo and also where you can catch a horse and cart ride around the city centre.
Antwerp Pride
The rainbow coloured flags of the Gay Pride festival were out, prompting us to wonder when pride might be on in Antwerp. We soon found out when we walked to the river's edge and were met by thousands of people and a parade of floats with impressively loud music.
We stopped for a while and enjoyed the party atmosphere in the sun. Who ever said Belgium was a dull place clearly hasn't been to Antwerp! What great timing and the weather was perfect too!
Museum aan de Stroom
As with any major city there is always a number of museums in town. Antwerp is no different and of allt he museums on offer the one that caught our eye was the MAS (Museum aan de Stroom) It's an interesting building on the
grounds of an old port warehouse. It now houses 9 floors of museums, exhibitions and art galleries as well as a roof-top panoramic view of the city. The view alone is worth the walk along the river and up the 9 escalators to the top. Inside you'll find out about how Antwerp came to be and it's importance in the world, especially the port. There's also an art gallery with mixes modern art with classic paintings by the likes of Rubens. It's a strange mixture as it highlights just how lazy and relatively unskilled modern art is, compared to the intricate and photo like quality of classic pieces. In one room a famous Rubens masterpiece hangs on the wall near to a modern piece that seems to be made of 3 bits of cardboard taped together. I know which art I prefer! Check out www.mas.be for more info.
Mussels and beer!
A trip to Belgium wouldn't be complete without two things. Mussels and beer. So when it was time to stop for a bite to eat we headed back to our favourite square outside Olv Cathedral and found the perfect table to dine and people watch. To large glasses of Belgium's finest beer and a pot brimming with freshly cooked Mussels made us feel very much at home in Antwerp. We were even serenaded by a quartet outside the cathedral playing classical music to a growing crowd. A great way to enjoy our food in the sunshine.
After freshening up back at our hotel we enjoyed an evening of yet more wonderful Belgian beer and soaking up the atmosphere of one of Antwerp's many street restaurants where tables are lined up filling the streets with the sound of sociable people enjoying a conversation with friends. It's a lovely way to round off a fun day in Antwerp and we both agreed it's a city we could easily spend a lot more time in. It's relaxed atmosphere yet busy social scene makes it the perfect place to spend a few days or a few months.
Our stay in Antwerp was all too short but Brugge beckons! We've really enjoyed our time here and highly recommend a visit especially for a long weekend with a loved one. The Eurostar makes it so easy and Antwerp is perfect for strolling, dining and drinking!
With thanks to Tourism Flanders and Antwerp Tourism for our stay in Antwerp at the Park Inn Hotel.