When most people think about romantic getaways, they picture a trip to legendary locales of love: Paris, the City of Love; Niagara Falls, the Honeymoon Capital of the World; Kauai, the Island of Love; etc. However, if you bother to travel there, you'll find most of these destinations dirty, loud, and jam-packed with tourists. Romance is quiet. Romance is private. Most importantly, romance is fun. Therefore, you might need rethink your ideal location for your upcoming romantic getaway; perhaps you should imagine the romance of Costa Rica.
In Costa Rica, romantic vacations aren't hard to come by. The country boasts beautiful backdrops for a couple's trip; the mountains, jungles, and beaches are overflowing with activities and attractions that get the heart pumping. Here are a few of the most romantic things to do on your love-filled trip to Costa Rica:
Gulf of Papagayo
It's hard to go anywhere in Costa Rica without finding a stunning beach perfect for swimming, surfing, and snuggling up with your partner on the warm sand, but if you are looking forward to some snorkeling, there is no better place than the Gulf of Papagayo. In Costa Rica, the water is calm and teeming with wildlife, especially sea turtles.
While you can't touch them, swimming alongside these rare, decades-old creatures is so exhilarating, you won't mind having one as a third wheel on your date.
Corcovado National Park
Costa Rica's rainforests are home to millions of species that can't live anywhere else, which is why Costa Rica has dedicated an outstanding 25 percent of its land to natural preservation. Corcovado National Park is often called the "Crown Jewel" of Costa Rica's nature preserves because it boasts the largest diversity in vegetation — from cloud forests to mangrove swamps — which results in a wealth of amazing wildlife viewing opportunities.

Without much work, you can find three-toed sloths in the wild, as well as white-faced capuchins, jaguars, and macaws.
Monteverde Suspension Bridges
Monteverde is perhaps the most scenic park in all of Costa Rica, and accordingly, it attracts plenty of tourist attention. By hiking through the park, you will see all sorts of tropical wildlife unique to the country's rainforests, but you'll also see some unique construction in the form of suspension bridges. These bridges will take you above the rainforest canopy, so you can get a birds-eye view of the forest's glory.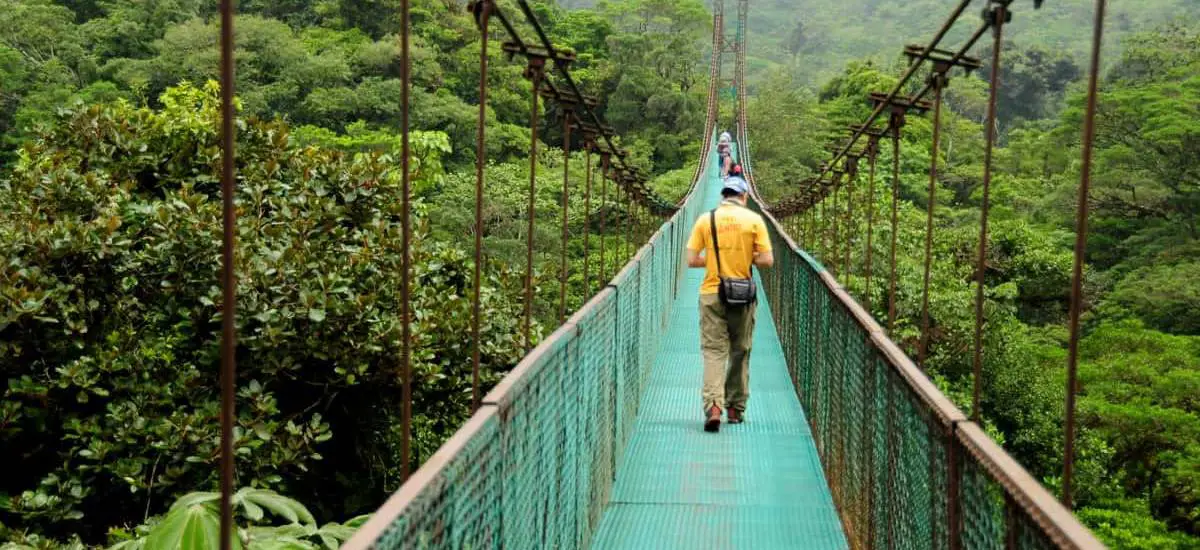 Then, if you have the nerve, you and your partner can jump off the bridges and nosedive into the heart of the rainforest — attached to a bungee cord, of course. In fact, there are all sorts of extreme sports in Monteverde, including ziplines, buggies, rappelling, and more, so you and your lover can get your adrenaline up together.
Arenal Volcano Hot Springs
Thanks to the five volcanoes, Costa Rica is bubbling with exciting geological activity, but the hot springs around Arenal Volcano are inarguably the best. The volcano has been officially dormant since 2010, but that doesn't stop the hot earth from getting steamy. Like a natural spa, the springs consist of a series of comfortably warm pools where you can relax with your romantic partner.
There are several geothermic locations around Arenal, but for the best hot spring experience, you should prioritize:
The Baldi Hot Springs, which boast 25 different pools with water between 90 and 150 degrees Fahrenheit as well as an onsite spa and restaurant.
The Springs Resort Hot Springs, which features 18 pools with temperatures Between 83 to 103 degrees Fahrenheit, plus access to the gorgeous Heliconia Walk which leads to additional springs.
The Tabacon Hot Springs, which include five stunning pools between 77 and 122 degrees Fahrenheit and onsite accommodations and amenities.
Caribeans Chocolate Forest
Cacao, the beans responsible for chocolate, is native to Costa Rica, so it only makes sense that there are extensive forests dedicated to growing the delicious bean. Caribeans offers perhaps the most immersive Chocolate Forest Experience, with a tour of a working chocolate farm, tastes of cacao from plant to refined candy, and a thorough history of chocolate in Costa Rica. Chocolate and love produce the same effects in the brain, so why not double up on your romantic trip?
Marino Ballena National Park
The Marino Ballena National Park features beautiful golden sand beaches and warm, turquoise water, and plenty of seclusion for couples cuddling. However, you also have a good chance of seeing migrating humpback whales just off the park shores. Northern humpbacks visit between December and April, and southern humpbacks swim by from July to November. By coming during the tourist off-season, you get a once-in-a-lifetime chance to see whales and you can save on airfare, accommodation, and tours.