The Costa del Sol, to the east of Malaga in Spain is a beautiful region of coastline that stretches for some 150 km (93 miles), for 54 km east of Malaga. So why not take a Cost Del Sol road trip!
Since the 1960s this coastal region of Spain has been popular with holiday makers from all over the world, especially Europe. Tourism is by far the biggest industry here and with such a gorgeous coastline its easy to see why.
It's also a great place for a road trip with no end of accommodation along the way. Hiring a car in Europe is pretty easy to buckle up and check out my guide to road tripping the Costa Del Sol.
Malaga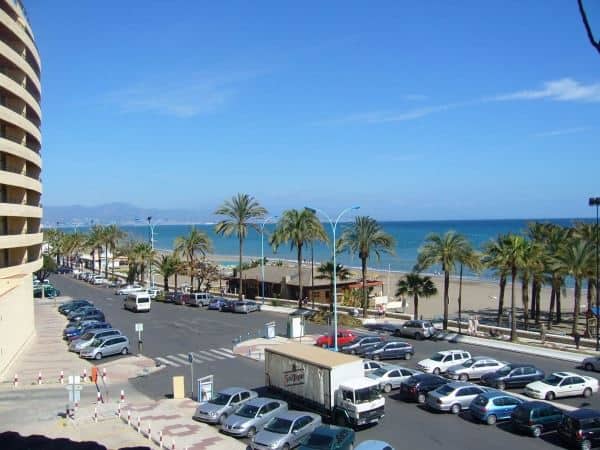 While it's not at one end of the Costa Del Sol, it is the easiest and cheapest place to fly in to and the easiest place to find a rental car too. Spend a couple of days here at least there's
lots to see and do in Malaga. A road trip along the Costa Del Sol isn't about covering the miles, it's about cruising the coast so don't worry about time too much.
Having a car in Malaga is pretty hand too and the Botanical Gardens are well worth a drive out of town not just to enjoy the gardens but also the view!
I recommend heading west along the coast as you'll cover most of the Costa Del Sol this way. Drive towards the sea in Malaga and on to the MA-22.
This road runs right next to the beach for miles and it's the perfect way to start a cruise drive.
There's no rush here, just soak up the sights. Eventually the road bears right, with a wildlife reserve to your left. You join the M-21 here which takes you past the airport and to your first stop of Torremolinos.
Check out this fantastic guide to Malaga for the best places to visit during your stay.
Torremolinos
It's fair to say that the once quiet fishing town of Torremolinos has change drastically over the decades. Until the late 80s tourism caused more damage than good to this area of the Costa Del Sol but since then a lot has changed and it's now a pretty and popular tourist destination, deservedly so too.
While resort towns the world over lose their identity to global tourism, the district of La Carihuela is still decidedly Spanish.
There's a large amount of pedestrian streets here especially towards the coast, so park up for a while and take a stroll.
When you're ready to leave head towards Montemar along the Carlota Alessandri Avenue heading further west along the coast. The Carretera Cádiz road hugs the coastline here with a seemingly endless row of palm trees along the way.
Driving further along the coast on the A-7 you'll find a number of golf courses in this area, so if golf is your thing it's definitely worth explore a little more. One of the biggest and most challenging courses is the Golf Torrequebrada, always praised by local golfers and tourist alike.
This short video guide gives you plenty of information on the town.
https://www.youtube.com/watch?v=_RLPrlxNqCA
Fuengirola and Marbella
Once sleepy fishing villages along the spanish coastline, next on your Costa Del Sol Road trip is Fuengirola. It may be hard to pronounce but its fairly to find as the main road passes through it.
With over 8km of sandy beaches here this is where you'll find villas to rent and endless beach to stroll along. It's both popular with tourists and quieter than it's neighbour Marbella. Famed for it's up-market attitude, Marbella has been a popular tourist destination for what seems like millennia.
The old town is well worth exploring, dating back to 1600 BC. A stroll along the "Golden Mile" reveals some of the most exclusive and expensive properties in the Costa Del Sol.
With history all around you its a great place for a walk and there's some wonderful hotels and villas here so I'd recommend a stay here for a day or two.
There's some great places to visit in Marbella on this video
Estepona
One of my favourite towns along the Costa Del Sol that hasn't lost any of it's spanish charm and, more importantly, it's love of Tapas.
One of my favourite types of cuisine, this is the best place to go if you want to soak up a local atmosphere and enjoy some really good food.
There's less accommodation here but you'll still find everything you need if you want to stay.
Driving around is a little more difficult as the old cobbled streets here are often quite narrow. Definitely a place to park up and get lost in the alleyways and courtyards. You can find out more about Estepona here.
This video shows you some of the best places in Estepona
La Linea and Gibraltar
The border town of La Linea is officially the end of the Costa Del Sol road trip. The N340 and A7 will get you there and if you drive all the way through you'll see the unmistakable sight of the Rock of Gibraltar.
If you're English like me you'll no doubt be very tempted to pop over to England, just a mile away.
It's an easy little hop if the spanish boarder patrol are playing ball. In recent months disputes between Spain and Britain have resulted in lengthy delays especially coming out of Gibraltar.
Never-the-less if you have the time I highly recommend a visit, if only to say you have been to Gibraltar. It's a surreal place with everything you'd expect from an English town, plus a giant rock. You can actually drive right to the top of the rock of Gibraltar but i suspect your car may have other ideas.
There are a number of guided driven tours to the top, some 1350 feet, (411 metres).
You can of course fly out of Gibraltar or you can enjoy a different route back to Malaga along the many roads in the Costa Del Sol region. It's a fairly short and easy drive you can do in a couple of days or an entire week, it's entirely up to you.
With lots of tourist sights, amazing beaches and clearly marked roads it's easy to drive about here.
If you're looking to hire a care in Malaga I recommend NOT hiring it from inside the airport.
There are a number of good car hire businesses just outside the airport which are often much cheaper.
I recommend checking our Vacation George who recently took a Costa Del Sol road trip and visited numerous places along the way include Gibraltar.
Looking for more road trip advice?
Check out our Italy road trip itinerary. Also our Ultimate Italian Job road trip advice.