I recently travelled with Jet Airways in their "Premiere" class aka Business class.
Their prices seem very competitive and their routes have convenient flight times and connections too.
I was given the chance to conduct my own Jet airways business class review travelling from London to Singapore via Mumbai. Here's how I got on.
Check in and lounge
I can't remember the last time I flew out of Heathrow terminal 4. A refurbished modern airport terminal with a streamlined process from check-in to departure gate. Made all the more so by flying Business Class.
There was no queue at the Business Class check-in counter and a courteous greeting by the head flight-attendant was the perfect way to start my experience. A quick zip through security in the Express Lane and I was gate side in under 2 minutes! A new world record! After that I was on the hunt for the lounge access I had been granted.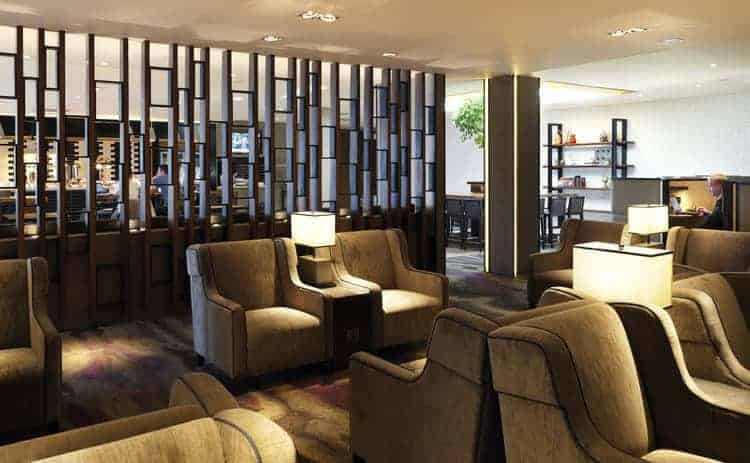 Business and first class passengers with Jet Airways have access to the Plaza lounge shared by numerous airlines. Plaza Lounge is a network of premium lounges throughout the world.
A quiet and peaceful place to relax and get some last minute work done before the flight. A buffet breakfast was on offer although catering for a global audience so expect chicken sausages and turkey bacon rather than great British cuisine. Never-the-less it was pleasant enough.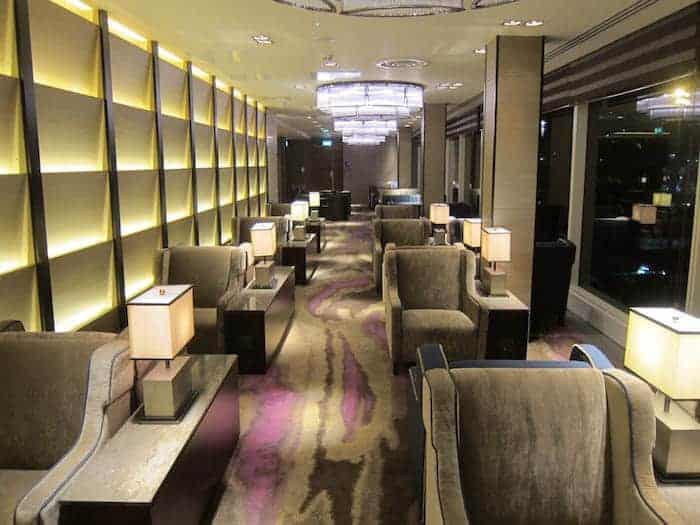 There's plenty of drinks on offer (all complimentary) and plenty of sofas, seats, desks and cafe style tables to enjoy a cuppa and charge your phone. Certainly beats waiting uncomfortably at a gate seat. Before too long my gate was open and it was time to board my Boeing 777-ER to Mumbai!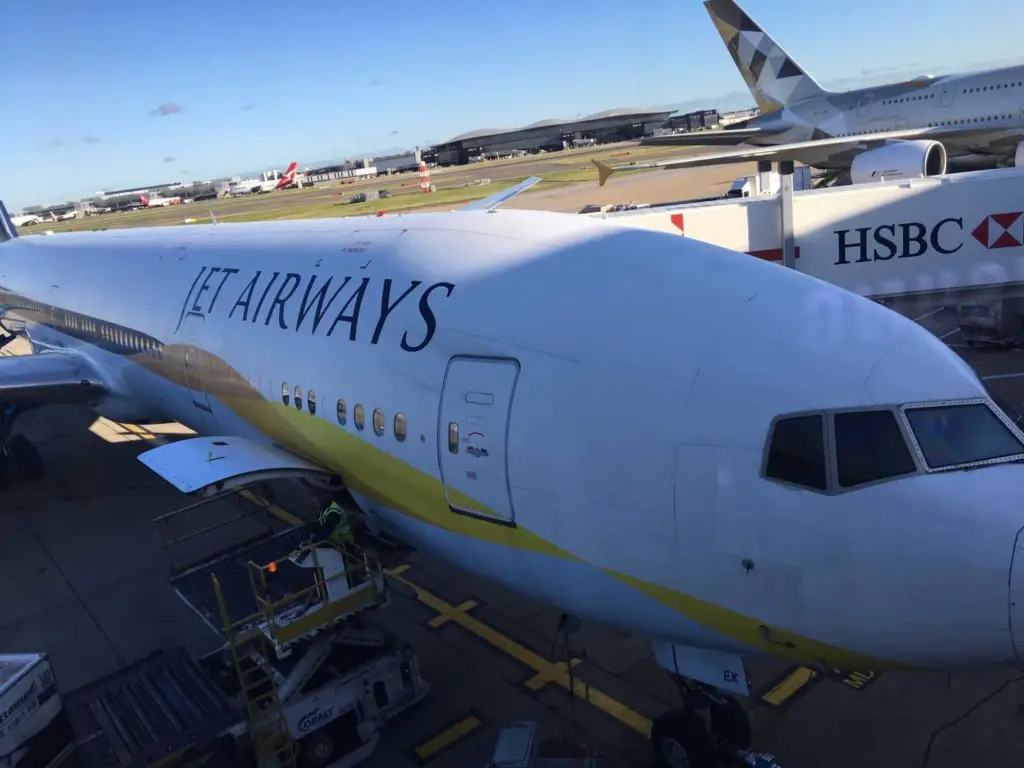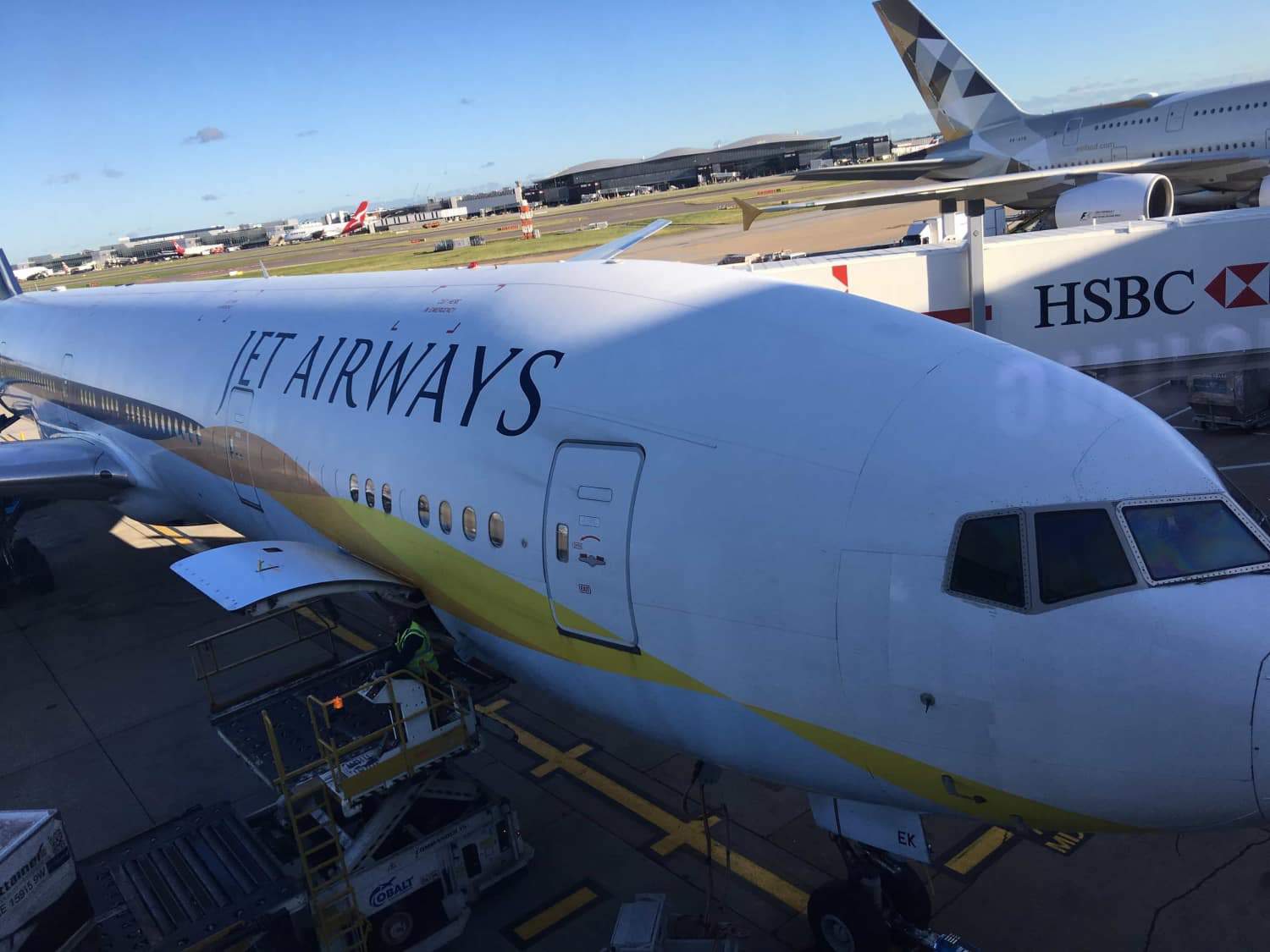 Seat
Another perk is boarding first and greeted with a warm welcome as I entered the plane, a Boeing 777-ER with curved seating pods in Premiere Class. I've flown Business before but this is my first experience of the unusual pod style.
First thing you notice is that the seats face away from the windows so if you're a plane geek like me you'll soon develop a strained next from trying to look out the window. In fact my flight from Mumbai to Singapore was in 1A. A lovely number to be sat at but the window was fully behind the seat so not much of a view there.
Still this is a minor issue as most of your time is spent watching movies and eating food. More on these later.
A fully reclining seat comes with an impressive array of buttons that can adjust various parts of the seat. From head rest to leg support and everything in between. There's even a massage button for your lower back which is subtle in its application but very welcome as my back always suffers during long haul flights.
The curved pod design means lots of slots and cubby holes for your phone, your glass of champagne and the giant headphones they give you. It didn't take me long to fill these spaces with everything I needed to call this home for the next 9 hours to Mumbai and 5 from there to Singapore.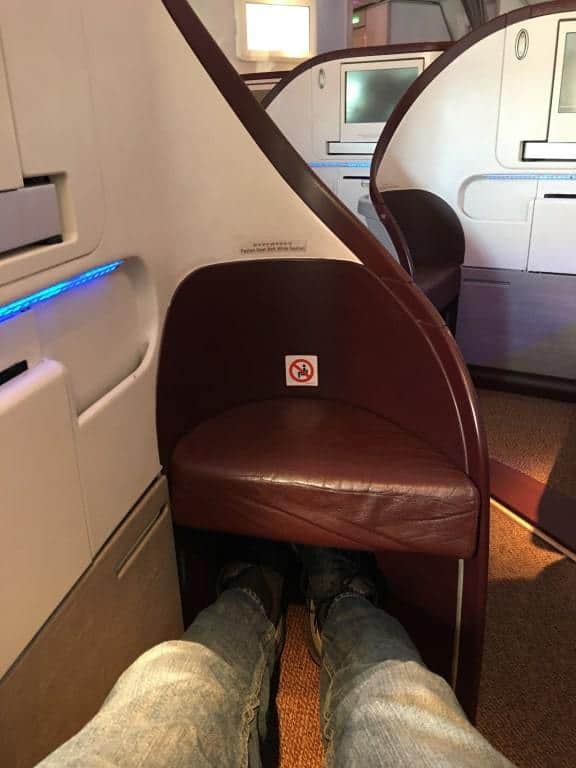 Going "fully flat" is made simple with one button handily labelled with "zzz". Considering I'm a lanky 6'4" I was impressed I could actually lay flat with my feat touching one end and my head just on the rest, wrapped in a cosy duvet and soft pillow. Interestingly it never feels like a novelty and I actually slept more than I usually do on long haul flights. Having said that it doesn't feel like a bed eithr as the gaps between each section of the seat are noticeable when laying down. The glaring brightness of all the LED lit buttons and TV screens means it's never that dark either. Still it was a welcome experience compared to sleeping in a normal reclining plane seat.
Service
While I was expecting good service for the price of a Business Class seat I have to make a special mention to the crew, especially on my London to Mumbai flight who were wonderfully friendly, chatty and really made the whole experience just that little bit more special. Being approachable means I never felt awkward asking for more snacks or asking questions about the flight. They were a touch above and beyond what I've experienced elsewhere and I can see how this would build brand loyalty among frequent flyers.
Food
One great thing about flying with an Indian Airline is the fantastic Asian dishes I was looking forward to experiencing. I'm a sucker for a curry and these flights did not disappoint. Beautifully presented on fine crockery I was quite surprised that such a fine meal could even be served at 35,000 feet. The choice of options were interesting for every meal and I felt compelled to try something new each time.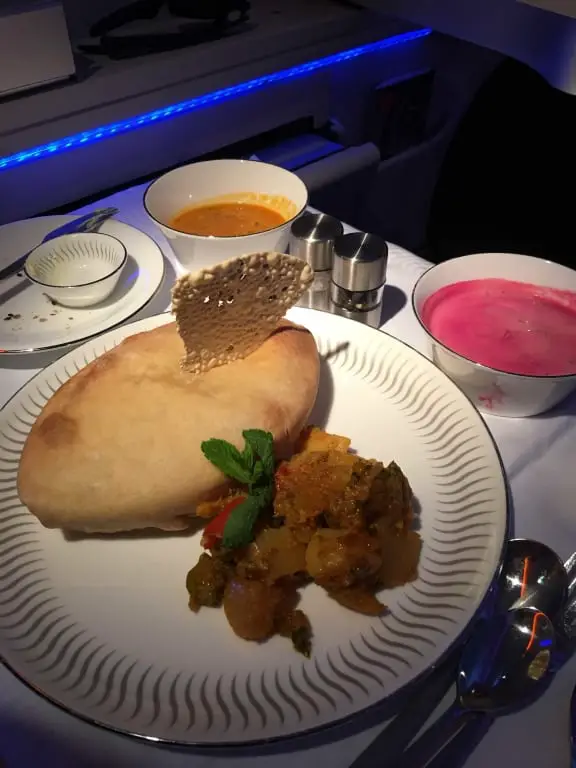 The Dining service was both flexible and personalised. I even received a surprise treat during the flight with a platter of fruits and tasty strawberry tart, a chance to meet the flight attendants and have a chat about their working day. In Premiere Class I really felt the meals were a dining experience in themselves rather than economy class sealed tin boxes we've all become accustomed to. For me the meals were the highlight of the trip.
Entertainment
Most of your time on any long haul flight is devoted to entertainment, what else is there to do after all? If you're like me and can't sleep much even on night flights, the entertainment system is your companion to while away the hours. The "Jet Screen" had an impressive array of both Hollywood and Bollywood movies to choose from as well as TV shows and music. The user interface could do with an update as it looks a little "Windows 95" but was fairly easy to use. The only issue I had was after chatting to a flight attendant I'd need to rewind the movie a few seconds, this is almost impossible as the fast forward and rewind functions skipped a couple of minutes at a time causing you to rewatch or miss chunks of a movie. A real "21st century problem" I know but a little inconvenient none-the-less.
Another little bug was when attempting to sleep you can switch off the screen entirely which is great but sadly this feature is undone by the crew using the PA system to make an announcement, usually about turbulence, causing the screen to wake up and not switch off again. It's surprisingly bright too!
Conclusion
Both of my flights were pleasurable and very comfortable. Being so tall I usually get aches and pains in my legs and back from being forced upright in economy seats. Not so with full flat reclining Premiere seats. The food was an absolute highlight and the service was fantastic throughout. I've been really impressed by Jet Airways and wouldn't hesitate to fly with them again. A big thank you to jetairways.com for their hospitality on these flights.
Book online direct with Jet Airways at jetairways.com.
Flight details
London to Mumbai
Flight number:9W11
Origin: London Heathrow Airport – Terminal 4
Destination: Chhatrapati Shivaji International Airport – Terminal 2
Departs: 9:30am
Arrives : 11:10pm
Plane: Boeing 777-ER
Flight time: 9 hours
Mumbai to Singapore
Flight number: 9W12
Origin: Chhatrapati Shivaji International Airport – Terminal 2
Destination: Changi International Airport – Terminal 3
Departs: 1:15am
Arrives : 9:25am
Plane: Boeing 777-ER
Flight time: 5.5 hours