Article written by Randy Kalp. Photos by Bethany Salvon.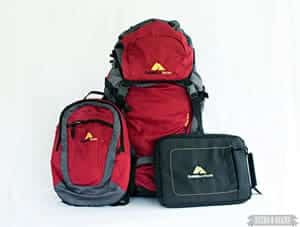 Let's be honest, I am a traveler who does very minimal day hikes. So why then would I take a pack designed for the backcountry to Europe's concrete jungles? Well, it's simple really, I had no other choice, until San Francisco-based Guerrilla Packs came on the scene and introduced the world's first and only adventure packs.
Spend a few hours in your local outdoor store and you'll find a dozen bags, most if not all, lacking the full-spectrum design needed for the modern traveler.  You'll likely find one backpack that does this and another that does that, but no one pack that does it all. Guerrilla Packs Voltij fills this void perfectly by melding the best qualities of hiking backpacks with intuitive features designed for the globetrotting traveler who takes their electronics with them.
Front view of Voltij without detachable dayback. Rear View of the Voltij showing full adjustable Tech-Fit system.
First and foremost, the Voltij fits like dream. Because it's fully adjustable, I was able to tweak the pack easily to fit my body. The aluminum internal frame is covered with diamond
patterned non-rip industrial light weight polyester and nylon. The Voltij features three loading points—top, front and bottom—and is H20 hydration pack compatible. And because the company operates on a factory direct model with a few select retailers, they are able to sell their packs for up to 50 percent below market rates.  The Voltij, for example, costs $149, which is like getting a Cadillac for the price of a Yugo.
The expandable and detachable Cadet daypack with built in laptop sleeve (Note: The laptop sleeve in this bag is separate from the Tracker, shown below.
The detachable Tracker Laptop bag. This bag has clips so that it can clip into the Voltij (not the daypack) and stay in place and it also comes with a shoulder strap so you can take it with you seperately.
Like many of the bags in Guerrilla Pack's Adventure Line, the 65 liter Voltij is a hybrid backpack, meaning it breaks down into several different and independent products, kind of like a Swiss Army knife for your back. For example, the internal frame backpack is 55 liters; however, an easily detachable 10 liter daypack—the Cadet—gives you some extra packing space while functioning as an expanding daypack that features a padded laptop sleeve and an organization pocket. It also features hanging clips on the shoulder straps that enable the bag to be clipped to the shoulder straps of the Voltij while you are wearing it – making it a perfect combination for travel days. Additionally, the Voltij also comes equipped with the Tracker, a padded laptop sleeve located inside the pack, which can be removed with the snap of a buckle and used as an independent shoulder messenger bag.
One of my biggest gripes with hiking backpacks is the lack of pockets. I loved them on my replica Michael Jackson jacket in the 1980s and I need them on my bags and luggage. I'm happy to report that the Voltij as well as its amigos, the Cadet and Tracker, are loaded with lots of pockets. The Voltij features intuitive pockets that range from small to large, making it easy to carry everything from your passport to sleeping bag.
Fully functional thermometer and compass are included on the waist belt of the backpack. They are removable and  come with a clasp so you can attach them to any other bag in the set or even your belt loops. The Voltij system comes with the rainfly so you don't have to buy it extra!
And if all these aforementioned features weren't enough, Guerrilla Packs out does itself by including a removable compass and thermometer on the hip strap as well as rainfly that tucks nicely into its own pocket on the bottom of the bag (this pocket, even with the rainfly in it, could also double as a great stash spot for valuables).
After spending time with the Voltij, I couldn't agree more with Guerrilla Packs assessment that it is the "backpackers backpack." The company has successfully created a pack that is viable for backcountry hiking as well as world travel, subsequently bringing the backpack into the 21st century.
Randy shown with the Voltij. Detachable dayback comes with clips so that it can be worn 2 ways – attached to the bag (photo 1) or clipped onto the front straps of the main pack (photo 2) for a hands-free system that saves your shoulders two sets of backpack straps)