No road trip in Australia would be complete without visiting the Great Barrier Reef at some point. One of the world's most spectacular coral reef formations spanning some 2,300km along the east coast of Australia. Its so vast it can be seen from outer space and is the world's largest living structure with over 2,900 reefs and over 900 islands. The stats are as staggering as the coral is beautiful so this has been high on our bucket list for many years. Finally thanks to Cruise Whitsundays we had the chance to explore the reef for ourselves and see just what you get in a one day tour.
Sailing to Hardy Reef
We were staying at the Big4 Holiday park just 8 minutes away from Port of Airlie where we'd be jumping on board our Cruise Whitsundays Catamaran, a huge and very modern ship that looked fast just sitting there bobbing in the harbour. A sea of smiling faces greeted us as we boarded at 7:45am ready for departure at 8am. While the ship alone doesn't need quite so many staff, the pontoon we were heading to and the activities available required 27 crew to look after us, making the journeys there and back all the more enjoyable.
The ship soon made its way towards the reef stopping at Hamilton Island for more tourists after an hour or so. We grabbed a table seat by the window, perfect for entertaining a toddler for the 3 hour journey out to the reef. The sun was shining, the water was calm and not a hint of any seasickness. Perfect conditions for our one and only day at the Great Barrier Reef! Before we arrived there were various presentations on snorkelling techniques, diving opportunities and the all-important safety aspects of our activities. There was also a tasty morning tea with free hot drinks and succulent fresh fruit. Plus a well stocked shop with plenty of treats and drinks too, the perfect setup to start our day.
Reef world Pontoon
After an enjoyable journey we finally neared our destination for the day. The Reef World Pontoon situated right next to Hardy Reef. This stretch of coral is well protected from the pacific ocean currents making snorkelling and diving very easy for all skill levels. The floating pontoon is securely moored and has everything you need for a multitude of activities. There's plenty of dive and snorkel gear on board as well as wet suits and stinger suits for all sizes.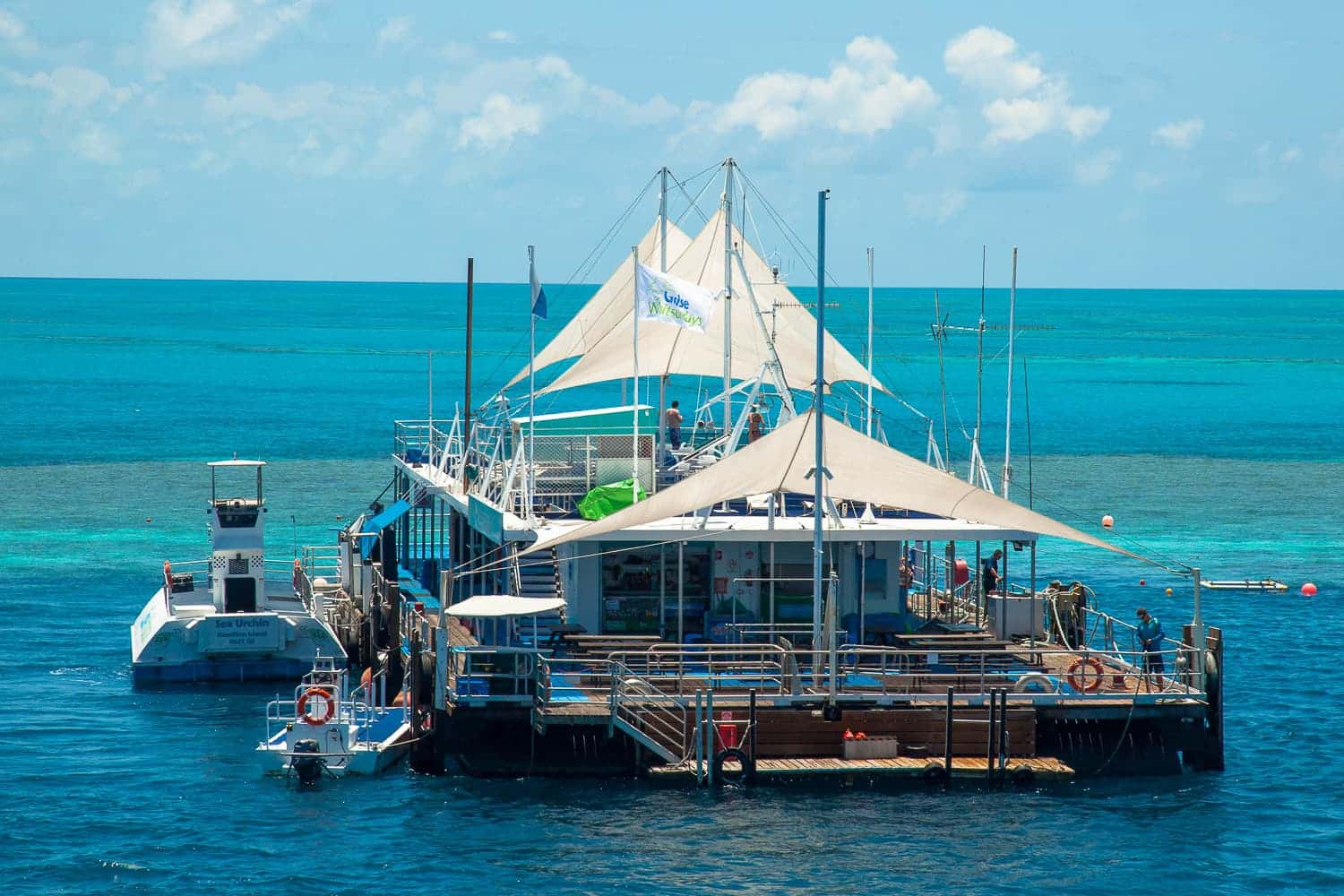 Of course getting in the water is a priority here but there's plenty more on offer. Firstly there's a couple of fantastic viewing areas on the pontoon, a small opening in the floor at one end where you can clearly see fish swimming about and two massive grouper , one male and one female, that like to hang out all day just below the water. They are quite staggering in size, akin to a small shark or dolphin! At the other end of the pontoon there's a truly breathtaking underwater viewing area with plenty of steps to sit on and enjoy the view of thousands of fish swimming past the toughened glass windows.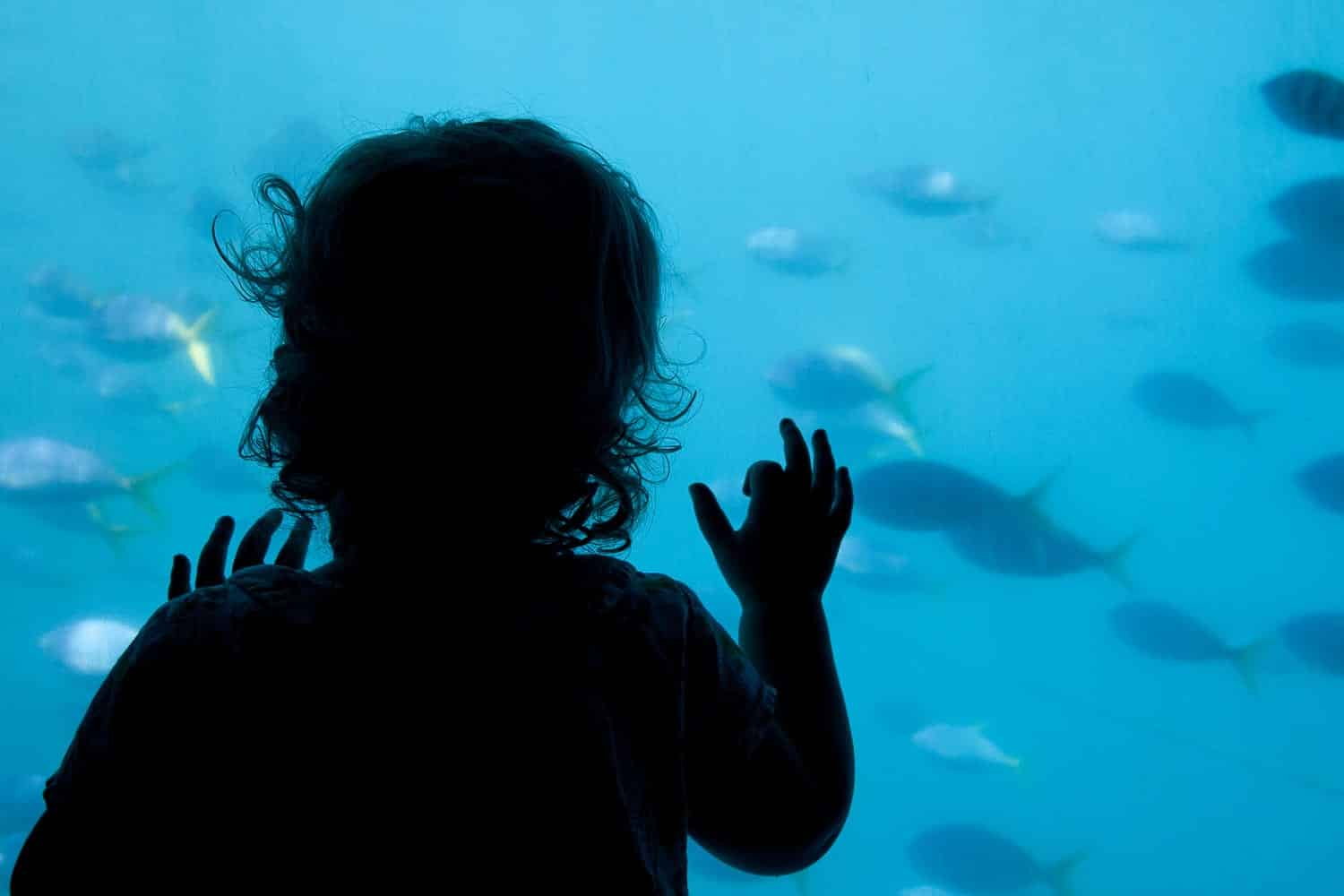 You can even see snorkelers and divers here if the visibility is good. Our 1 year old daughter thought this area was amazing, yelping every time she saw a big fish swim past. Its truly the easiest way to see the marine life here but I was eager to jump in the water and see it up close! We went down to this are numerous times and I highly recommend it as a place to just chill out away from the sunshine and watch the underwater world go by.
Snorkelling and diving
Whatever your skill level Cruise Whitsundays have made it super easy here. Plenty of additional services like guided tours and beginners lessons as well as plenty of equipment for those that just want to jump right on in. Snorkelling is included for free and with the reef so accessible it was so easy to quickly grab the right size gear for me and get involved. Everything was clearly marked and I was soon donned in a fashionable stinger suit and flippers. There's a simple set of steps leading to a partially submerged platform that makes getting in to the water safe and simple.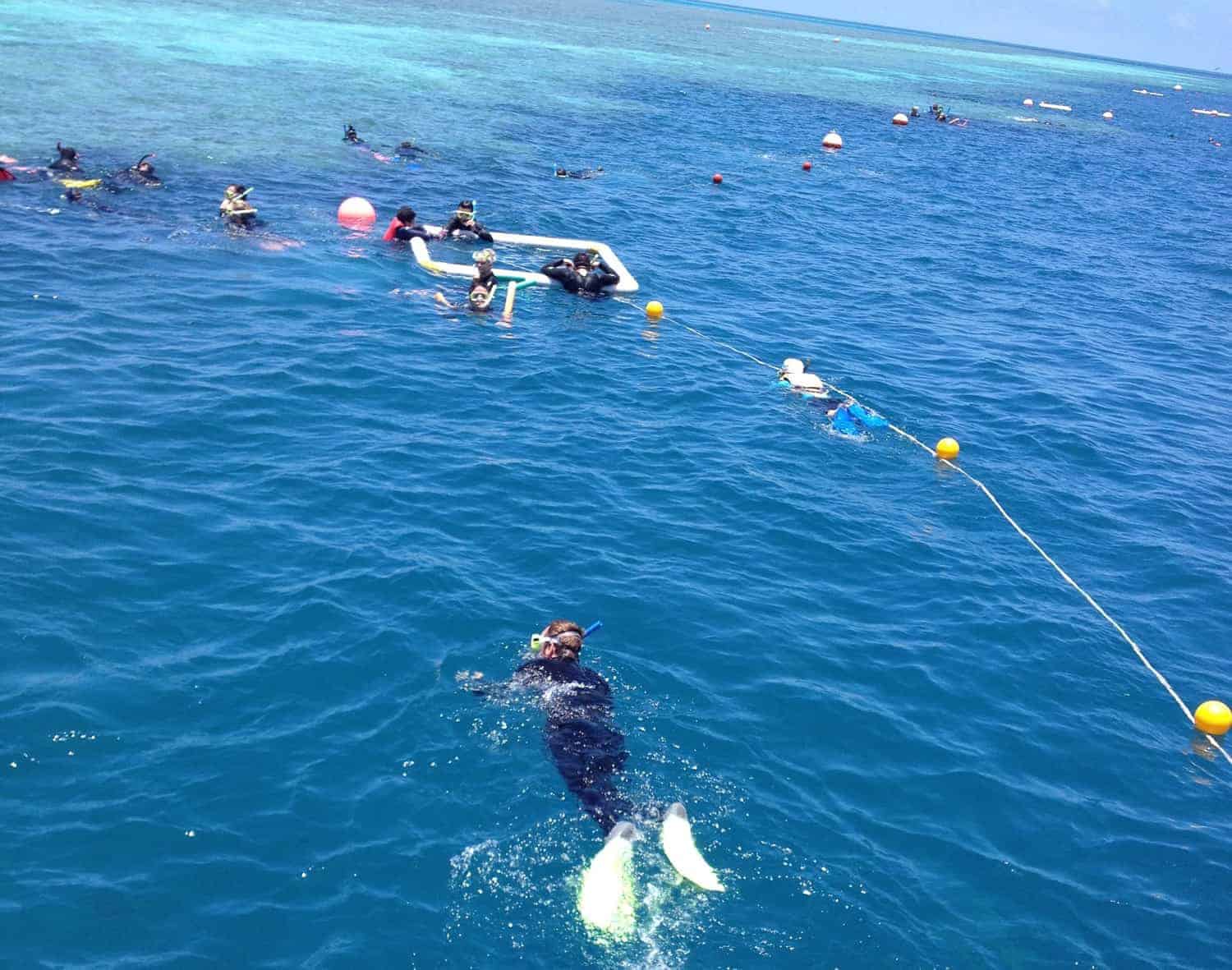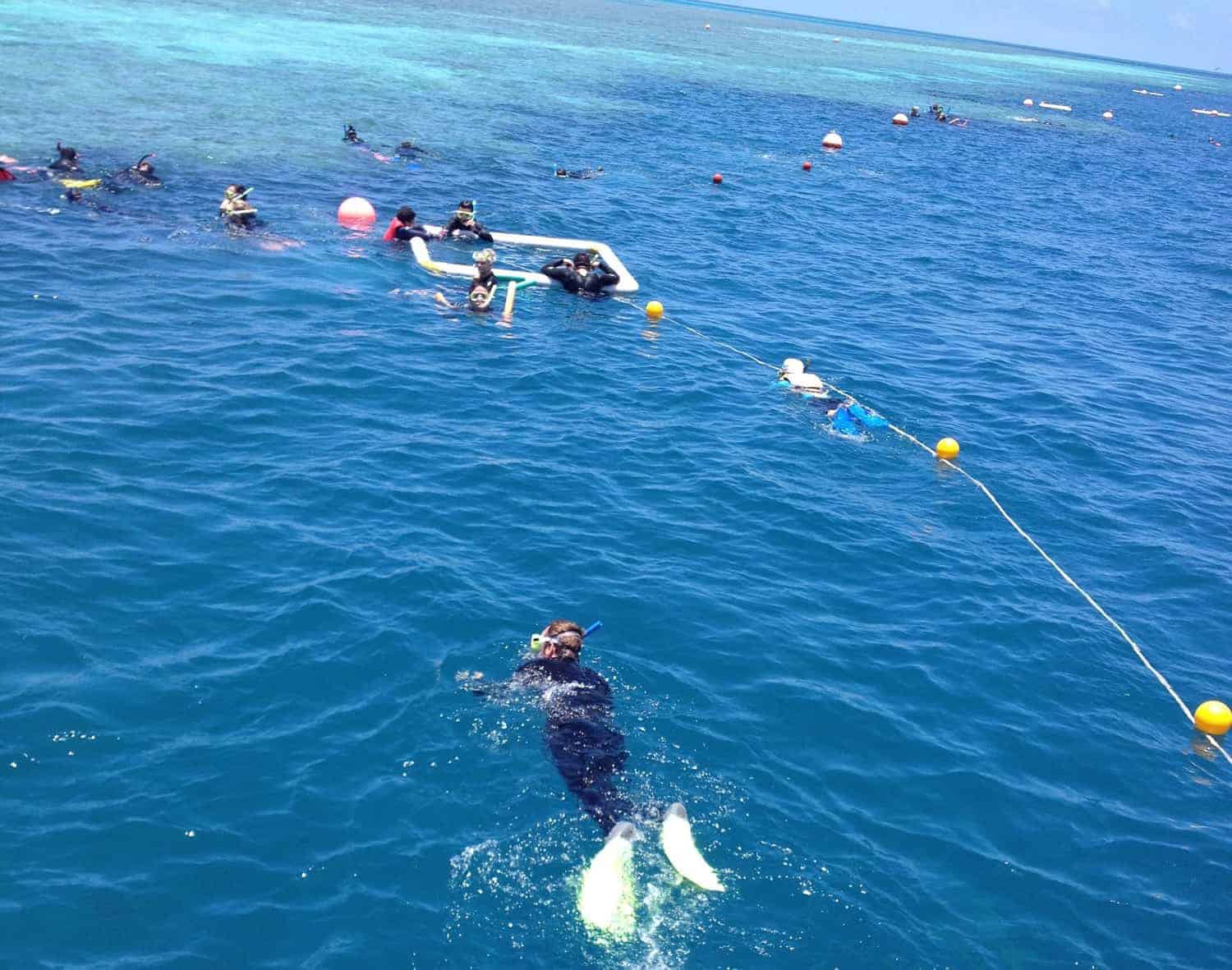 You do have to pick the right moment as you'll find plenty of eager tourists doing the same as you, so be patient and if you can, swim out to a spot along the reef where others have yet to explore. Your really don't have to go far along Hardy Reef before you see plenty of amazing coral formations and sea creatures. Friendly parrot fish, clown fish, humbugs and all manner of other marine life all within 50 metres or so of the pontoon.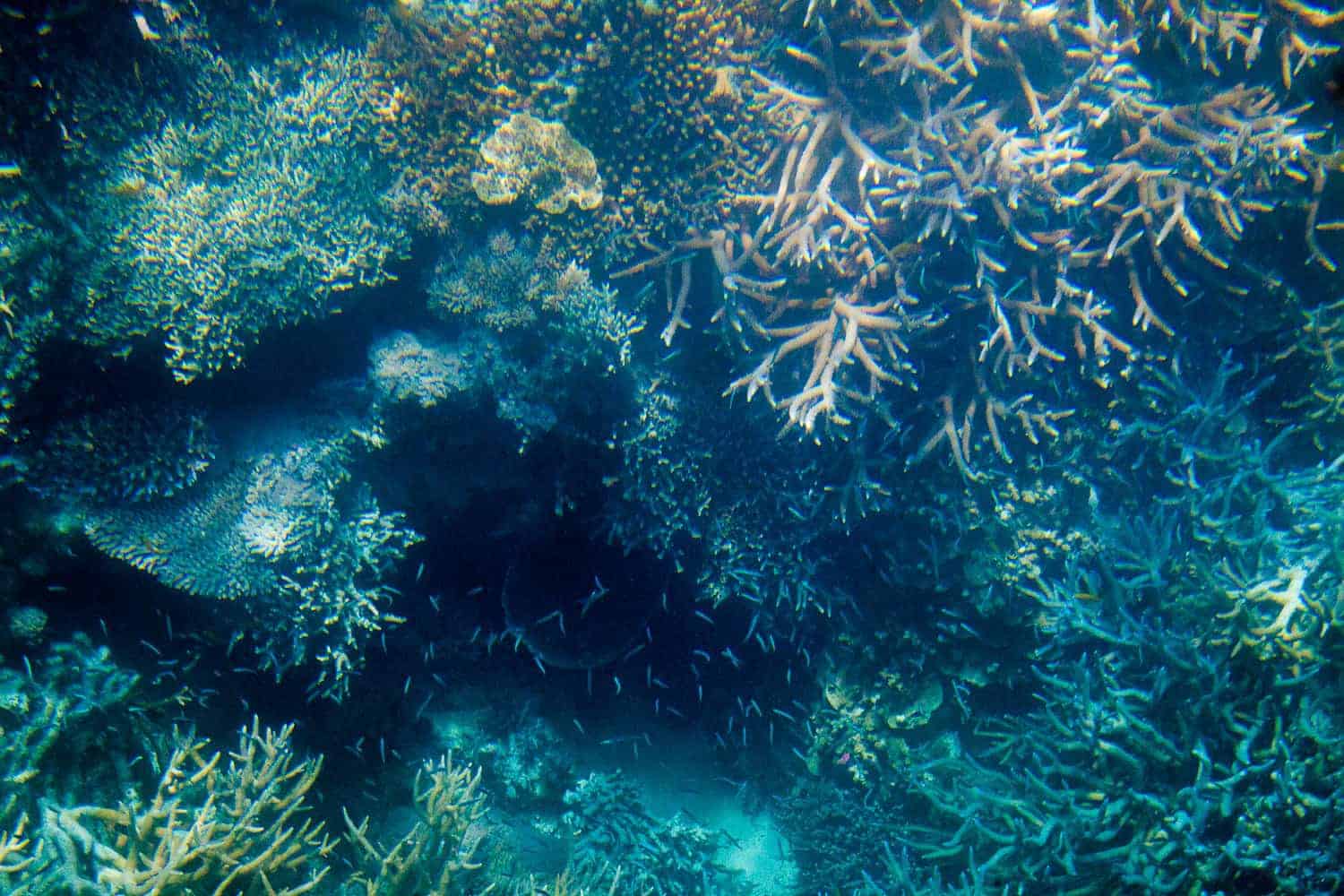 Swimming against the current, however gentle is tiring work so its always best to head up-stream first and let the current bring you back to the pontoon. I snorkelled twice during our 4 hours and found the best coral and fish were found closest to base anyway so you really don't have to go far at all to see the best of the reef. There's a few simple rules here. Don't touch the coral, don't swim over the top of it and stay close to the guide ropes too.
Other activities on offer
Not content with just snorkelling or diving, there's so much more you can do at the Reef World Pontoon. View the entire coral formations from above with helicopter rides, just a short boat ride over to the floating helicopter pads. Or maybe a free 30 minute trip in a semi-submersible boat with a glass bottom. We really enjoyed this as it almost feels like you're diving but with a guide who you can instantly ask questions to about everything you can see. The pontoon also has a sun-lounger deck and plenty of space to have an amazing buffet lunch. 4 hours just flew by and I really could have stayed there for at least another 4! We just managed to cram in all the included activities before it was time to board our boat once more and head back to the mainland.
Amazing customer service
One aspect I feel compelled to tell you about is the level of service we encountered from all the staff on board. I really was surprised how friendly, competent and knowledgable they all were. We had plenty of questions throughout the day and everyone we asked always had the answers for us. They were wonderfully attentive with our 1 year old daughter too and while at the Pontoon they double as your life-guards, there to look after you so your day goes without a hitch. You can clearly see that they all enjoy their jobs and why wouldn't they! Spending every day visiting some of the most breath-taking reefs in the world. I can see why they're so enthusiastic about their work.
Thank you
A huge thank you to Cruise Whitsundays for their hospitality on our day trip to the Great Barrier Reef. It was an unforgettable experience that definitely made me want to explore more of this amazing living structure. A special thank you to the staff of our catamaran for their boundless energy and enthusiasm. I was surprised how much we could do at the reef and only wish we could have stayed longer. You can find out more at their website cruisewhitsundays.com and be sure to follow them on twitter and Facebook too for all the latest promotions.
Also thank you to Britz Campervans for their support on this road trip of a lifetime. Definitely the best way to explore Australia!
Check out all our Australia #GoByCamper posts here
Introduction to the #GoByCamper road trip in Australia
Video message from Sydney
Port Stephens and Port Macquarie
Coffs Harbor and Byron Bay
#GoByCamper photoblog – Part 1
Progress report from Byron Bay
Taking a break in Brisbane
Fraser Island tour
Visiting Rockhampton
Family reunion in Townsville
#GoByCamper photoblog – Part 2
Reaching Cairns