The day finally came for our epic #GoByCamper road trip with Britz Campervans to begin! Debs, Dharma and I packed our bags (Dharma mostly unpacked hers) and we set off on the road in our big shiny camper van. Our aim on this trip is simple, to show that travelling with family, even if you're 10,000 miles from home, is easy and a valuable life experience. Heading North from the hustle and bustle of Sydney it took a while to break free of the urban sprawl and suburban lifestyle that so many Australians enjoy. The Pacific highway made the start of our driving easy as we got used to our van and we were soon at our first stop.
Port Stephens
The marine park of Port Stephens is within the Hunter Valley region just a couple of hours north of Sydney. A number of towns and villages are dotted along the vast expanse of the estuary here so there's a lot of beautiful coastal areas to explore. We booked in to the Big 4 Holiday Park at Solider's Point which offered some fantastic facilities especially for families. The indoor heated pool was a firm favourite with our daughter and plenty of other kids too. There was also some great playground areas and some really impressive shower facilities. Definitely a great way to start of our trip in comfort and style. We woke up on our first morning to blue skies, fluffy clouds and surrounded by palm trees. The environment suited the climate too as the thermometer hit 32C so we headed out to explore more of the Port Stephens region.
While there's plenty of little beaches and bays to explore the highlight of this area has to be Nelson Bay. A pretty little town with a busy marina filled with tiny boats and sight-seeing trips taking tourists out in search of Dolphins. The town is famed for its fantastic aquatic wildlife and there's plenty of boats to take you out in to the calm coastal waters for a closer look at these amazing creatures. There's a number of small beaches here that are well worth spending the day at and we couldn't resist a stroll along the sea front and an ice cream in the shade of the hot afternoon.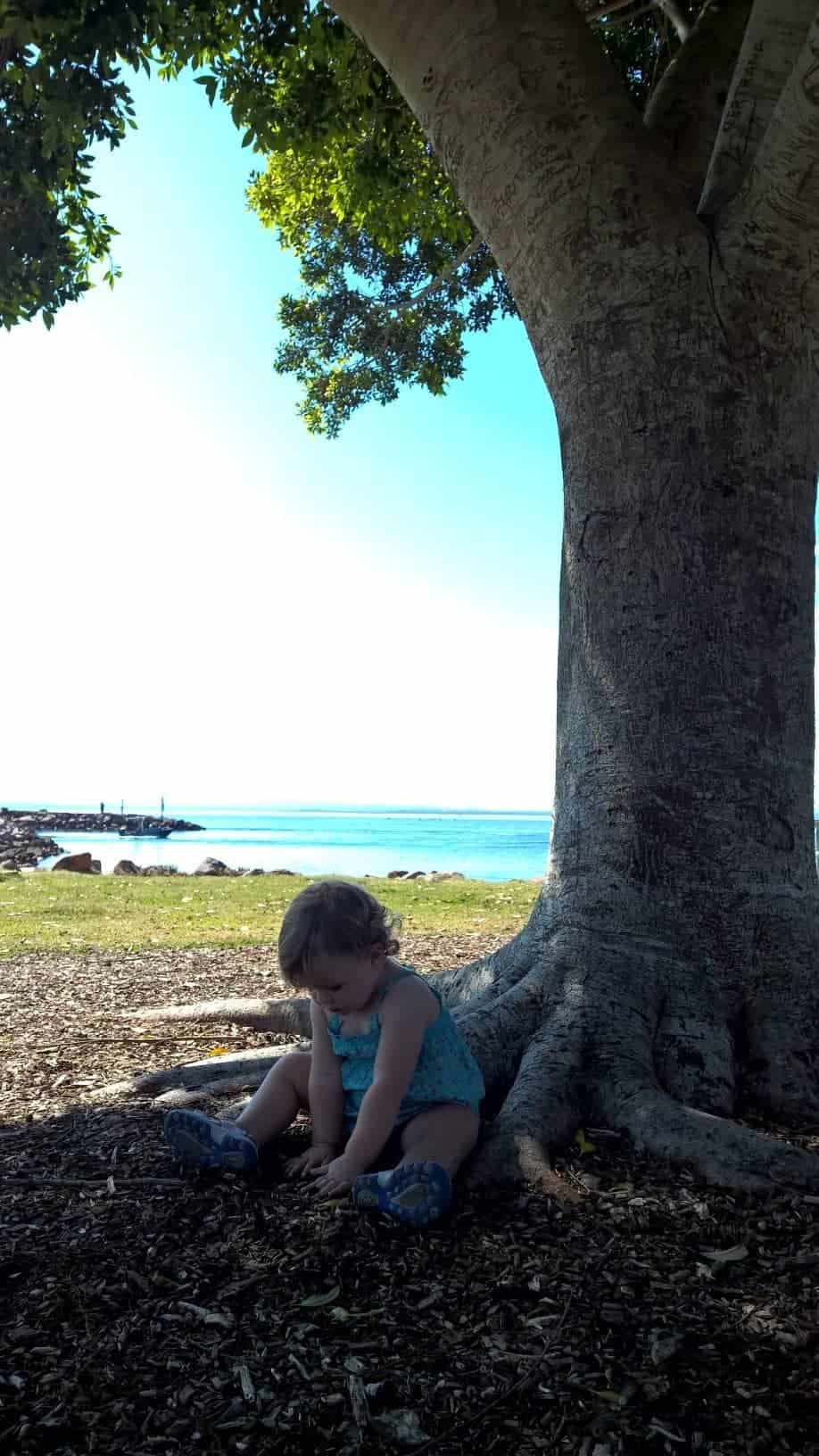 As this was our first stop it also gave a chance to settling in to the holiday park atmosphere. Usually hotel living involves privacy and solitude in your own space, not so at a holiday park! Your neighbours are your new friends and travelling with a toddler is a real ice breaker too, especially as she liked to walk off and introduce herself to everyone she met. It's always interesting comparing travel itineraries, lifestyles, family histories too as many people have ties to the UK. There's a real sense of all being here for the love of travel. So many families too which is so great to see all these kids exploring Australia.
Port Macquarie
Driving up the Pacific Highway, our next destination was Port Macquarie, a town of around 70,000 inhabitants and a place high on our list for one main reason. Its here that you'll find the world's only Koala hospital, when we found out about this place we were so excited to be visiting and best of all its free (donations are very welcome!). Set up in the 70s it has expanded over the decades and now not only has a number of resident Koalas that are unable to return to the wild, it also has its own Koala Ambulance and over 200 dedicated volunteers too.
Set in serene parkland its a great place to visit especially at 3pm when there's a walk and talk tour telling you all about the cute furry creatures that are being nursed back to health. Our daughter loved it too exclaiming "Bear!" whenever she saw a Koala sitting on a branch. I highly recommend a visit and you can even sponsor a Koala while you're there.
Of course there's a lot more to Port Macquarie worth checking out. The beach here runs for miles with our Big 4 Holiday Park at Bonny Hills situated right at one end. It had a very easy walk to the beach with epic fews of the coastline. The park was also very well set up with friendly staff that made our stay very easy. We also met some other families in plots near our camper van who kept our daughter Dharma entertained. I can see why so many families choose this style of travel now as its not only very cost-effective but one of the best family atmosphere too.
We spent some time walking the coastal areas here as there's plenty to explore thanks to town being situated at the mouth of the river Hastings. We even found an area where a chain-pull ferry crosses the mouth of the river to give residents access to expensive looking homes along the shore. I love Australian architecture and you'll never be bored looking at the houses here as every single one is different. Most have ample grounds around them too with verandahs, balconies, car ports and often space to park your boat too. The wildlife is pretty friendly here too with a couple of large Pelicans perched next to the ferry enjoying a spot of people watching before flying off to go fishing.
Campervan living
I have to admit it took me a few days to get in to the camper van way of life. At first it feels like your living space has shrunk but once you organise your cupboards properly, stock up on food and drink, get used to all the buttons and features of the van, your life becomes so easy. You're taking your entire home with you every day so stopping for lunch is super easy. You always have a toilet when you need one and they're surprisingly easy to drive too. It feels like the great open roads of Australia were made for this kind of road trip!
Check out all our Australia #GoByCamper posts here
Introduction to the #GoByCamper road trip in Australia
Video message from Sydney
Coffs Harbor and Byron Bay
#GoByCamper photoblog – Part 1
Progress report from Byron Bay
Taking a break in Brisbane
Fraser Island tour
Visiting Rockhampton
Family reunion in Townsville
#GoByCamper photoblog – Part 2
Reaching Cairns
Follow our adventures